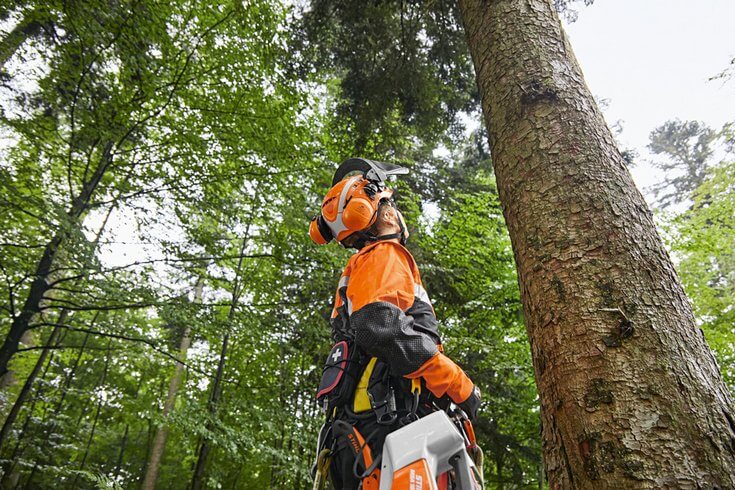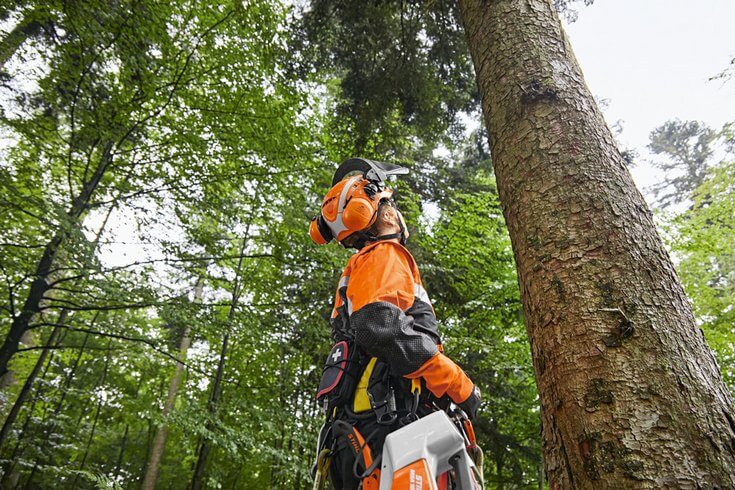 Having the right head protection is essential when using machinery like chainsaws, pole pruners and hedge trimmers. If a branch falls on your head whilst you are working, the right head protection can make a real difference! All STIHL helmets are made from a robust material which provides optimum protection and are designed to protect your head, face and ears (meaning all STIHL helmets comply with EN numbers 352, 397 and 1731).
You can find our extensive personal protective equipment guide on the different types of PPE you need for different jobs here, but how do you know which STIHL helmet is best suited for your type of work? Here at STIHL, we have a range of helmet sets and head protection to suit different jobs. Find out which one you need below.
STIHL FUNCTION BASIC Helmet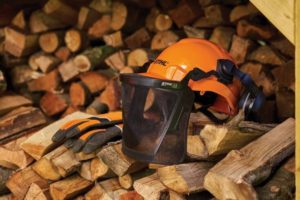 The STIHL FUNCTION BASIC helmet is our entry-level model and is a great choice for home gardening tasks, such as cutting with a long-reach hedge trimmer.
The FUNCTION BASIC helmet is made from HDPE, which is a high density polymer, meaning it's extremely lightweight and comfortable to wear. It's also fitted with a nylon mesh visor to protect the face and comfortable, low profile ear protectors with an SNR (single number rating) of 24 for sound protection. Slit vents on the helmet provide ventilation during use as well, which makes the FUNCTION Basic an ideal helmet for jobs in the garden.
STIHL DYNAMIC Series
The DYNAMIC series consists of two helmet sets – the STIHL DYNAMIC ERGO and the DYNAMIC X-ERGO. Both of these STIHL helmets are top choices for semi-professional use or by professional users, such as landscape gardeners or forestry workers.
Made from the lightweight ABS polymer, they have been designed with comfort in mind, making them ideal if you need to wear a helmet all day. And their flush-fitting visors minimise snagging on branches when moving too, making these helmet sets an effective protection package for professional users.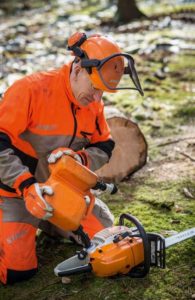 There are two differences between these helmets though. The STIHL DYNAMIC ERGO helmet has a nylon mesh visor which offers 41% light penetration and ear defenders with an SNR of 28, whereas the STIHL DYNAMIC X-ERGO helmet has a metal mesh visor which offers 60% light penetration and ear defenders with an SNR of 30. So if you need greater light penetration – particularly if you are working in the depths of the forest – the X-ERGO would be the better choice.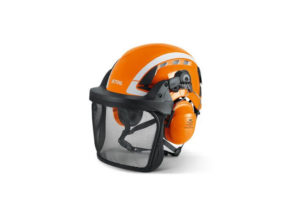 STIHL ADVANCE Series
The ADVANCE Series is STIHL's premium helmet series and consists of the STIHL ADVANCE VENT, ADVANCE X-VENT, ADVANCE X-VENT BT and ADVANCE X-CLIMB. This series provides the optimum choice for professional landscapers, forestry workers, arborists and construction workers that require full head protection.
The ADVANCE VENT, X-VENT and X-VENT BT helmet sets share a variety of features. They all feature slit vents for greater ventilation throughout the day and slim profile ear protectors for improved comfort and mobility. Reflective stickers on the helmets also provide greater visibility, which lends itself particularly to use in the forest. All three helmet sets are made from the lightweight ABS polymer as well.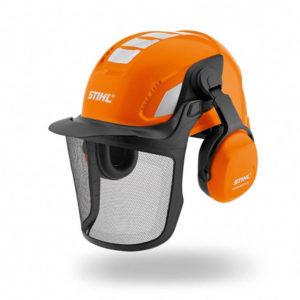 However, what differentiates these helmets is the face shield and ear protection. The STIHL ADVANCE VENT helmet has a metal mesh visor which offers 65 – 70% light penetration and ear defenders with an SNR of 27. The ADVANCE X-VENT helmet has a spring steel mesh visor which offers 75-80% light penetration and an SNR of 29. And the ADVANCE X-VENT BT helmet has the same spring steel mesh visor as the ADVANCE X-VENT but it's also fitted with Bluetooth ear protectors which have an SNR of 27, and can be connected to your phone so you can either listen to music or communicate with the rest of your team during work. All are well-suited to work in the forest.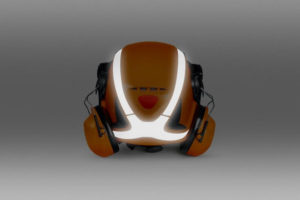 For arborists working in the trees however, look no further than the STIHL ADVANCE X-CLIMB helmet set. This helmet has been designed specifically for tree surgeons and conforms to both EN number 397 (industrial safety helmets) and EN number 12492 (helmets for climbing and mountaineering) so this is a great choice if you want a helmet you can wear in the tree and on the ground. What's more, this helmet has large slits along the side and rear for optimum ventilation. The ADVANCE X-CLIMB has a tough nylon mesh visor with 55% light penetration and an SNR of 28. The helmet is also made from ABS polymer and has a synthetic leather inner headband, meaning it provides the highest level of comfort of all STIHL helmets. And it's highly visible too with a number of reflective strips along the helmet.
The table below explains what sort of task each helmet is most suited to.
Helmet type
Type of user
Gardening
Landscaping
Forestry
Arboriculture
Construction
FUNCTION BASIC
Domestic

•

DYNAMIC ERGO
Semi-professional / Professional
•
•
DYNAMIC

X-ERGO

Semi-professional / Professional
•
•
ADVANCE VENT*
Professional
•
•
•

•

ADVANCE X-VENT / BT*
Professional
•
•
•

•

ADVANCE X-CLIMB
Professional
•
•
*These helmets should only be used in arboriculture with the additional chinstrap accessory.
For more information about STIHL helmets and our full range of STIHL Personal Protective Equipment, please speak to your local STIHL Approved Dealer or visit stihl.co.uk.