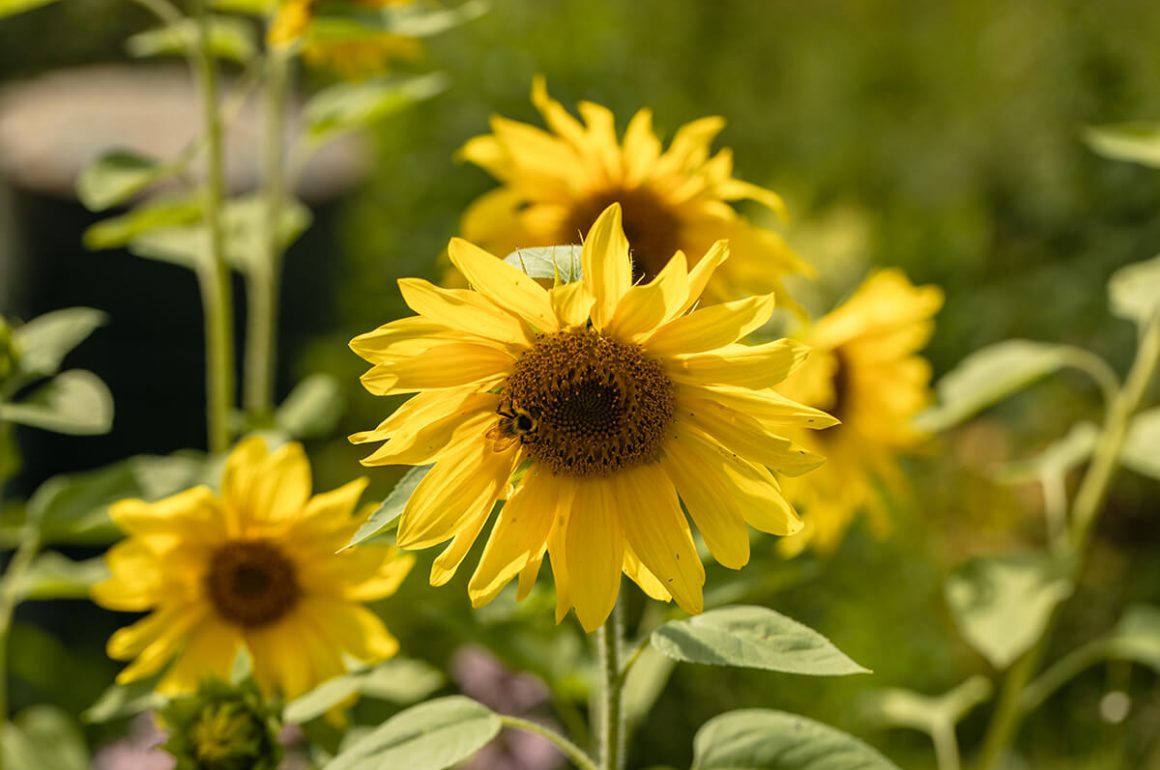 With their cheery, big beaming flowerheads and long growing season, everyone loves a sunflower. They are also relatively easy to grow which often makes them the bloom of choice for 'big specimen' contests run by gardening groups, schools and allotment associations. We tend to take the view that folk should grow sunflowers for pleasure, not plaudits, but should you or your family members find yourselves in a heated sunflower-growing tournament, here's a few tips which should help you absolutely roast the competition.
How to Grow Sunflowers
Grab a bunch of 10cm wide plant pots and fill them with a good quality, multi-purpose peat-free compost. Push a single sunflower seed into the centre of each pot at a depth of around 1.5 – 2 cm, then cover with compost. Give the flower pots a water, then cover each pot with a plastic bag before placing on a bright window sill to germinate. The seedlings should start to emerge after 1-2 weeks, providing you keep the pots moist (but not overwatered).
Once the threat of frosts has passed, and when your seedlings have reached a height of 20-30 cm, it's time to plant them out. Sunflower plants (obviously) love sunshine, so choose a sunny, fertile, well-sheltered site. It's also worth taking into account that sunflowers are heliotropic, which means that their young flowerheads face east before sunrise, then track the sun as it moves from east to west. This freaky phenomenon tends to cease once the flowerhead matures, so ideally you should plant your sunflowers in a position in your garden which maximizes your enjoyment of their radiant flowers.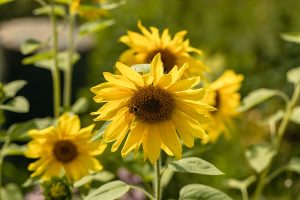 Remove any weeds from your chosen planting site and dig in a generous helping of organic manure to prepare the soil. Dig a small hole, then lower your seedling into place, ensuring that your sunflower plant sits at the same depth as it grew in the plant pot. Tamp down the surrounding soil, then give it a good old watering.
If you've chosen one of the lankier sunflower varieties (see below) you'll want to shove in a bamboo cane to provide support. Adolescent sunflowers are susceptible to snapped stalks in high winds so this will provide you with a bit of insurance should the weather turn gusty. Sunflowers are also thirsty fellows, so during the growing season, it is vital that they stay well watered. It's also worth giving them a weekly glug or two of tomato feed before they flower to give your plant a nutritional boost.
Seedy Business
When your sunflower heads begin to fade, you can also harvest sunflower seeds for next year. Run a fork (or similar pronged object) across the flowerhead and gather the seeds that fall. Dry them out on a warm windowsill and then either use them for culinary purposes, such as sprinkling on salads or flinging into dough, or store the sunflower seed in a labelled envelope for growing the following season. Don't be greedy with your gathering though; leave some on the flowerheads for wild birds to enjoy too.
Four Fab Sunflower Varieties To Try:
Giraffe Sunflower
The clue is in the name. This lofty variety has been bred for the UK climate and is one of the tallest sunflowers you can grow. Prime specimens can reach up to 15ft, producing a single, plate-sized flower.
Titan Sunflower
A bright yellow sunflower that produces a massive, dustbin lid-sized flower head. Expect bounteous blooms from July to September.
Waooh Sunflower
This curiously monikered variety is a bushy-leafed, easy grower which produces a mass of flowers with dark, central discs and golden petals. Ideal for cutting and stuffing in vases.
Teddy Bear Sunflower
A dwarf, multi-headed sunflower that produces stacks of fluffy, golden blooms. Perfect for patios and garden container growing and great for floral displays as the cut flowers last for days.
Have you grown sunflowers in your garden? What are your favourite sunflower varieties? Let us know in the comments.