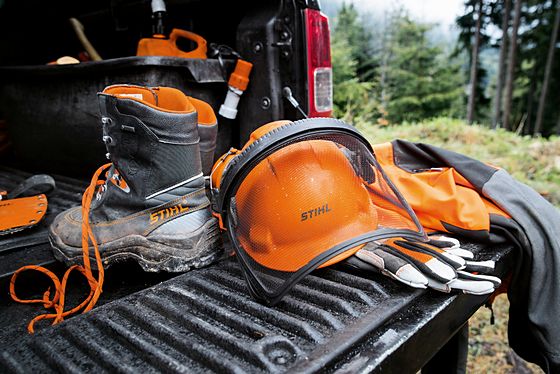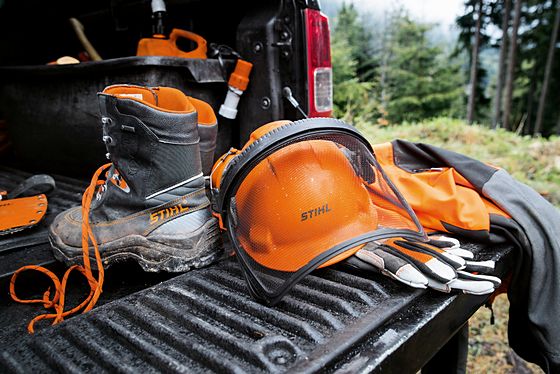 Personal Protective Equipment (or PPE) is essential when you are using a chainsaw. We have put together a handy guide so that you know what PPE to wear when using different tools, but how do you tell the difference between one pair of chainsaw trousers and the next? Which chainsaw boots would work for you? And which helmet should you be looking at? Well, that's where our chainsaw PPE buying guide comes in. Read on for the full lowdown…
Chainsaw Personal Protective Equipment for occasional use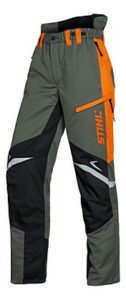 Those of you who are only using a chainsaw occasionally should take a look at our Function range – it's great value but it still meets the usual quality standards. They are durable, highly breathable, and are designed to be flexible, with a more relaxed fit than some of the other trousers in our range.
The chainsaw personal protective trousers are only available in Design A (which gives certified cut protection on the front of the leg only). .This range is designed for people who are doing occasional cross-cutting of timber for a log fire or wood-burning stove and for any light maintenance around your house.
There are also matching jackets for additional weather protection, although these do not have cut protection.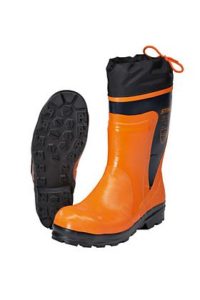 When it comes to foot protection, our chainsaw wellies are an economical choice for those of you that are using a chainsaw in a more static job (like cross-cutting on a saw horse) where freedom of movement isn't the top priority. These are the lowest price option in the range.
But if you are looking for something a bit lighter, with more flexibility, our Function chainsaw protective boots are our lightest boots, weighing in at only 1.9kg. They are a great pair of leather boots with class 1 cut protection and good grip.
Finally, if you are looking for a great value PPE helmet, the Function Basic helmet is the one for you.  It has good visibility with a nylon mesh visor, and is comfortable to wear. The attached ear defenders offer good noise protection and have a Single Number Rating (SNR) of 24. You can use the SNR to work out what noise levels are reaching your ears when using a power tool (check out this blog for a full explanation of the SNR).
Chainsaw Personal Protective Equipment for frequent use
For those of you who use a chainsaw more frequently, but not every day as a professional arborist, then you could consider our Dynamic PPE range. This range is ideal for farmers or landscapers, or even homeowners with a lot of land.


There are more options for chainsaw trousers in this range, with both design A (front leg protection only) and design C (front and back leg protection) trousers available, as well as a bib and brace style. The Dynamic PPE range is breathable, waterproof, and uses thorn and tear-resistant materials. These are also designed to have a fairly relaxed fit.
Again, there are matching non-cut-protective jackets for additional weather protection available in this range. 
There are also more footwear protection options in the Dynamic range, with three different class 1 protective boots available, all of which are lightweight, flexible, and made from water-resistant leather.
Our Dynamic Ranger GTX boots have a waterproof and breathable GORE-TEX® membrane, whilst the Dynamic S3 boots are made from nubuck leather and have a steel midsole to protect against perforation – ideal if you're ever unfortunate enough to stand on a nail! These two versions also have a specially designed tread which stops dirt building up.
And the protective helmets in the Dynamic range also have additional features too – the DYNAMIC Special and Expert helmets have a higher SNR than the Function Basic to protect your ears from noise. You can choose either metal or nylon mesh visor, and there is a synthetic leather sweatband inside both helmets. The Dynamic Expert also has an adjustable ratchet on the back so you can adjust it to perfectly fit your head.
Chainsaw Personal Protective Equipment for professional use
If you are a professional chainsaw user, then the Advance PPE range of chainsaw trousers is what you're looking for. Made with AVERTICTM material, which has been developed exclusively for STIHL, these all have a fully elasticated crotch for freedom of movement, and there are three different versions so there is something for everyone:
X-Light – Ideal for summer, these are our lightest chainsaw trousers weighing in at 0.99kgs for the medium version. There is ventilation fabric on the back of the leg to cool you down, but for this reason, they are only available in a Design A version (with front leg protection).
X-Flex – If you need more weather resistance, you could look at our X-Flex chainsaw trousers, which have more water-proofing and are designed for all-year round. There are Design A & C versions available and you can find out more about them in our #STIHLSecrets video.
X-TREEm – It's all in the name – these chainsaw protective trousers are designed for extreme demands to protect you from the elements. They have a soft and quick-drying inner lining, a ceramic-coated knee section to give protection against wear and have more high-vis orange fabric for better visibility. Braces are included with these trousers too.
All of the Advance trousers are slimmer fitting than our other ranges so we suggest you visit your nearest STIHL dealer to try these on for size.
Our top of the range boots are the Advance GTX boots, which are our only class 2 protective boot. They have the GORE-TEX® waterproof membrane and have additional water and wear protection from the high-rise rubber edge. They are also suitable to be worn with crampons.
All STIHL chainsaw boots have orthopaedic insoles and ankle protection so you can be sure that your feet and ankles are being properly supported at work.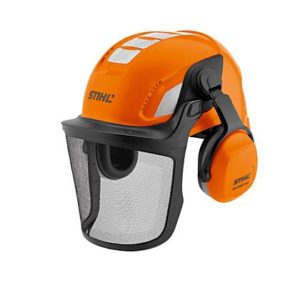 There are two standard helmets in the Advance range – the Vent and the X-Vent. Again, these have a higher SNR to protect your ears, and are nicely balanced with a slimline design. They offer good light penetration and have a 6-point inner fitting and adjustable ratchet so they will fit your head perfectly. For forestry climbers, we also have the Vent Plus helmet, which can be fitted with ear defenders and a nylon mesh visor.
Our full range of chainsaw Personal Protective Equipment means that there is an option to suit you whatever job you are doing. And once you have all the kit, it's just like a chainsaw itself – look after it well and it will look after you! Check out our blog on looking after your PPE here for more information.