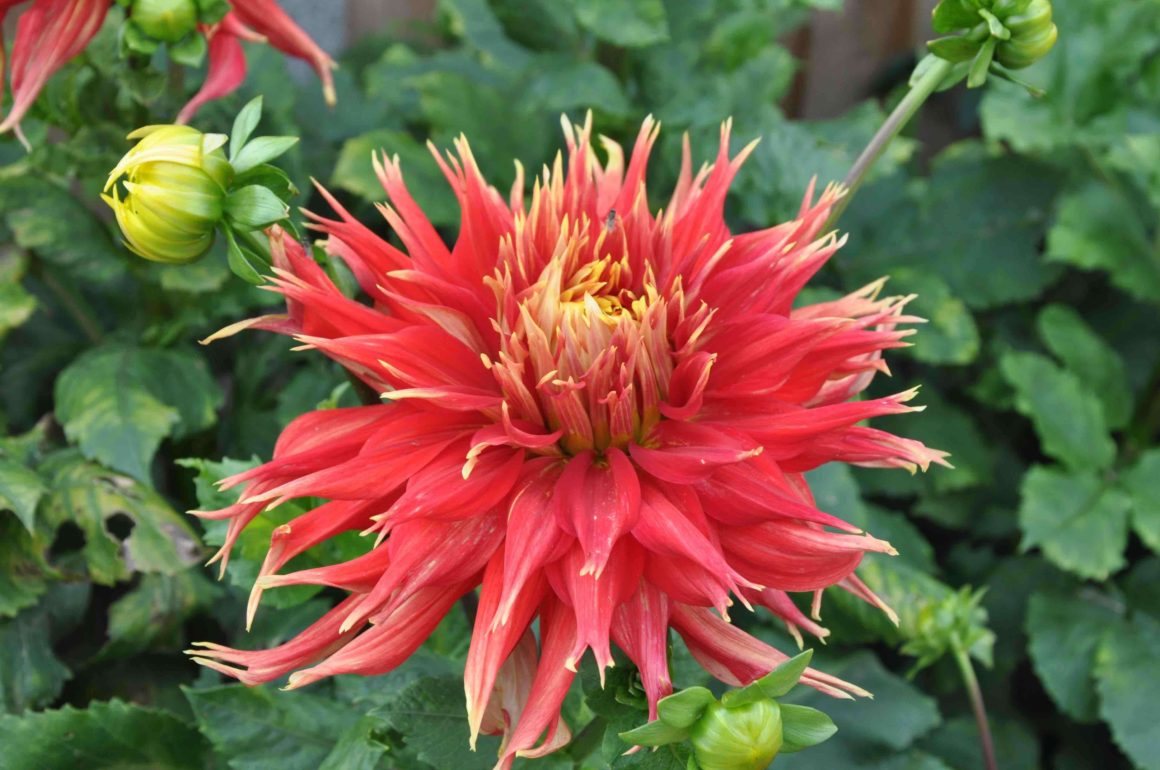 If you only add one plant to your garden this year, make it a dahlia. It's reported that dahlia flowers have soared in popularity and are once again the height of fashion – but having grown these flamboyant flowers for decades, I find it hard to imagine that they ever fell from grace.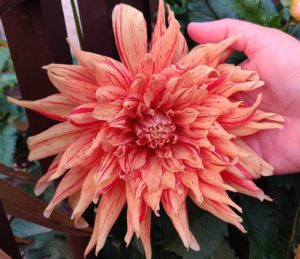 Whether you're a horticultural novice or proud of your green fingers, dahlias have so much to offer. Originating from mountainous regions of Central America and Mexico, they pep up summertime borders with a riot of colour while injecting a touch of magic to exotic planting schemes. Dahlias are a staple of cottage gardens and add charm to allotment plots, peaking during harvest season when their cheery blooms glow in the golden autumn sunlight. They flower profusely in containers, too, adding wow-factor to sunny patios and decking.
Dahlias are renowned for flower power and their unbeatably long flowering season. Mine begin to burst into flower in June and carry on late into autumn, long after summer bedding has fizzled out. During mild autumns, it's not uncommon for dahlias to be putting on a last hurrah as the clocks go back, while in my south coast garden, a handful were still going strong on Bonfire Night last year (frosts will shorten the flowering season in colder regions). Here, I look at how to choose and grow the perfect dahlias for your garden plot, and put on a display that's worthy of a coveted RHS Britain in Bloom medal.
Which Type Of Dahlia Is Best?
The enduring appeal of dahlias lies in the diverse range of colours and styles available – there are thousands! From low-growers that blend in with summer bedding to monsters for the rear of borders that'll climb to more than a 1m (3.3 ft) high, there's a variety to suit every taste. While dahlia flowers are famed for their fiery hues, often blooming in shocking oranges, reds and pinks, pastel shades can create subtler, calming displays.
Visit any garden centre or online store and you'll be bombarded by a host of dahlia categories: decorative, waterlily, cactus, semi-cactus, ball, pompon, single, anemone, collarette and so on. Don't be intimidated by dahlia jargon, however. Simply choose colours and styles that appeal and plant your dahlias! There is, however, one important consideration: while giant blooms the size of dinner plates can become the talk of the town, their complex petal formations represent an assault course that's unappealing to pollinators. If you're keen to enhance biodiversity, include single dahlias as they have an open flower structure that allows bees and beneficial insects to easily access a feast of pollen. 
My all-time favourite dahlia is 'Bishop of Llandaff', famed for its brilliant red semi-double flowers that are dramatically offset by dark bronze foliage. There are too many exceptional varieties to list in full, but highlights that have excelled in my garden include 'Tahiti Sunrise' (attention-grabbing giant yellow blooms with shocking pink tips), 'Maniac' (dinner plate-size orange flowers splashed with streaks of crimson), 'Pooh', one of the most charming dahlia flowers, with dazzling red-and-yellow blooms that are a magnet for bees, and the brilliant white 'My Love' which shimmers in borders at dusk on summer evenings.
Growing Dahlias In Pots Or Planting Dahlias In Borders?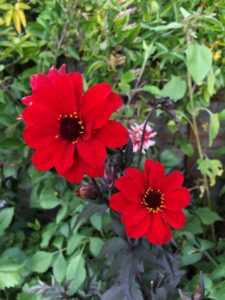 Dormant dahlia tubers can be started into growth in plant pots from April in a frost-free environment such as a heated greenhouse, conservatory, porch or window sill. Alternatively, dahlia tubers can be planted direct into garden soil after the last frosts, commonly late May in the south or early June in northern regions.
I've always been a fan of planting dahlia tubers in pots under cover from Easter onwards. Potting-up tubers in a protected environment gives plants a head start so they'll begin flowering earlier. Dahlias are tender and can be harmed by late spring frosts, but starting indoors offers protection. Finally, nurturing dahlia plants under cover in spring protects delicate, soft growth from slugs and snails, which have an insatiable appetite for young shoots.
How To Plant Dahlia Tubers
Choose a decent size plant pot with good drainage – three-litre plastic pots work well – and part-fill with multipurpose compost. Sit the tuber on the compost with the stump facing upwards then add more compost so that the stump sits around 2cm beneath the surface. There is no need to bury the dahlia tuber deep. Write a label to identify the variety and water well. When planted in April, shoots should begin to emerge within a few weeks.
When Can Dahlia Plants Go Into The Garden?
After all danger of frost is over, dahlias can go into their final planting positions in garden borders or large containers. Choose a sunny spot where plants can get their roots into well-drained, moisture-retentive soil. Improving soil ahead of planting dahlias will work wonders: digging in well-rotted manure or garden compost is a sure-fire way to boost nutrient levels, as will a sprinkling of general-purpose fertiliser such as Growmore.
Ease dahlias out of their pots and plant at the same level in the ground. If you've decided to wait and plant tubers directly into the soil, space them around 60cm apart. Keep organic slug pellets to hand to protect young growth from attack.
How To Maximise Flower Power
While dahlias flower their socks off all season a few tricks will keep blooms coming thick and fast. A month after planting, usually in July, apply a liquid feed fortnightly. General purpose feeds such as Miracle-Gro and Phostrogen will deliver results, but to take flowering to the next level, use a feed that's rich in potassium, such as tomato food. 
Spent flowers should be deadheaded (snipped from plants) once they fade: it's the best way to spur plants into producing further blooms. Dahlias must be kept well-watered at all times, while taller varieties will need staking to provide support, ensuring that stems don't topple under the weight of flowers. Aphids can be a nuisance, so blast them from stems using a hose at the first sign of infestations, or zap them using an organic bug killer.
Can Dahlias Be Left In The Ground Over Winter?
If you live in a mild region and your soil is light and free-draining, the answer is yes – but it's a gamble. If leaving in-situ, protect tubers from winter cold by applying a layer of garden mulch at the end of the season. To be on the safe side, dig them up in autumn once frost has blackened foliage, storing dahlia tubers in trays of dry compost or sand in a cool, dark, frost-free place.
Have you tried planting dahlias before? Let us know about your successes & favourite varieties in the comments.