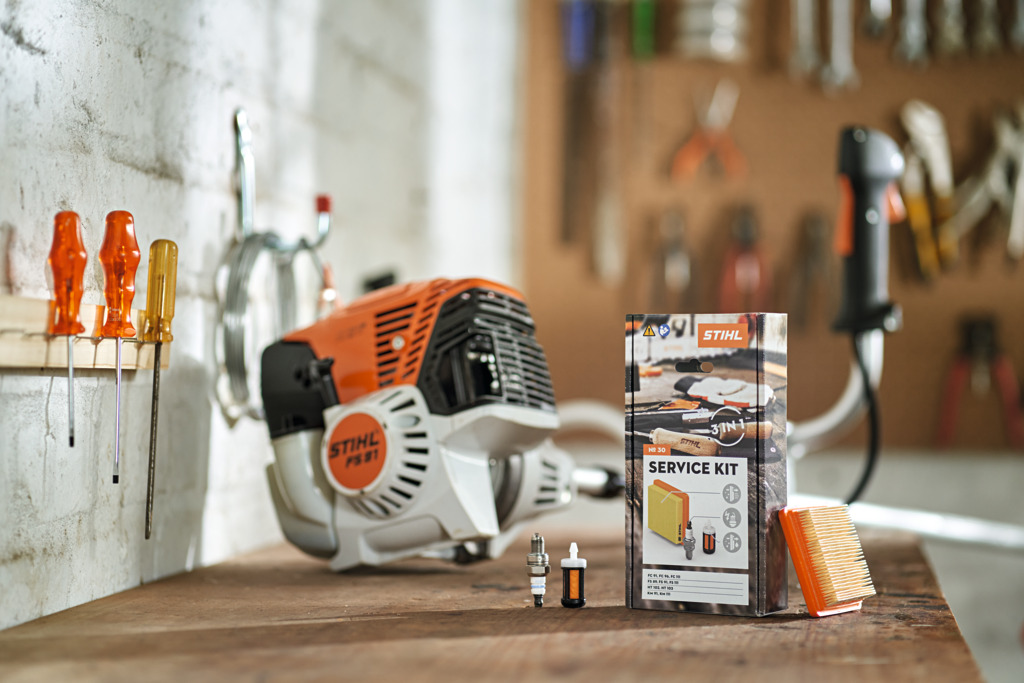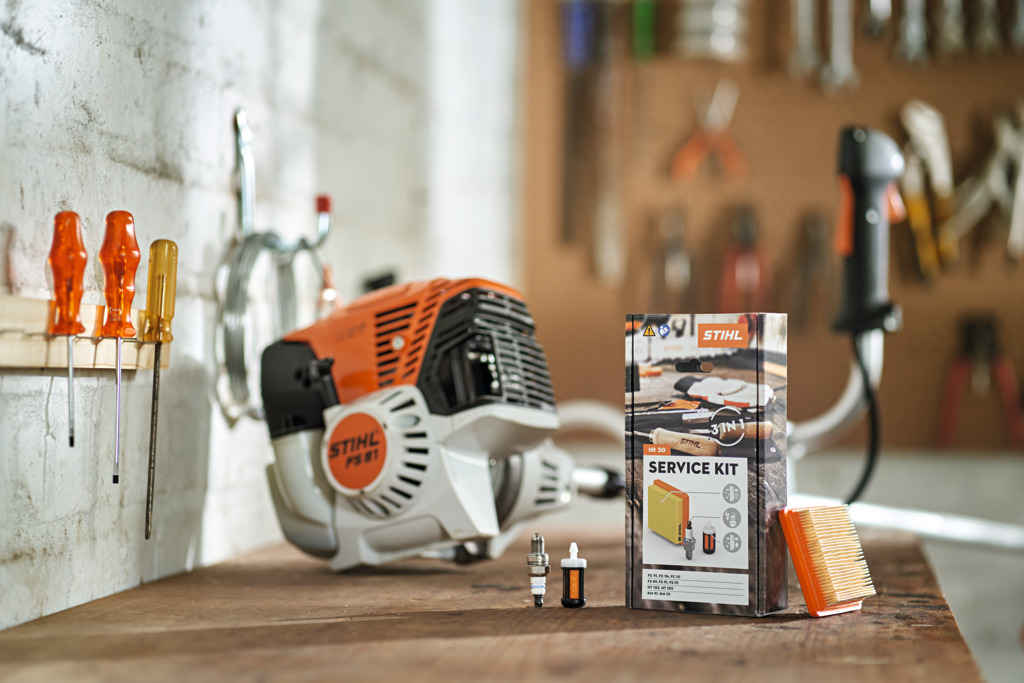 Landscaping jobs can be tough on you and tough on your tools, so we've got a few accessories to help either take the strain out of the task, save you a few minutes, or better still, save you money!
STIHL BT Ear Defenders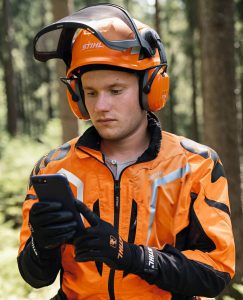 One of our most popular PPE accessories are our Bluetooth ear defenders. They are simple to connect to your smartphone for some music while you work and have a very respectable 38 hour battery life to last multiple days. These comfortable padded Bluetooth ear defenders are available pre-fitted to the STIHL ADVANCE X-VENT helmet, as ear defenders on a headband, or as a set to be connected to ADVANCE helmets separately. Music volume is of course limited to a reasonable level (after all they are meant to protect your hearing!) and with SNR 29 protection (or 27 when combined with the STIHL X-VENT helmet) they'll keep you protected from machine noise too. Easy to press buttons also make it simple to pick up a phone call and answer with the built-in microphone too.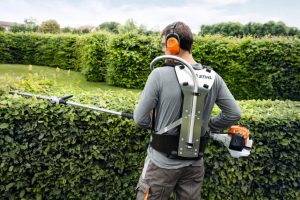 STIHL RTS Harness for Hedge Trimmers and Pole Pruners
Whilst it would be much easier trimming relatively short, slim hedges all day, the reality is that the hedges you tackle are all shapes and sizes. It's the same with pruning dead wood or selective pruning of trees from the ground; not all branches are easily accessible and require some stretching to reach. When holding the tool for a while, this can put strain on your body. The adjustable height STIHL RTS harness is designed to take the weight of long-reach hedge trimmers and pole pruners out of your hands and spread it across your shoulders and waist. The pole pruner can then be easily directed by your hands so you can effectively just steer the tool. This has the benefit of helping you get a more accurate cut, whilst making you less tired. And if you need a rest between cuts, then the STIHL RTS Harness lets you do exactly that!
STIHL Hedge Trimmer Catcher Plate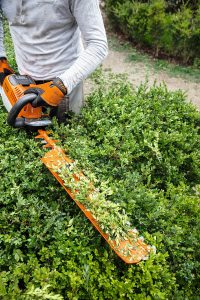 Our hedge trimmer catcher plate is ideal for catching and removing cuttings from the hedge as they are being trimmed. This means you don't have to pick the stray leaves from the hedge after it's been cut so you save time. And it avoids unsightly brown leaves appearing in a few weeks' time long after you've left the garden. The catcher plate can be fitted to a number of models including the cordless STIHL HSA 56, HSA 66, HSA 86 hedge trimmers and HLA 56, HLA 66 and HLA 86 long reach hedge trimmers, as well as the previous versions with 65 and 85 in the name. There's also one to fit the STIHL HS 86 R and HS 87 R petrol hedge trimmers.
Low Spin Blade for Pro brushcutters and the STIHL FS-KM Kombi Tool
Flying stones can come into contact with cars and nearby windows when grass trimming, particularly around car parks, traffic islands, homes and buildings. Unfortunately, the damage can often be costly to repair. The latest low spin STIHL Grass Cut 250-32 blade reduces the safety distance from objects and vehicles to 3 metres, compared to the recommendation of 15 metres on regular brushcutters. This is due to a specially designed cutting tooth shape. Our latest low spin blade was designed to fit STIHL FSA 130, FSA 135 R, FS 91, FS 94, FS 111, FS 131, FS 240 FS 131 T and FS-KM Kombi tool. Read more on the blog here.
STIHL Connected
Keeping on top of maintenance of your tool fleet is much simpler with STIHL Connected. Consisting of a STIHL smart connector, the STIHL Connected App and STIHL Connected Portal, this fleet management system logs working hours on the tool so it lets you know when maintenance is due. It can even be used on non-STIHL tools where you simply add in a service schedule you want to stick to.  It's really simple to set up, helps you keep an eye on your entire fleet in a matter of seconds, tells you when tools are in and out of service, allows you to book a service with your nearest or preferred dealer and keeps a full record of all your fleet maintenance too. Plus when it comes to replacing machinery, it can track how much a tool had actually been used so you know if it really needs replacing. We also have plenty of petrol tool service kits and care kits so when a service reminder pops up, you can get straight onto it!
Petrol Tool STIHL Service Kits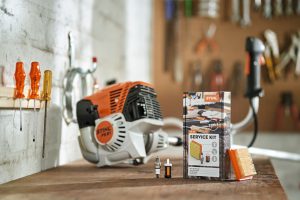 Routine maintenance of your tool is important to keep it working as it was designed to, and that includes replacing the spark plug, fuel filter and air filter in line with the maintenance schedule in your user manual. Our petrol tool service kits put these components in one handy box for our popular tools and even have a handy QR code on the back to help guide you through how to replace each of the service items. A pop out fuel filter removal tool helps you get the fuel filter out of the tank easily too.  Find out more about STIHL service kits on the blog here.
Hedge Trimmer, Brushcutter and Lawn Mower Care Kits
Our STIHL Care Kits include specialist maintenance greases and cleaning solutions in one handy box for Hedgetrimmers and Brushcutters. Brushcutters and hedge trimmers are hardworking tools so keeping them well-greased and free of debris means they work more efficiently. With hedgetrimmers, resin build-up on the blades causes increased friction and as time goes on, it can separate the blades. Our resin spray dissolves the resin allowing the blades to slide past each other smoothly, which overall means a more efficient process and less drain on the motor or gearing. For STIHL lawn mowers, the care kit includes a handy brush, cloth and cleaning spray to clean off dirt and grass residue, which again allows your lawn mower to work at its best.
All STIHL accessories are all designed to make your working life easier. Let us know if you have used any of these accessories in the comments below.