It's no exaggeration to say that getting an allotment can change your life! Fresh air, an abundance of healthy produce and becoming part of a friendly community can transform a hobby into a real taste of The Good Life, working wonders for physical and mental health.
Gardeners who are lucky enough to secure an allotment plot can cut food miles to footsteps, growing an abundance of fresh, vitamin-packed produce that tastes superior to any vegetables that can be found wrapped in plastic at a supermarket.
These precious plots of land were first established hundreds of years ago, with the aim of helping to alleviate poverty and feed the population. Allotments played a key role in cultivating produce during the World Wars and Dig for Victory campaign, and remained vital in the post-war era, when supplies of fruit and vegetables remained scarce.
Snapping up an allotment plot paves the way to becoming part of a diverse community of green-fingered folk, and allotment societies hold social events such as barbecues to celebrate the fruits of their labours. It is often said that gardening skills are no longer being passed down through generations, but visit any allotments and you'll find that those with decades of wisdom are keen to share their horticultural know-how with people of all ages.
Tending an allotment enables us to experience the delights of the turning seasons. Exposure to sunlight as we work the soil in spring and summer can boost vitamin D levels, while the reward of bumper autumn harvests is a real mood-lifter. Clearing spent crops and enjoying the smell of autumn bonfires paves the way for planning an exciting new season, while winter digging provides a fresh air workout during the shortest, coldest days of the year.
With National Allotments Week taking place next week (8-14th August 2022), we're offering an insight into how to secure an allotment and take the first steps on a journey that'll become a lifelong passion.
How to Get an Allotment
The internet has revolutionised the process of finding an allotment near you. Local authority websites should list details of sites in the region, while some offer an indication of the length of waiting lists. You can usually apply online, and it's advisable to put your name down for a chosen site as soon as possible as waiting lists can be long.
How Big is an Allotment?
Allotments are steeped in tradition and use baffling measurements dating back to Anglo Saxon times! Plots are measured in rods, perches or poles and a standard allotment is usually 10 poles (250 square metres) – the size of a doubles tennis court.
That's a fair chunk of land to cultivate, especially for beginners, and takes commitment. If the prospect appears daunting, it's worth asking if smaller plots are available. Some allotment societies allow plots to be divided into half or quarter plots, which are more manageable for first-timers, but rules vary at different sites.
How Much Does an Allotment Cost?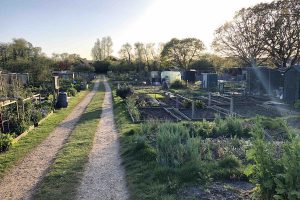 Good news: in many cases, renting an allotment plot will set you back less than an annual gym membership! And 12 months' rent often costs less than filling your car with fuel!
The majority of plots can be leased from local authorities, with charges varying from peppercorn rents of around £25 up to £125 per year. Depending on where you live, private allotments may be offered by local landlords, although rents can be higher.
Factor in the huge amount of fresh produce that an allotment can yield, at a time when food prices are rising steeply, and you're onto a winner!
How Long are Allotment Plot Waiting Lists?
When the Credit Crunch hit the nation's finances in 2007-2008, national newspapers reported that waiting lists for allotments in built-up regions of the UK stretched as long as 40 years! Thankfully, these were extreme cases, but popular sites still tend to have a queue.
Where a site has numerous plots available for immediate rent, carry out research and proceed with caution. If plots are heavily overgrown, it can take a mammoth effort, and require a powered cultivator, to clear the site of brambles and weeds to get soil ready for planting.
A minority of allotment sites are plagued by vandalism, which can be an underlying cause of high numbers of vacant plots. There is nothing more discouraging than taking time to nurture edibles from seed, only to find your hard work has been destroyed overnight by mindless idiots. Use Google, and local newspaper websites, to search for stories about vandalism at your proposed allotment site before committing to taking on an allotment plot. Visit and speak to current plot-holders to check that the site doesn't have a troubled history.
Can I Put up a Shed or Greenhouse?
Erection of sheds, greenhouses and polytunnels are determined by the terms of a tenancy agreement when taking on a new allotment. Some allotment sites allow outbuildings; others don't.
A greenhouse can transform allotment gardening from a warm season activity into a year-round hobby, while a shed is invaluable for storing tools on-site, saving the hassle of carting grubby kit in the car each time you visit your plot. Both provide a place to keep dry and have a cuppa if the heavens open while you're gardening too!
Allotment sheds and greenhouses also offer the perfect opportunity to connect water butts to gutter downpipes, providing a valuable water storage facility that'll save numerous trips to standpipes during dry spells.
However, sheds on allotments can encourage break-ins, while greenhouses are a target for vandals. For this reason, site rules will stipulate whether structures can be erected on plots. Where permission is granted, take care when siting sheds, so structures don't cast a shadow over a neighbouring plot-holder's valuable growing area.
Are Hens Welcome on Allotments?
According to the National Allotment Society, the 1950 Allotments Act states that keeping of hens is "permitted on allotments and viewed as an allotment-holder's right". However, this is on the basis that eggs are for tenants' consumption, and not to be sold for profit.
It is recommended that potential plot-holders check the hen-keeping policy of an allotment association before signing a tenancy agreement. Hens kept on allotments are vulnerable to attack by foxes at night, when the site is unoccupied, so it's vital to ensure that hen houses are robust and sturdy. While hens can be a welcome addition to allotment life, cockerels are not, and local bylaws may exclude them due to the noise and potential for upsetting nearby residents.