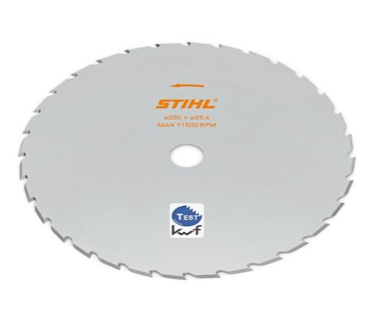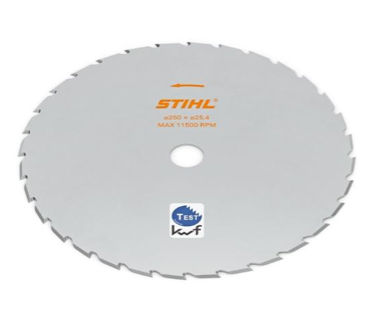 Whilst the new STIHL GrassCut 250-32 grass cutting blade may look like a typical small tree sawing blade for a brushcutter, it's actually a very clever new grass cutting blade that can save users a lot of money and hassle.
If you've ever operated a brushcutter around a public space, you'll know there's always a chance of hitting a stone and it being flung into a window or car.  Unfortunately, accidents happen, and windows and paint can be costly, not to mention the time it takes to deal with a frustrated customer and any follow-up if required. 
The new STIHL GrassCut 250-32 has been specifically designed to reduce the 'catapulting effect' of objects and is designed for both petrol and cordless professional STIHL brushcutters. The low flinging effect is due to the shape of the cutting tooth, which limits the tendency for objects to be flung off the disc whilst cutting.  Suitable for councils, highway maintenance and facilities management in places such as hotels, hospitals, schools and universities, the new grass cutting blade can help minimise costly damage whilst also reducing noise, offering a good cutting performance and allowing quick work progress. It is called the GrassCut 250-32 due to the 250mm diameter of the disc and the 32 cleverly shaped cutting teeth.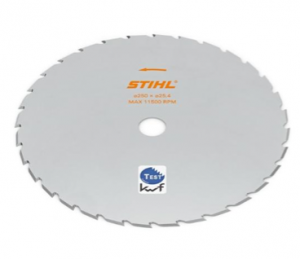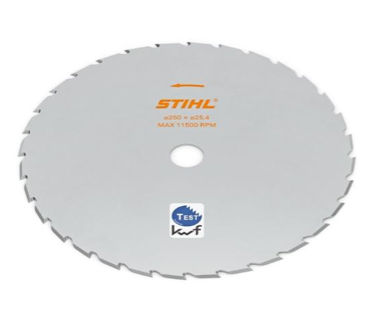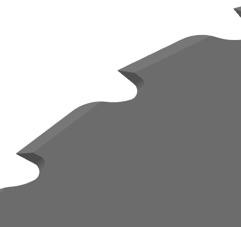 Don't just take our word for it though, the GrassCut 250-32 carries the KWF test mark. The KWF is the Board of Trustees for Forestry Work and Technology (Kuratorium für Waldarbeit und Forsttechnik e.V.) and carries out rigorous testing on products as well as monitoring developments in forestry work and forest technology. They recently tested the STIHL GrassCut 250-32 and had this to say about it: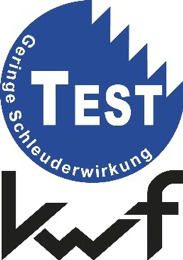 "Particularly suitable for use due to a low catapulting effect with foreign objects where there is an increased hazard towards the surrounding."
"Hazard to the surrounding very low as of a distance of one meter from the tool."
"Cutter with special tooth geometry prevents engagement and entrainment of solid foreign
objects, such as stones, metal or glass."
The GrassCut 250-32 is available in two variants with different centre diameters; the 20 mm fitment is suitable for STIHL FS 360, FS 410, FS 460, FS 490, FS 560. The 25.4mm fitment is suitable for FS 91, FS 94, FS 111, FS 131, FS 240, FR 131, FR 460, FSA 130, FSA 135 and the STIHL FS-KM KombiTool.
If you're looking for a tool to help prevent damage to property and save your business time, hassle and money, this new STIHL grass cutting blade L can help you do just that.  Find out more at your nearest STIHL Approved Dealer.