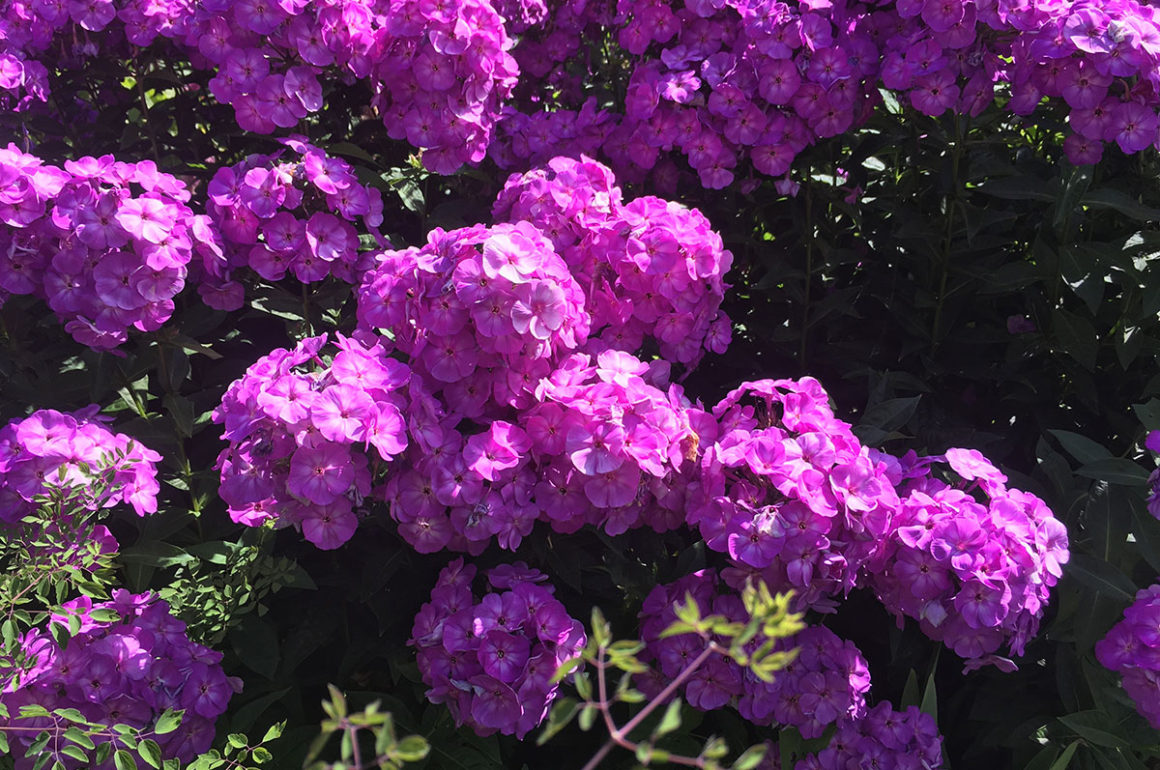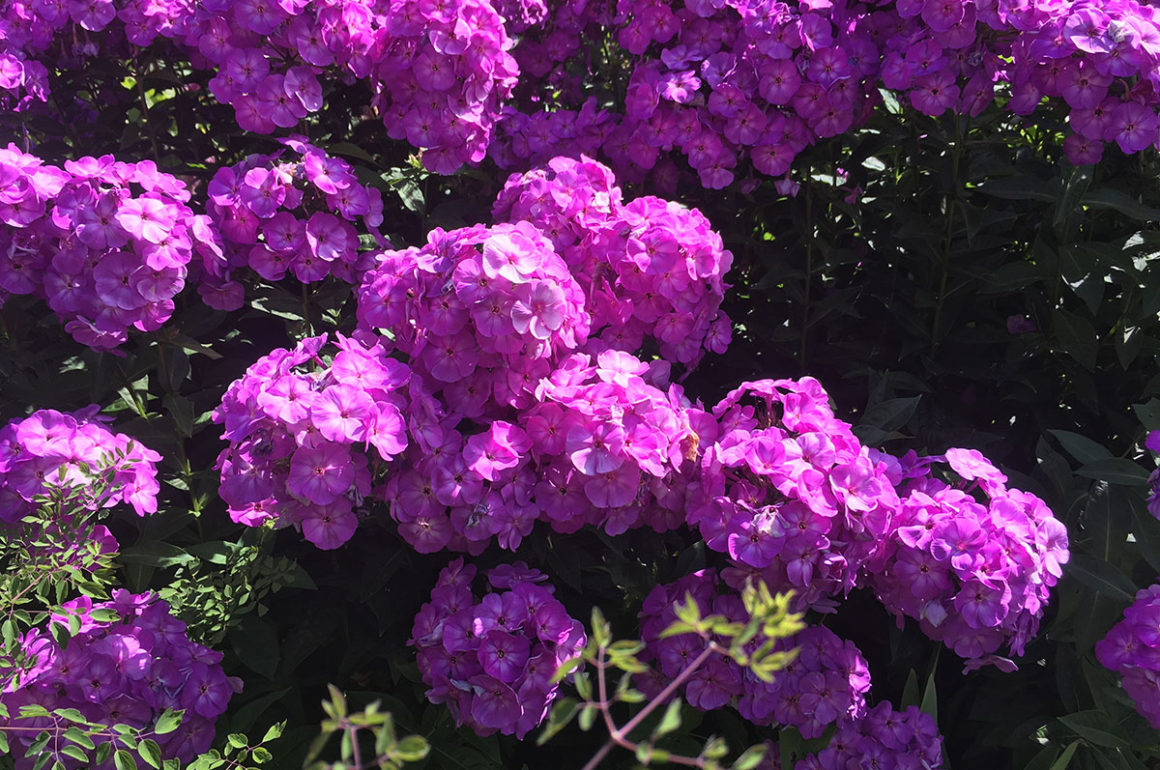 If your garden is anything like mine, it's slap bang in the middle of the summer that the garden often hits a bit of a lull, and that's just when you're really enjoying the outside space. All the spring and early summer flowers are finished: the hardy geraniums, the sweet rocket and the alliums have been holding on through June but, come July and August, there are only the faded seed heads left.
I often leave these seed heads for a while as they can look quite architectural and the birds love the seeds too, but there comes that moment when it's all getting a bit scruffy and tattered and the only thing left to do is cut it all hard back. I know they'll leaf up again nicely, but it does make for a lot of greenery and not much colour and, worse still, a good few gaps. Bare soil is definitely not what I want in my summer garden and, I suspect, neither do you, so here are a few summer border quick fixes.
My top five fillers are fantastic if you have a big gap and need something substantial to fill it. Bear in mind these do demand some space so, if the gap is smaller, you might want to simply drop one of these in for the rest of the season and then replant somewhere roomier later on.
Phlox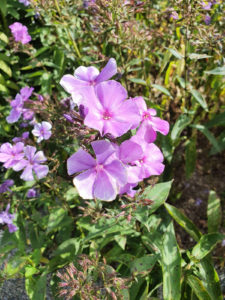 Phlox are one of those plants I used to consider a bit 'mumsy' and old-fashioned, but times and tastes change, and I now see them as the brilliant summer bloomers they are, with oodles of country charm and often a nice hint of perfume too.
The versatile phlox is a beautiful flower that comes in a range of sizes and colours to suit any garden, with many varieties flowering from July to September. In fact, the colour range is huge from whites and two-tone pinks through to purple, blue and sky-blue pink – well, almost! I'd just go for the colour that works for your border, although some of my favourites are the rich 'Blue Paradise' (60-90cm / 2-3 feet), the candy floss pink of 'Bright Eyes' (45-60cm / 18-24 inches) and 'Phlox Monica Lynden-Bell' with delicately blushed white petals on around 1 metre (3 feet) tall stems.
The crucial thing with phlox is to give them some sun. They don't necessarily need full sun all day, just a good few hours, and plenty of garden compost and mulch at the roots
Asters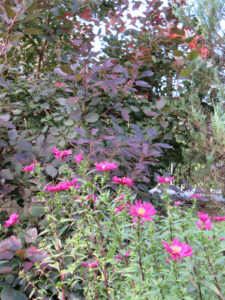 Asters are another old favourite that I always find space for. Brilliant plants for bees and butterflies, they flower from July onwards and, depending on the variety, can keep on going into October. If I could only have one Aster I would probably choose 'King George' with its soft blue, yellow centred daisies appearing from July onwards. Fortunately, I have room for more than one. Aster ericoides 'Pink Cloud' is a 1 metre (3 feet or so) tall form for the back of the border with starry little pink flowers in September and October while 'Little Carlow' is shorter with masses of lavender blue flowers in August and September.
Persicaria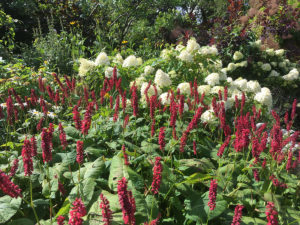 Persicaria is one of my go-to plants these days. Reliable and slug-proof, the bold leaves and rich flowers add a tropical note to the garden and the bees just love them. I like 'High Society' and 'Firetail' both with bright red flowers lasting from July through until autumn, but there are lots of other good reds to choose from. For a splash of foliage colour as well as red flowers look out for 'Golden Arrow' with lime green leaves. These all get to around 1 metre (3 feet or so) tall with a full, leafy look. For a more spare, open habit try Persicaria amplexicaulis 'Alba' with twisting, long thin spires of dainty white flowers.
Rudbeckia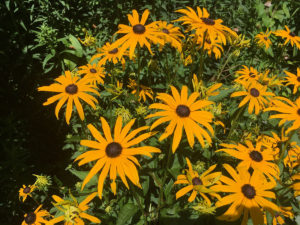 Rudbeckia is another stalwart of the late summer garden. Those bright egg yolk yellow flowers are a bold splash of colour from July right through into September and the plants are easy to please in a sunny spot with a reasonably good garden soil. My all-time favourite is probably 'Rudbeckia Goldsturm' with its chocolate centred flowers and a very nice height of 60cm (2 feet) which doesn't need staking either. Close second is 'Little Gold Star' with starry yellow flowers on tight little plants which work brilliantly in containers as well at the front of the border. It's that bright yellow colour that makes them a little hard to place in the garden, but they actually go remarkably well with Persicaria and with grasses too.
Grasses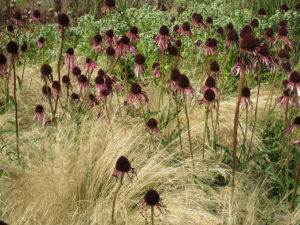 Grasses are just the right sort of garden plants to drop into a hole in the border and there are so many lovely ones to choose from. I love the 45cm (18 inches) tall ponytails of Stipa tenuissima for gap filling and, although it is a bit short-lived in my chilly clay soil, it often lasts a few years and seeds itself too, so I can transplant small plants. For the front of the border, try Festuca glauca with its fabulously spiky blue brushes only 15cm (6 inches) tall that go brilliantly with almost every other plant and also look great in plant pots and containers. For the back of the border choose Molinia 'Transparent' with its oh-so-delicate flowerheads and dense clumps of leafy foliage standing around 1 metre (3 feet) tall.
Any of these flowers will easily pep up your garden in late summer, adding interest and colour. What else is looking great in your garden right now? What are your favourite summer plants? Let us know in the comments.