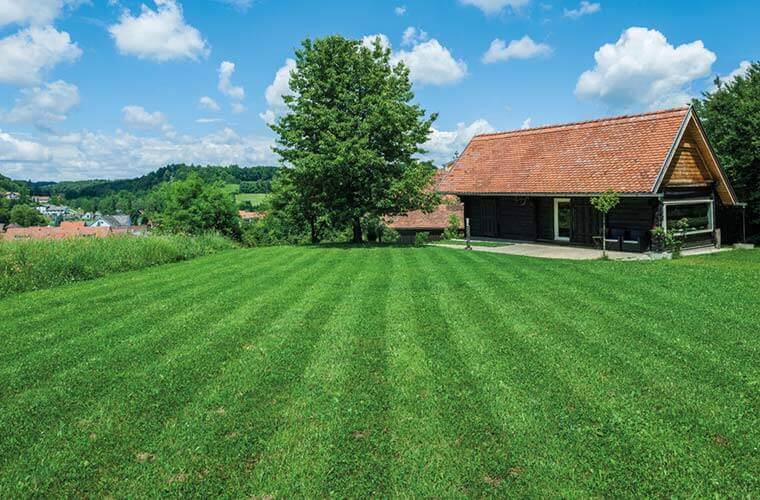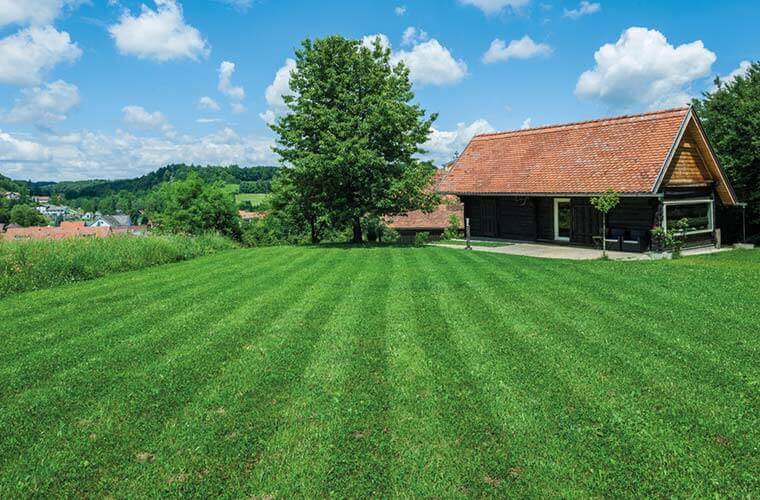 There is nothing more quintessentially British than relaxing on a lush, bowling green-striped lawn in high summer, cooling down with a drink while watching bees and butterflies go about their business. After all, us gardeners have been sowing, hoeing and mowing all season, so why not enjoy the fruits of our labours? The only snag is that as temperatures soar, our lawns can suffer – and green grass quickly becomes more reminiscent of a parched roadside verge in the Mediterranean.
The good news is that your lawn is unlikely to need re-seeding or turfing come autumn, just because it has turned a shade of yellow during the hottest days of summer. Grass has a remarkable ability to bounce back when autumn rain arrives. So whether you're looking to green-up your lawn in time for a summer family barbecue, or help it to survive a period of drought, follow our summer lawncare masterclass below on how to keep your grass in tip-top condition during the warm, dry days ahead.
Mow regularly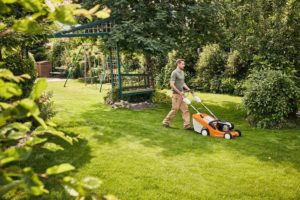 During the mid-summer growing season, it's mow, mow mow – up to twice a week when the grass is actively growing. However, cut less frequently during hot, dry conditions, when once a week should suffice. Remember that areas of lawn in dry shade, such as under trees, will grow at a slower rate and won't need mowing so regularly.
Don't assume that a bowling green-striped lawn is the preserve of Royal Horticultural Society gardens or National Trust properties. In fact, getting a striped finish at home is easy: it's nothing to do with having high-quality turf, but is simply the result of using a mower with a rear roller. Start by mowing around the edges of the lawn, then mow up and down in straight lines, ensuring that each stripe slightly overlaps the last. To enhance the appearance of lawn stripes, always use a grass box to collect clippings, or the debris will spoil the effect. Regular mowing following the same pattern will boost the striped appearance. Don't forget to trim border edges, too – a half-moon edging iron is perfect for the job, and will give your freshly-cut lawn a manicured finish, as will using a nylon-cord trimmer to cut right up to paths and fence panels.
Dealing with drought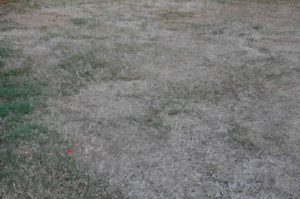 Drought can take its toll on lawns so can't be avoided when talking about summer lawncare, but don't panic, as you'll be surprised how quickly grass recovers when wet weather arrives. A sprinkler can keep lawns lush, but it's regarded as a bit of a no-no, as sprinklers can use 1,000 litres of water per hour. To put that into perspective, the average person in the UK uses just 150 litres of water per day, and a shower consumes just 6-12 litres per minute, so it's easy to see how wasteful sprinklers are. Sprinklers also put huge demand on water supplies: during the hot spell of July 2018, Thames Water had to supply an extra 450 million litres of water per day – that's 17 per cent more than normal – to keep up with demand. Overwatering can weaken lawns, too, as grass will fail to put roots deep down into the soil.
So, what can be done? If you must water, for example, to keep a newly established lawn alive, water early in the morning or as close to dusk as possible. When temperatures are lower, less water will be lost due to evaporation, allowing it to soak down into the roots.
Cut down on mowing, too. And when you do mow, raise the mower's blades by a notch. Cut too close and the grass will turn yellow more quickly. You can also remove the grass box and leave the clippings on the lawn as a mulch: it may look unsightly, but it'll help to lock in precious moisture at a time when it's needed most. Many standard STIHL mowers can be fitted with mulching kits to shred the cuttings more finely. Don't be tempted to green-up your grass by feeding it with fertiliser during drought, or you risk scorching the lawn. 
It's estimated that up to 85,000 litres of rain falls on the average roof every year, so installing water butts will help. If watering using harvested rainwater in watering cans sounds like hard work, a water butt pump can channel collected rainwater through a hose to a sprinkler, making the job easier. And if heavily used areas of lawn are particularly parched, try installing stepping stones. They'll help to reduce soil compaction and surrounding grass will recover faster when it rains.
If you have a small lawn, it can be kept lush during hot spells by using 'grey water' – that's leftover water siphoned from baths and sinks – applied to the lawn in a watering can. Never use water expelled from washing machines or dishwashers though, as chemicals from detergents can kill your grass. If you don't have time to water your parched lawn at all, don't worry. Leave it until autumn, then scarify to remove the dead grass, aerate the lawn, and apply an autumn weed and feed.
Spot treat weeds
Weeds don't just look unsightly but they compete with grass for water and nutrients. Leave lawn weeds to flower and set seed and your weed problem will become a lot worse. The good news is that they can be tackled quickly using a lawn weedkiller. These clever formulations target broad leaved weeds, such as dandelion, buttercup, speedwell, daisy and yarrow, without harming your grass. For best results, apply when weeds are actively growing but rain isn't forecast for at least 12 hours. Never use a general purpose weedkiller to treat lawn weeds – yes, it'll kill the weeds, but it'll also wipe-out the surrounding grass, leaving ugly dead patches.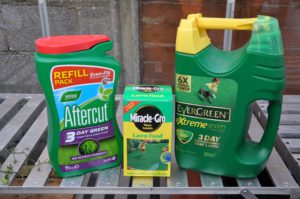 Feed it, green it
Even lawns that were growing vigorously in spring can run out of steam by mid-summer. As long as conditions are good, the soil is moist and drought isn't imminent, a summer feed can give grass a much-needed boost. Traditionally, as part of their summer lawncare, gardeners fed lawns in high-summer with sulphate of ammonia mixed with four times its weight of dry soil, applied at 15g per square metre. If that sounds complicated, don't worry, because nowadays there's a host of ready mixed, easy-to-apply products to choose from.
EverGreen Extreme Green promises to turn lawns a deeper green in just three days and can be quickly applied via a hand-held spreader as you walk up and down the lawn. Westland's Aftercut 3 Day Green is another convenient solution which also claims to feed and condition lawns just three days. If you only have a small lawn that can be treated with a watering can, Miracle-Gro Water Soluble Lawn Food promises a richer, greener lawn in just 5 days. It can also be applied via a feeder that attaches to your hosepipe.
Don't apply summer lawn feeds after the end of August, as they contain too much nitrogen which will encourage lots of green growth at a time when it risks being damaged by the first frosts of autumn.
And finally…
Whether you're using a battery-powered, electric or petrol lawnmower for your summer lawncare, regular maintenance is key to keeping your machine running in peak condition. Blunt blades can result in a poor cut, leaving grass more susceptible to pests and diseases. So, keep your blades sharpened at all times. If you use an electric mower, check the cable regularly for damage, and always plug into an RCD (circuit breaker) before mowing – it could save your life if you inadvertently mow over the cable.
What is an essential part of your summer lawncare? Share your tips for looking after lawns in summer in the comments below!