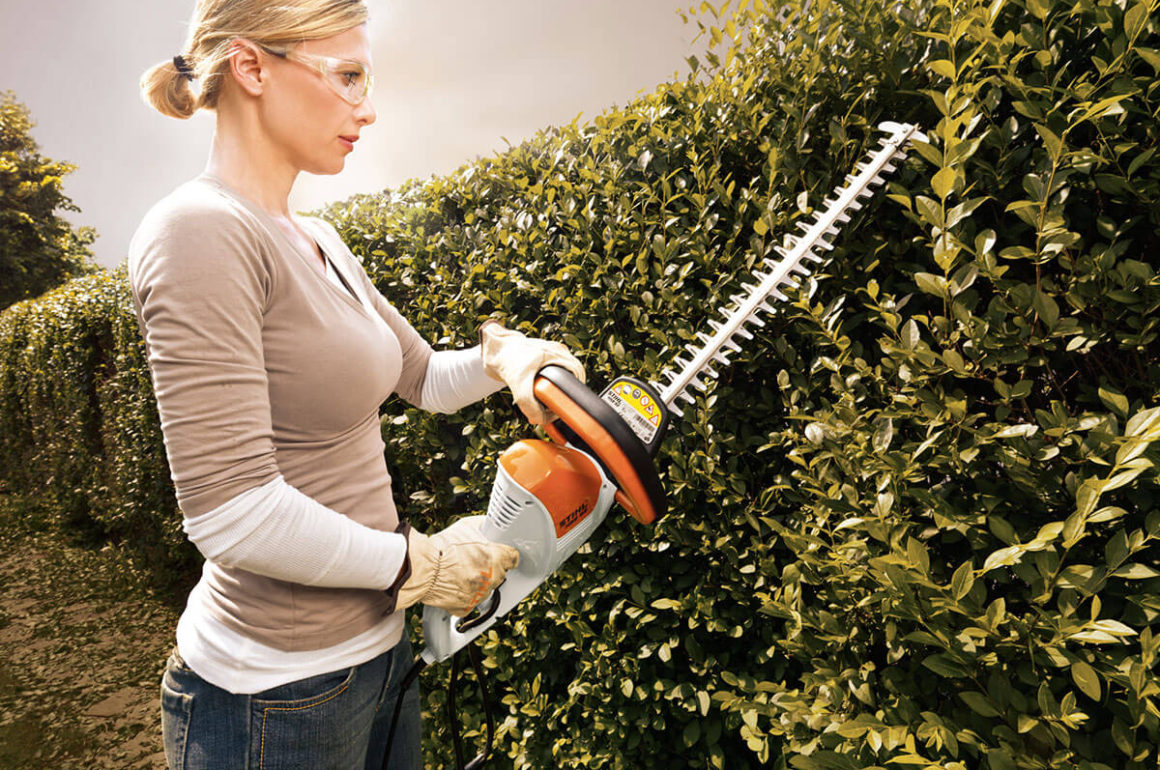 Having a perfectly-trimmed hedge is something that every proud garden-owner strives for. But keeping them maintained can often be a bit of a trying task, especially if you're using manual hedge shears! Powered hedge trimmers are a great option for gardeners who want to save time, whilst still achieving impressive results.
Here at STIHL, we have a wide-range of both long and short hedge trimmers, including petrol, cordless and electric versions. Made with STIHL quality and all offering outstanding cutting performance, you can be sure to get the perfect cut for the hedges in your garden!
Types of Hedge Trimmers
Petrol Hedge Trimmers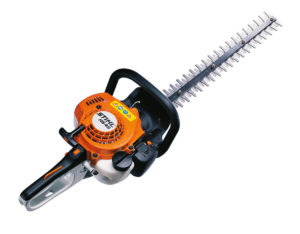 If you're looking for an entry-level petrol hedge trimmer, look no further than the STIHL HS 45. This hedge trimmer has a STIHL 2-MIX engine and is perfect for light maintenance of hedges, shrubs and bushes in the garden. Choose from either the 18"/45 cm blade or 24"/60 cm blade version – both have 30mm tooth spacing.
If you're after a petrol trimmer with less weight, you may want to consider the HS 46 C-E. Weighing in at 4.3 kg, this trimmer is the lightest petrol hedge trimmer in the range and has a low vibration level for comfortable use throughout the day, making it suitable for even professional users too. It comes equipped with STIHL ErgoStart technology too for reliable, easy starting with little effort.
It also has a 22"/55 cm blade with integrated cut protection, our anti-vibration system, a long-life air filter system and a tool-free filler cap.
Battery Hedge Trimmers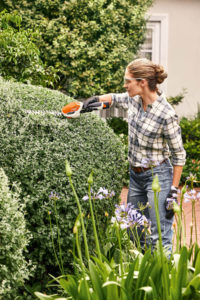 If you're looking for something a little quieter, we have a great range of battery-powered hedge trimmers too.
First up is the STIHL HSA 26, part of our AS System of power tools. Whilst this isn't a traditional hedge trimmer for keeping big hedges in check, this set of cordless shrub shears is the perfect choice for trimming and shaping topiary and small shrubs in your garden. It even comes with a grass trimmer attachment for quick edging around the lawn or patio. Powered by an AS 2 battery, this machine has a run time of up to 110 minutes, meaning you should be able to shape around 30 box tree spheres in that time! Take a look at our blog about the AS System to find out more about the HSA 26 and our new STIHL GTA 26 pruner too.
If you do need something for bigger hedges though, the STIHL HSA 45 is an extremely light cordless hedge trimmer. It has a built-in battery so it's very easy to use, and is perfectly suited to trimming back annual growth around 8mm thick. It's packed full of features, with a double-sided 20"/50 cm trimmer blade length, integrated cut protection and a screw-on tip protector. The integrated battery gives you around 40 minutes of working time, or enough time to cut around 80m2 of hedge. Checking the charge level is easy too, with an indicator on the side of the machine keeping you updated on how much juice is left in the tank.
For more power, the next cordless hedge trimmer in our range of tools is the HSA 56, which is part of our AK System. The range currently features 9 different tools which share interchangeable Lithium-Ion batteries, so you have a flexible system to suit your garden.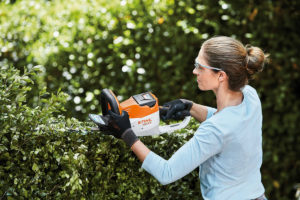 The STIHL HSA 56 can be used to trim both annual growth and bigger branches up to 18mm. Lightweight at only 3.7 kg (using the recommended AK 10 battery), it can be used for up to 50 minutes on a full charge with the AK 10 battery.
If you do need more working time with your hedge trimmer though, that's where the AK System really shines. You can fit any AK battery in the HSA 56, so you can opt to use an AK 20 or AK 30 battery which offer 100 minutes or 150 minutes working time instead. This will make the hedge trimmer slightly heavier, but if you have lots of hedges to get through, it's certainly a useful option. The HSA 56 hedge trimmer has a double-sided 18"/45 cm trimmer blade, integrated cut protection and a screw-on tip protector.
If you have  high hedges and shrubs in your garden, the HLA 56 cordless long-reach hedge trimmer is also part of the AK System. With a total length of 210cm, as well as the option to buy an additional 50cm shaft extension, it's the perfect tool to keep tall hedges in check. You can also easily adjust the head too from -45º to +90º. You can find out more and see it in action in our video:
All of our battery hedge trimmers are great choices for noise sensitive areas, due to their low noise levels. It means you can start work early in the morning or late in the evening, with no fear of disturbing the neighbours! And there's no need to wear ear defenders with these cordless tools either.
Electric Hedge Trimmers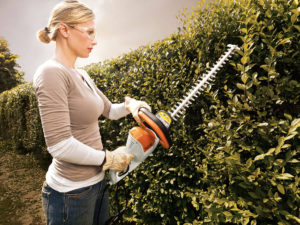 If you have bigger hedges and want an uninterrupted power supply at all times, then a corded electric hedge trimmer could be an option for you. As long as you have access to a power supply, our electric hedge trimmers offer constant power and great value. The STIHL HSE 52 is our entry-level electric hedge trimmer with a light weight of 3.1 kg and a high stroke rate of 3400 rpm.
It's ideal for trimming and cutting new growth and thin branches around the garden and it's easy to handle too. It has a 20"/50 cm trimmer blade, integrated cut protection, screw-on tip protector and a hand guard for extra protection.
If your garden has slightly tougher branches that need a bit more power to get through, you might want to consider the HSE 71. This electric hedge trimmer is better suited to cutting through thicker hedges and branches thanks to its sharp 24"/60 cm single-sided cutting blade.
One of the best features about this machine is the rotary handle, which is adjustable to 5 different positions so you can set the handle to any of the following angles; -90°, -45°, 0°, +45° and +90°. This makes it easy to get the right angle for whatever hedge you're tackling.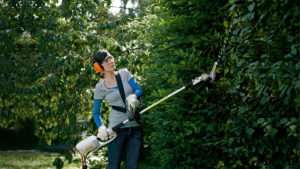 For tall and wide hedges in your garden, the STIHL HLE 71 electric long-reach hedge trimmer is the machine for you. It's perfect for trimming jobs in those hard-to-reach areas, thanks to its 125° adjustable cutter bar which can be adjusted in two directions and can also be folded up parallel to the shaft for easy transportation. The HLE 71 has a total length of 254 cm and weighs 6.5kg.
All of our electric trimmers are fitted with cable strain relief, which prevents the power cable from accidentally becoming disconnected during use. Like the battery powered models, these electric trimmers are also great for noise sensitive areas due to low noise levels.
KombiSystem Hedge Trimmer
For those of you who want to upgrade your entire kit of garden tools, it might be worth considering the STIHL KombiSystem. This flexible system gives you a choice of engine units, which you can then mix and match with 13 different Kombi tool attachments, including two different hedge trimmers. You can choose the HL-KM 0° hedge trimmer, which has a fixed angle blade and is ideal for regular maintenance of tall and wide hedges. Or, you can choose the HL-KM 145° hedge trimmer, which has an angled blade that can be adjusted in two directions and is ideal for the tops of tall hedges. You can then add in whatever other tools you need to keep your garden or allotment in check, such as a brushcutter, pole pruner, blower or even a powered brush.
Time to Get Trimming!
Whether you prefer petrol, battery or electric models, we're confident there is a hedge trimmer for everyone from STIHL. Let us know if you have any other questions about our hedge trimmers in the comments, and If you're still unsure about which hedge trimmer is the right one for you, just visit your nearest STIHL approved dealer.