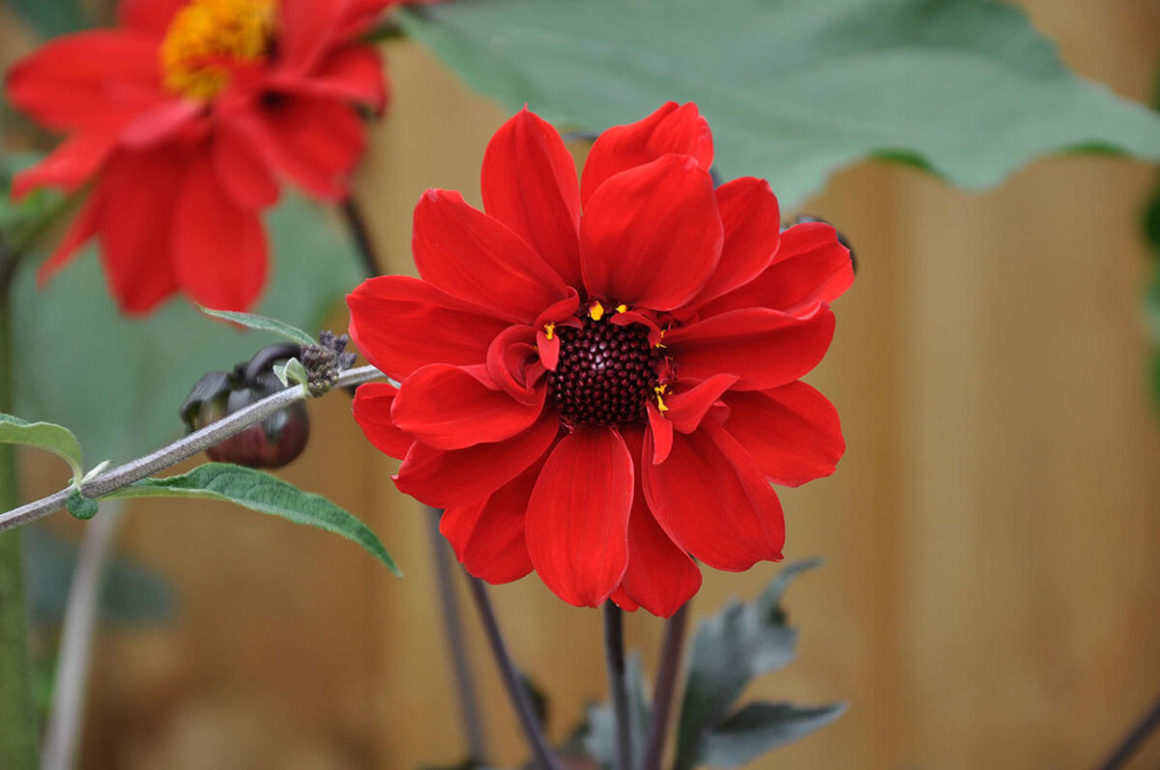 Easter marks the beginning of the gardening season – follow our guide to what to grow and sow in April and get your garden off to a bloomin' great start!
Flower of the month: dazzling dahlias
If you're keen to fill your garden with fabulous, showy flowers that bloom profusely all summer-long and carry on late into autumn, you can't go wrong with dahlias. A stalwart of flower borders and allotments during the post-war years, dahlias subsequently fell out of fashion. In recent times, however, they've witnessed an incredible comeback as gardeners once again embrace their intricate blooms, unrivalled levels of flower power and suitability for cutting for the vase.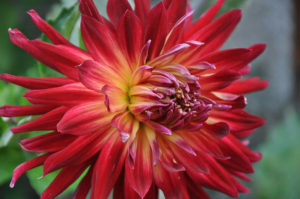 Dahlias come in all manner of shapes – cactus, pompon, decorative, ball, waterlily, single and many more – but don't worry about the terminology. All that matters is that there's a style to suit every gardening taste, and that includes blooms that can be as big as dinner plates! Plus, dahlias are easy to grow and will reward you with flowers that are worthy of the exhibition bench, even if you are new to gardening. Choose from lush, light-green foliage or dramatic dark leaves; there's a type to blend with every planting style, with heights ranging from 30 to 150cm – perfect for plugging gaps in borders.
When is the best time to plant dahlias? Leaf through the pages of gardening books and they'll advise you to plant dahlias in situ, when the risk of frost is over in late-May (or early June if you live in the colder north). But by starting these tender tubers off around Easter time, in pots indoors – or in a frost-free greenhouse or conservatory – you'll be enjoying an abundance of booms earlier in summer.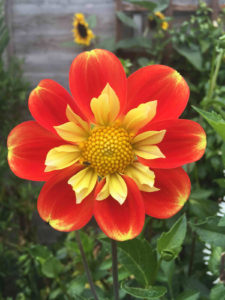 To get dahlias underway, buy tubers as early as possible in April, while stocks are plentiful. There's a great selection available online for home delivery. You'll be spoilt for choice, but Dahlia 'Bishop of Llandaff', with its vibrant red blooms and dark-bronze foliage, is an all-time favourite, while 'Summer Breeze' is a gorgeous yellow and scarlet stunner. The pure-white flowers of 'My Love', a variety that flowers profusely, glow in borders at dusk on summer evenings, while 'Pooh' is a magnet for bees with its cheery red-and-yellow blooms.
To plant, choose generous pots with good drainage, and part fill with multi-purpose compost. Gently sit the tuber on the compost, at the depth stated on the packet, then top-up with compost and water lightly. Before planting out after the risk of frost, gradually acclimatise plants to conditions outdoors by placing outside by day and bringing undercover overnight, a process known as hardening off.
Dahlias put on their greatest show when allowed to bask in warmth, so choose a spot in full sun, planting into fertile, well-drained soil. Taller varieties will need staking as they grow, especially when in flower, as the weight of blooms can cause stems to buckle, especially in rainy or windy conditions. Feed once a month with a general liquid fertiliser (or a high-potassium feed such as tomato fertiliser) to keep flowers coming, and dead-head regularly to ensure that the show carries on into autumn.
Dahlias are relatively trouble-free, but slugs are partial to young shoots, so protect with organic slug pellets. Aphids can infest stems, so keep an eye out for trouble, and spray with a bug killer at the earliest opportunity. In mild regions, dahlias can be left in the ground over winter, protected by a generous application of mulch, but it's not worth the gamble as severe cold or winter wet can sound the death knell. It's better to lift dahlia tubers in late autumn. Carefully remove soil, and store in a frost-free place such as a garage.
Edible of the month: tomato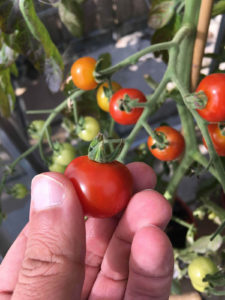 Fashions come and go in gardening, but the tomato remains in pole position as the nation's favourite home-grown crop. Visit any store and you'll find all-time favourites on sale as young plants – 'Moneymaker', 'Ailsa Craig' and 'Gardener's Delight' are three household names that have been grown by generations of gardeners. There are, however, better varieties that beat these old-timers hands down for taste, as long as you're prepared to raise your own plants from seed.
Tomatoes are easy to start from scratch, and plants yield such heavy crops that a packet of seeds represents brilliant value for money. For unbeatable sweetness, try the cherry tomato 'Sweet Aperitif' – seed suppliers claim a single plant can produce up to 500 tomatoes! If blight is a problem in your area, the modern variety 'Mountain Magic' offers exceptional blight resistance, combined with a superior taste – its standard-size tomatoes are a treat in salads or sliced in sandwiches. If you only have room for a pot or hanging basket, grow tomato 'Losetto' F1, a superb cascading bush tomato that also has great resistance to blight.
Don't be alarmed by tomato terminology: varieties described as 'indeterminate' mean that they are vine or cordon tomatoes, with one central stem that's supported by a cane or string, and require sideshoots (that emerge from between leaves and the main stem) to be pinched out, to avoid unwanted foliage. Determinate varieties are bush tomatoes; compact varieties where sideshoots must not be pinched out or crops will be reduced.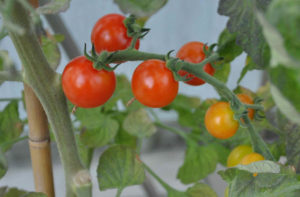 To get tomatoes growing indoors or in a heated greenhouse during April, fill a seed tray or 9cm pot with seed compost and sow seeds on the surface, ensuring they're evenly spaced apart. Cover with a light layer of compost and moisten with tap water using a mist sprayer. Place in a propagator at around 20C until seedlings emerge, which usually takes a week. Once the first pair of true leaves have formed, ease the seedling and its root out of the compost using a pencil or dibber (always hold the seedling by its leaves, and never its stem). Then transplant individually into small pots of multi-purpose compost, growing on in a heated greenhouse or on a sunny windowsill.
After the danger of frost is over, tomatoes can be planted outdoors or in greenhouses. Under glass, plant into growing bags or fill large pots with multi-purpose or John Innes No 3 compost. Avoid letting compost dry out, as irregular watering can lead to fruit splitting, as well as a condition called blossom end rot. In greenhouses, liquid feed at least once a week using tomato fertiliser, once the first truss (stem with small green fruits) has set. Outdoors, begin to feed every seven to 14 days, once the second truss has formed.
Tree of the month – flowering cherry
If you're looking for a tree that heralds the arrival of spring with a spectacular fanfare, then a flowering cherry fits the bill. Prunus 'Tai Haku' is one of the most magnificent, medium-sized tree that's smothered in a profusion of large, single white flowers. Prunus 'Kanzan' is a sight to behold as winter's icy grip gives way to spring. This classic, large, flowering cherry bears an abundance of vivid pink double flowers, creating a stand-out specimen tree that'll be the talk of the neighbourhood every spring.
What are you planting this April? Are you starting off some seeds indoors? Or are you going straight into planting seeds outdoors? Let us know in the comments!