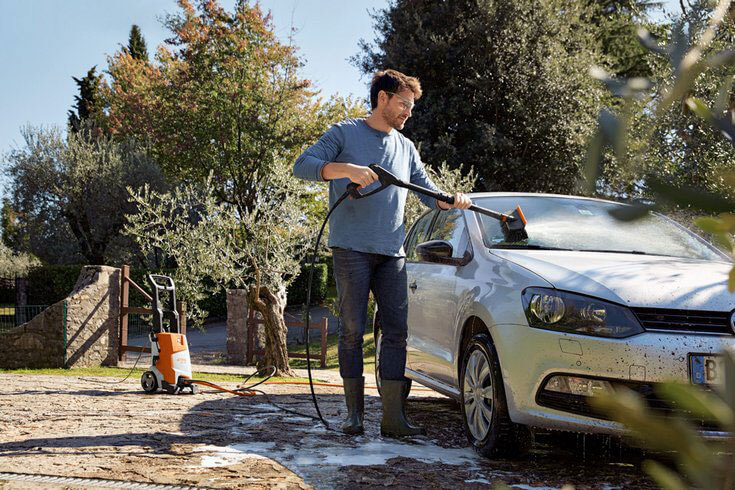 If you need a new pressure washer, whether it's for cleaning your car, mountain bike or patio, you can guarantee there is a model to make the job easy in the brand new range from STIHL.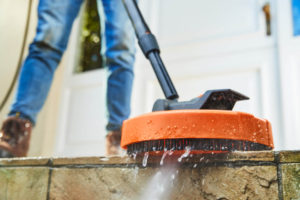 We have 5 new electric high-pressure washers to sit alongside our existing RE 143 PLUS so you have plenty of choice to suit your needs and budget. Each of the machines can be used in conjunction with a wide range of pressure washer accessories designed to make particular jobs a piece of cake, as well as a full range of detergents.
All of our pressure washers also have some great features in common too:
Two nozzles included as standard – a fan jet nozzle to cover larger areas more quickly, and a rotary nozzle that can be used to concentrate on particular areas of built-up dirt
A spray set so you can add detergent to the spray jet for extra cleaning power
A rotating spray lance so you can adjust the water jet to suit whatever job you are doing
An anti-twist and quick-release coupling on the machine so your pressure washer is easy to set up and the hose doesn't get tangled while you work 
This spring, you get a free RA 82 surface cleaner with every model too. The RA 82 is ideal for cleaning large horizontal areas such as patios, as it really reduces the amount of splashback and makes the job much less messy!  
The STIHL RE 90 pressure washer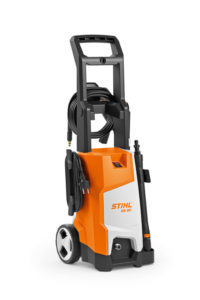 The RE 90 is STIHL's entry level, lightweight pressure washer. Weighing only 9.8 kg it can be moved and lifted easily. Although the smallest in the STIHL range it offers outstanding value, providing great pressure and water volume. 
The RE 90 is best suited to you if you need a pressure washer for odd jobs from time to time be it blasting mud from mountain bikes after a ride, cleaning down furniture in the garden or bringing pathways and flagstones back to life. The RE 90 can also be used for bigger tasks like patio and car cleaning too but the more powerful models in the range may be a better option here. There are many accessories to fit the RE 90, but the ones we think are best suited are the wash brush and rotating wash brush.
The wash brush is great for agitating dirt and grime from bikes, motorcycles and garden furniture before blasting them clean using the high pressure lance.
The rotating wash brush is ideal for window frames and house facades where it is more difficult to use a brush and can be used on an extension to provide the necessary reach.
The STIHL RE 100 pressure washer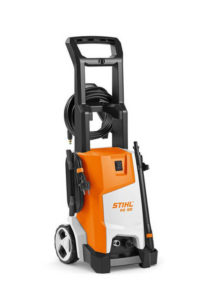 The RE 100 is a strong and compact pressure washer. At 16.5 kg the RE 100 does weigh more than the RE 90 but with this extra weight comes an induction motor usually found in commercial grade pressure washers. An induction motor brings outstanding durability and less noise too – the RE 100 is significantly quieter than the RE 90 making it more comfortable to use. The RE 100 is ideal for you if you carry out more regular jobs like cleaning bikes, motorcycles, tools and garden furniture, but also jobs that take a bit longer such as cleaning pathways and decking.
There are plenty of accessories that fit with the RE 100, but the RA 82 surface cleaner (which currently comes free when you buy a STIHL pressure washer) is a particularly useful one when you're cleaning decking and pathways, with its anti-splash back head and rotating washer jets.
The STIHL RE 110 pressure washer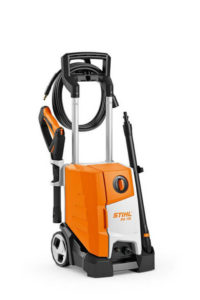 The RE 110 is a durable and versatile pressure washer, featuring the induction motor found in the RE 100 as well as other features which make it a breeze to use. With the addition of a telescopic handle, a storage compartment for the cable and nozzles, a longer high-pressure hose and bigger transport wheels, the RE 110 is easy to set up, manoeuvre and store making it ideal if you are using it more regularly, for example, when cleaning cars.
If you are looking for some accessories to make your cleaning jobs easier, why not take a look at the angled spray lance extension, which is perfect for car cleaning to get under the arches and in and around the car.
If you are using the RE 110 to clean cars, you could also look at the vehicle cleaning kit, which includes a brush to remove stubborn dirt and grime from bodywork and the 7 metre textile hose extension so you can get all the way round your car. If you have areas you need to clean that are further away from your power source, a garden hose extension is always a worthwhile investment – it's a more sensible option than an extension power cable that runs the risk of getting wet when cleaning larger areas.
You can also use our 3 metre suction set with STIHL pressure washers too – you can use this to draw grey water from water butts and other non-mains water supplies, although we recommend using this with a water filter too.
The STIHL RE 120 pressure washer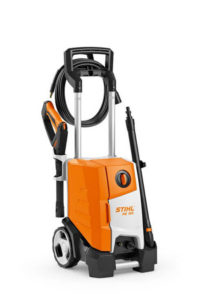 With an operating pressure of 125 bar and 500l/h throughput the RE 120 is a big step up in power over the RE 110. This makes it ideal for heavier duty work such as cleaning muddy vehicles, mobile homes and caravans or cleaning larger patios and driveways.
The RE 120 features bigger wheels and an 8-metre steel-reinforced high-pressure hose for greater versatility and durability.
The spray bottle that comes with this model is dosable too, so you can use it to deliver precise amounts of cleaning agent to the area you need to clean.
To make your large cleaning jobs easier, it's also worth looking at the 9 metre steel-reinforced hose extension and the RA 101 surface cleaner. Combining these two accessories makes cleaning large patios, driveways and walls both easy and efficient.
The STIHL RE 130 PLUS pressure washer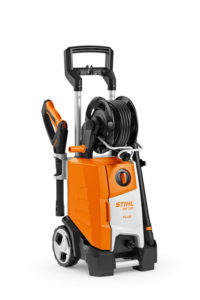 A powerful and premium pressure washer, the RE 130 PLUS is a heavy duty model, which is perfect if you need high power for regular cleaning of large areas and vehicles.
With an operating pressure of 135 bar, the RE 130 PLUS also has large transport wheels, an aluminium telescopic handle and an integrated hose reel with a hose guide to make it incredibly simple to store the 9 metre long steel-reinforced high-pressure hose.
All the pressure washer accessories in the STIHL range work well with the RE 130 PLUS and can really help you maximise the cleaning power from this quality model.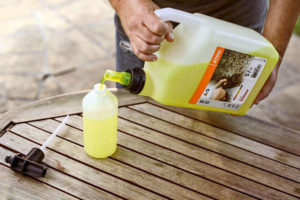 And to get the best finish possible, STIHL have partnered with SONAX on a range of cleaning agents including universal cleaner, vehicle shampoo, professional cleaner, stone and façade cleaner as well as car wheel cleaner. All of the compounds in the cleaning products are biodegradable too.
To find out more about all of our pressure washers, find your nearest STIHL Approved Dealer or take a look at our video on the STIHL GB YouTube channel: