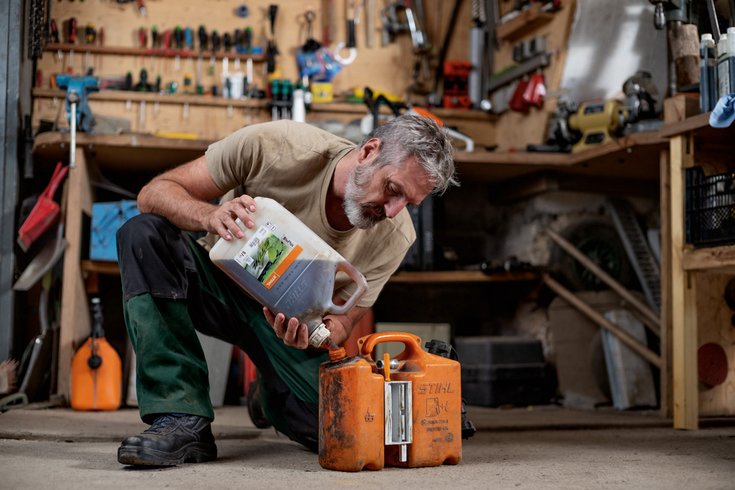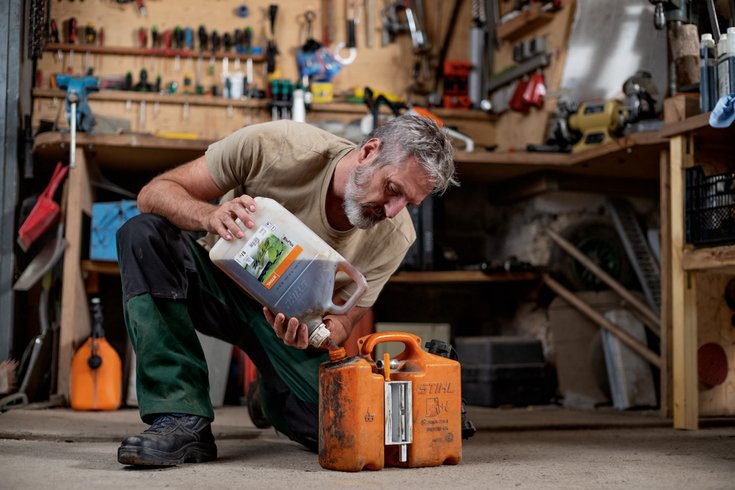 When it comes to fuelling your STIHL petrol powered tool, the old saying "more haste, less speed" is certainly one to live by as things can go wrong very quickly if you don't get it right!
Not all fuels are created equal, especially with the introduction of E10 standard fuel in UK forecourts in 2021, so it's definitely worth reading up on the options before you fuel and start your STIHL tool.
STIHL Engine Types
STIHL manufacture and sell a number of different types of engines; some of which require a 50:1 fuel and oil mix, and some require straight fuel.
STIHL Engines That Need a Fuel and Oil Mix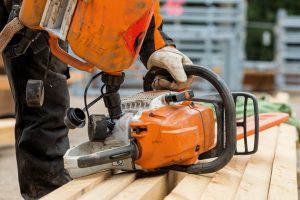 We have two different engine types that require a 50:1 ratio of a fuel and oil mixture. These include our STIHL 2-MIX engines as well as our 4-MIX engines. The higher revving 2-MIX engines are seen mostly across our range of hand-held petrol tools including chainsaws, hedge trimmers, hand-held blowers, domestic grass trimmers and construction tools, while our torquey and low-revving 4-MIX engines are found on professional petrol Kombi engines, brushcutters, backpack blowers and pole pruners.
STIHL Engines That Use Straight Fuel
Machines requiring straight fuel use 4-stroke engine technology, much like that of a car engine. These 4-stroke engines are typically standard in petrol lawn mowers, ride-on tractors, tillers and chippers. There's no mixing of fuels required for these tools so you can simply put the fuel straight into the fuel tank. They have a separate oil supply for lubrication, so it doesn't need to be added to the fuel. This is why you need to do an annual oil change on certain tools using 4-stroke engines.
Always refer to the STIHL website, catalogue or the instruction manual for your tool if you're not quite sure what engine it has.
The New E10 Fuel Standard – A Quick Summary
In 2021, the new E10 fuel containing 10% ethanol arrived at our fuel station forecourts. STIHL tools are sold all over the world and have been designed to run on fuels containing ethanol, as it has been available for quite some time in various concentration levels in other countries.  We've written a comprehensive blog on E10 fuel which can be found here, but in short, all STIHL petrol tools can run on the new E10 fuel. If you have a manual carburettor tool without STIHL M-Tronic electronic ignition, these machines are tested to work with fuels up to and including 10% ethanol. If you have an M-Tronic tool, this will also work with the new E10 fuel; you can even use ethanol fuel up to 25% although this is not yet available in Great Britain.
How Long Does Fuel Last?
Contrary to popular belief, fuel does start to go off surprisingly quickly. We know that certain tools may have some downtime at various times of the year and you may be tempted to use the leftover fuel that you have lying around, but we strongly recommend using fresh fuel with your petrol tool. One of the largest causes of starting or running issues with petrol tools is stale fuel and a gummed-up carburettor.
 We recommend using fresh fuel that is less than one month old, and we don't recommend leaving fuel in the tank for longer than necessary. With E10 fuel, we have found that fuel segregation can occur, where moisture in the air binds with ethanol and settles on the bottom of the container. Shaking the container or tool doesn't resolve this either.
Mixing Your STIHL Fuel
 We created the video below to guide you through the process for mixing fuel for your tool, as well as a video talking through the different oils we offer to add to your fuel mix. STIHL HP is our standard mineral oil, but we also have HP Super low smoke oil and HP Ultra, our most premium oil for best engine performance. HP Ultra is the oil we use in our pre-mixed fuel, STIHL MotoMix.
You may have heard about Alkylate fuels as an alternative to 'pump fuel'. There's no denying that it's more expensive than regular fuel, but the composition of an alkylate fuel is much better for you and the environment as it contains mostly alkanes and fewer harmful substances, as well as producing up to 20% less carbon monoxide. This cleaner burn enables your power tool to work much more efficiently and it's better for your health too.
Draining the Fuel in Your Petrol Machine
If you're not planning on using a tool for over a month, we recommend that you drain the tank and run the machine until it stops.  Standard fuels from the garage forecourts contain additives which can cause complications with the fuel delivery system and cause difficulties running or even starting. When the machine is cool, we recommend draining the tank, then after replacing the fuel cap, repeatedly start the machine until the engine cuts out. 
Read our dedicated blog on storing a machine for winter. 
STIHL Alkylate Fuels
Finally, we have our own dedicated fuels for STIHL engines. STIHL MotoMix is designed for 2-MIX and 4-MIX engines that require a 50:1 fuel/oil mixture, and Moto4Plus is designed for 4-stroke engines. These STIHL fuels have been designed to be better for your health, the environment and the tool, by containing less harmful additives and being cleaner burning.
In conclusion, good fuel habits such as using fresh fuel and high-quality engine oil, as well as draining the fuel tank during periods of downtime can have a positive impact on the lifespan and performance of your STIHL petrol tool. To find out more, call in at your local STIHL Approved dealer.