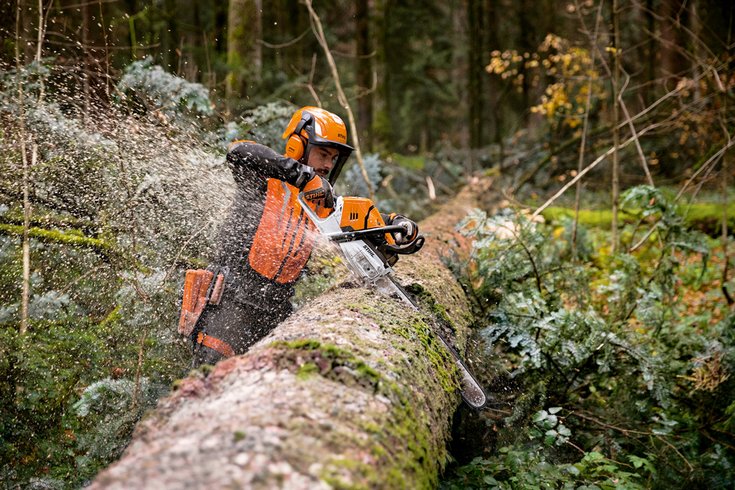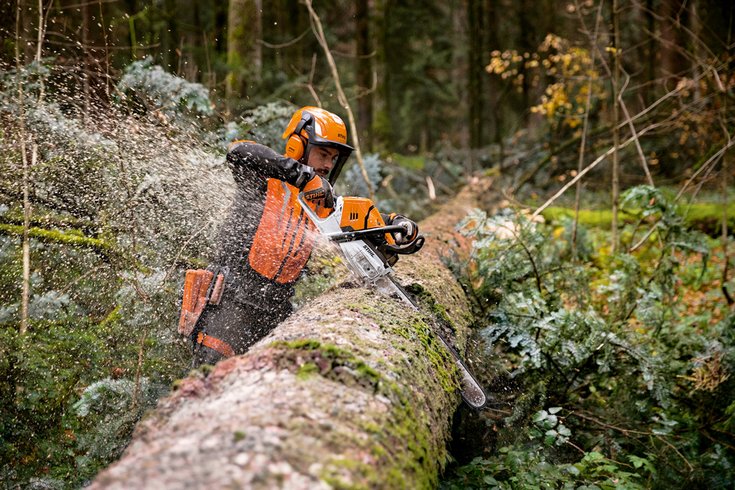 We know when you pull a new product out of the box, the last thing you want to do is sit down and read the manual first. But there's actually some really useful information in there that can help you get the best out of your STIHL tool. There are also answers to plenty of the questions you may have about your machine; everything from running-in procedures, how to use the tool correctly, basic maintenance and machine after care.
For that reason, we always recommend you read the instruction manual before use and below is just a small selection of the useful information you can find in there. The following examples are a small extract from the STIHL MS 261 C-M petrol chainsaw instruction manual.
What Personal Protective Equipment (PPE) Should I Wear When Using My Tool?
Every manual gives advice on the correct STIHL PPE to wear and we offer a large range of clothing and accessories to make sure you are protected when using your STIHL tool. No PPE can offer complete protection but we highly recommend wearing the correct PPE and using good working practices at all times!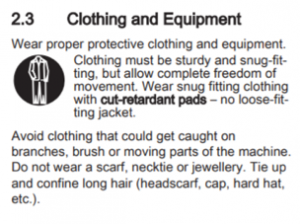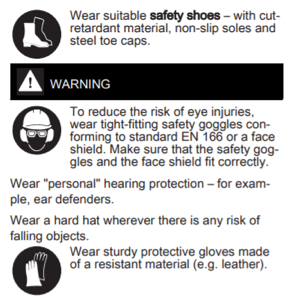 Pre-work Checks
More often than not, a machine is put back into the garage, shed or lock up after use, perhaps by someone else, and it may not have received the necessary maintenance. It's key that a pre-work check is performed before using any tools to make sure it works as it should!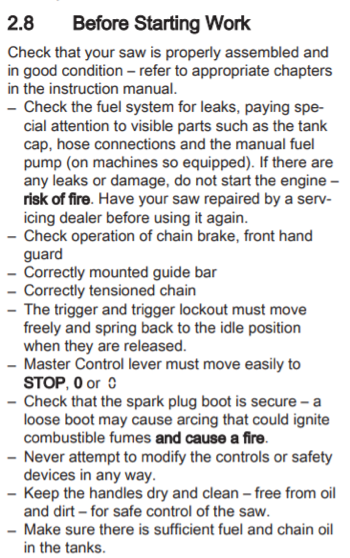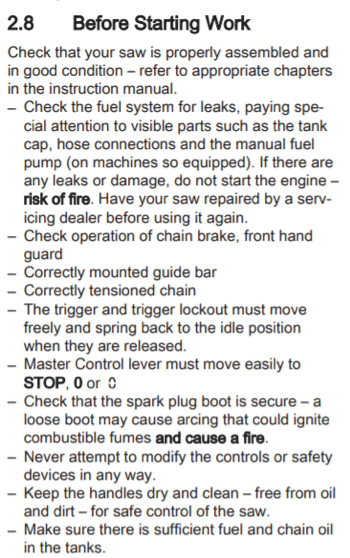 Working Techniques
There is plenty of advice about working techniques and positioning in the instruction manuals, whether it's a STIHL chainsaw, brushcutter, hedge trimmer or pole pruner. Bad techniques can make the tool difficult to handle, less efficient and leave you with bad results – nobody likes a wonky hedge or getting their chainsaw bar trapped in the log! A check of the manual can give you some handy pointers on best techniques. If in doubt or if you feel it's too difficult for your skill level, you should always get further advice or ask someone more experienced to do the work.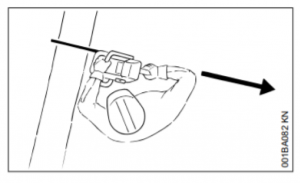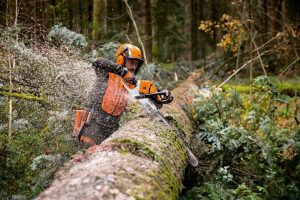 How To Replace, Check or Care For Your Cutting Attachment or Chainsaw Chain
Whilst some people perform maintenance on their tools regularly, others only use the tool occasionally so it is good to refresh yourself with the best way to replace your chainsaw chain or take care of your cutting attachment. After all, this is the part of the tool that if not cared for, will definitely impact on the performance of the tool.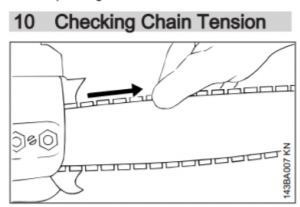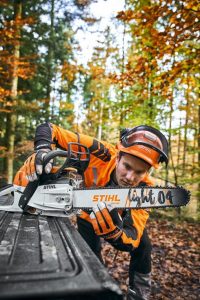 The Fuels You Can Use in Your STIHL Machine
Information about the new E10 fuel has actually been hidden in plain sight in the manual for many, many years! It is only now that we have the E10 standard in Great Britain that the discussion has increased. Many petrol tools across the globe have run E10 fuels for a long time so our gaskets and fuel lines were upgraded to account for this change. Of course, if you want to use the best fuel for your tool, you can use STIHL MotoMix, our premium, pre-mixed fuel!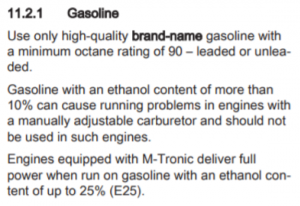 How To Perform an M-Tronic Reset
With the movement to electronic ignition timing, all the info about how to perform a quick M-Tronic reset on your STIHL machine has always been in the manual. There are different procedures for different machines, so refer to your manual or our blog on M-Tronic reset procedures here.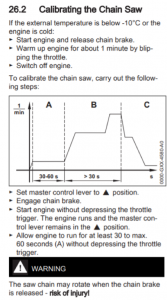 Noise And Vibration Data
This helps you choose the right tool for the job, make adjustments to reduce your use of the tool and limit exposure to noise and vibration. You can take the data from the instruction manual and use the hand arm vibration exposure calculator on the HSE website here and noise exposure calculator here.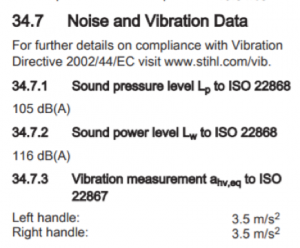 Which Attachments Fit Your Tool?
We sell the tool with the recommended cutting attachment or chainsaw bar and chain that works best for most tasks, but from time to time, you may want to run a different combination. The instruction manual can tell you which attachments fit and are approved for use with the particular STIHL tool, so you can make an informed choice when picking something that isn't sold with the tool as standard.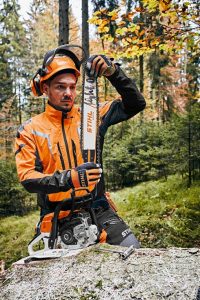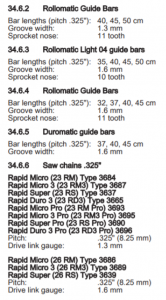 Maintaining Your Tool
Your tool will give you many years of service if you look after it. The maintenance schedules are in the instruction manual for you to keep on top of it all, or alternatively, STIHL Connected helps you keep on top of this by monitoring working time via a Bluetooth device on the tool. This then shows you all the key info in the STIHL Connected Portal and STIHL Connected App.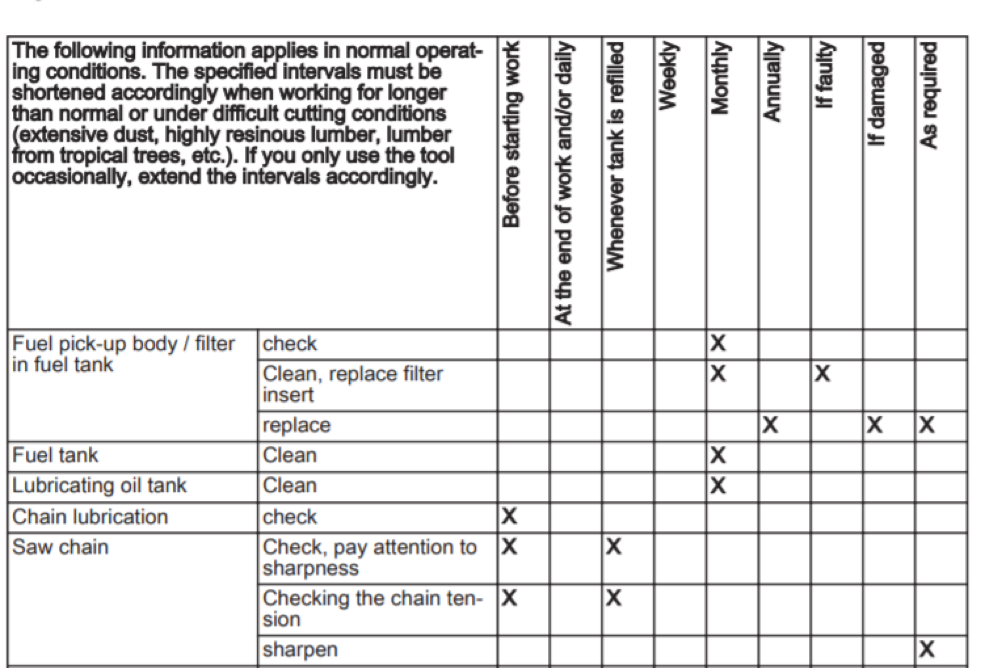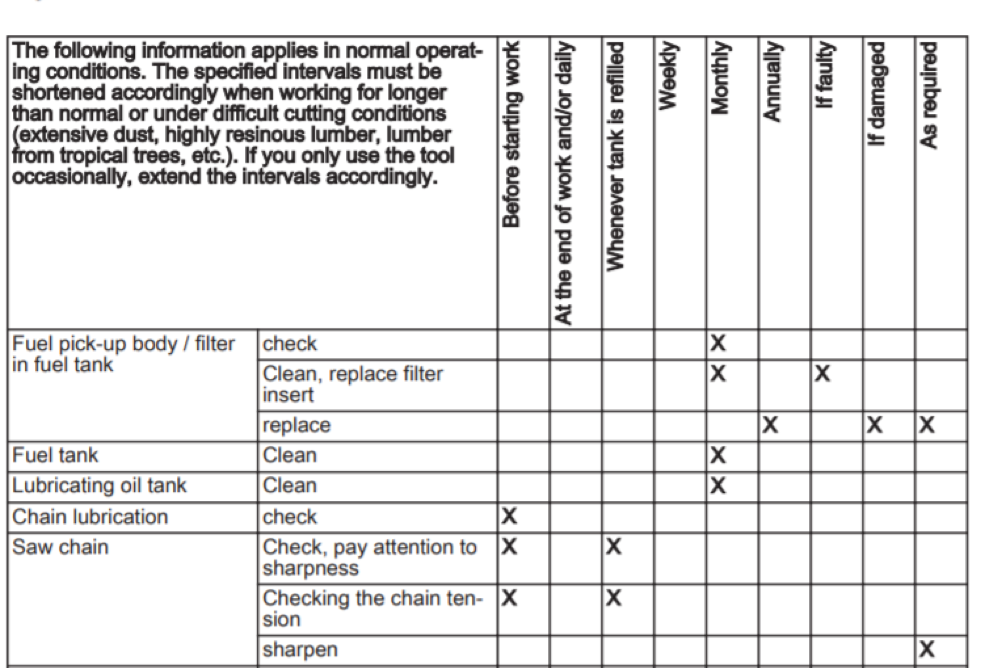 So, while reading the manual is something that many people forget to do, we strongly encourage you to do it – you never know what useful information you may find! And don't forget, if you have lost your manual, you can find a copy of it here on the STIHL website.