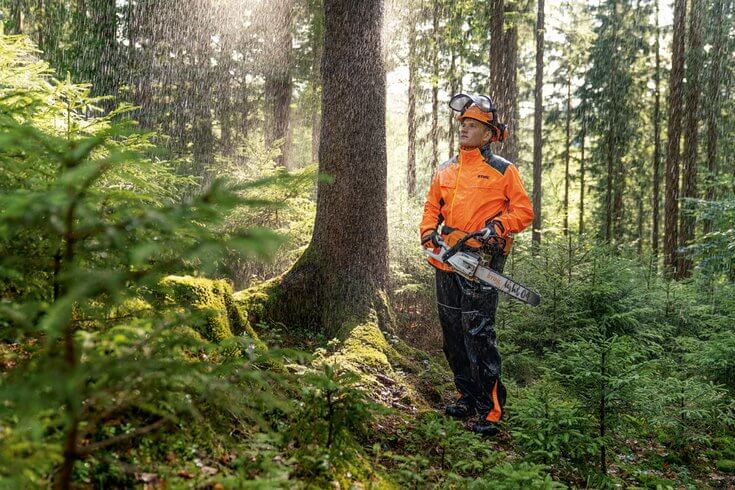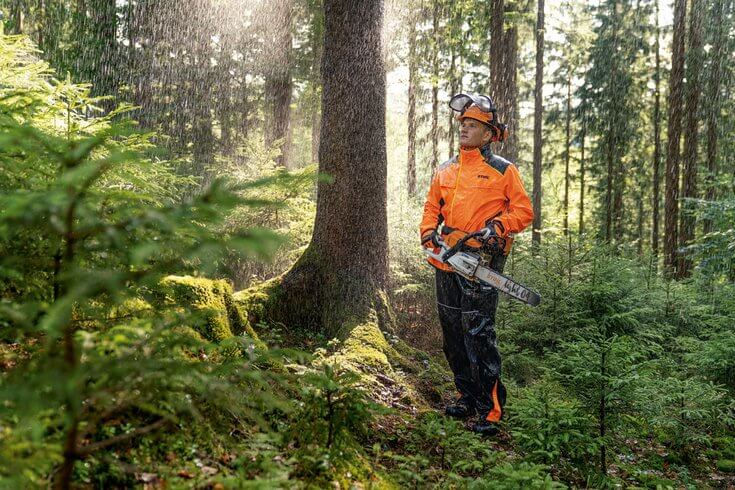 In Britain, you never know what sort of weather is on the horizon – there could be strong winds one day and torrential rain the next. And if you work outdoors, you need to be even more prepared for anything nature might throw at you. Here at STIHL, we've got you covered thanks to our handy range of weatherproof clothing, including weatherproof jackets and trousers. STIHL weatherproof clothing is designed to provide the best possible protection for working outdoors in both wet and windy weather, whilst keeping you warm (and being breathable) in the process.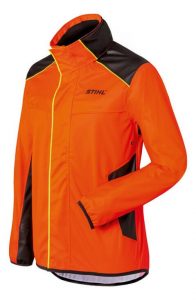 The STIHL DUROFLEX weatherproof jacket is a durable waterproof jacket with fantastic protection when working in heavy rain conditions. The jacket's high-visibility orange outer fabric material is extremely breathable thanks to ventilation openings which can be opened on the sleeves, front and rear sections. There's also a hood which can be stored away in the collar as well. The STIHL DUROFLEX waterproof jacket has a water column of > 5000 mm, which indicates the level of water pressure the jacket can absorb and withstand before water penetrates the material. In other words, this means you could stand in the rain until 5000 mm has fallen before you would start getting wet. The STIHL DUROFLEX jacket is available in size S – XXL, for chest sizes ranging from 36" – 49".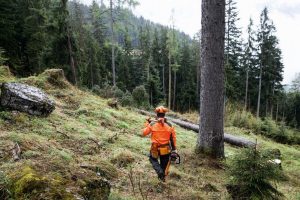 The STIHL RAINTEC outdoor jacket is a water-repellent rain jacket with excellent resistance to the wet and windy weather. It's highly visible too, with reflective piping on a high-visibility orange fabric and a large STIHL logo on the back, so you'll always be spotted in the forest! The soft-shell collar can be adjusted to your preferred fit as well – plus, there's a foldaway hood in the collar for when it's really pouring with rain. It also has heat-sealed seams on the arms and long ventilation openings under the arms of the jacket to help cool you down if needed. The STIHL RAINTEC outdoor jacket is available in size S – XXL, for chest sizes ranging from 36" – 49".
You should buy either weatherproof jacket in your regular size, as all STIHL jackets are designed with room for layers to be worn underneath.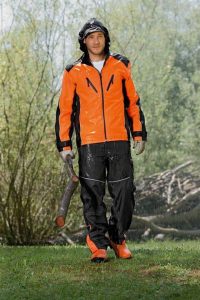 If you want some extra protection from the elements, the STIHL RAINTEC outdoor trousers can also be paired with the STIHL DUROFLEX or RAINTEC jackets. These breathable water-repellent trousers have excellent resistance to wet and windy weather. There is "Action Arctic" material in carefully designed areas of the trousers to provide resistance to thorns during work in the forest and rough terrains. Like the STIHL RAINTEC jacket, the RAINTEC weatherproof trousers have adjustable ventilation openings on the thighs which can be opened and closed as needed, letting you control the temperature whilst working. There are also side zips on the trousers which make them easier to put on and access your work trousers underneath. The RAINTEC outdoor water-repellent trousers are available in size S – XXL, for waist sizes ranging from 28" – 46", and leg sizes ranging from 31 ½" – 33 ½".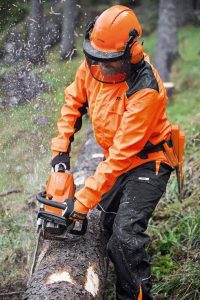 All STIHL weatherproof clothing has the "KWF Pro" quality mark which means they are all suitable for wear in professional forestry applications. For more information on KWF ratings, visit www.kwf-online.de. The STIHL RAINTEC weatherproof jacket and RAINTEC trousers have EN 343 class 3 protection against rain and wind when working outdoors, which means they represent the highest level of rain protection and the highest level of breathability.
For more information on STIHL's range of weatherproof clothing and other PPE, just speak to your local STIHL Approved Dealer.