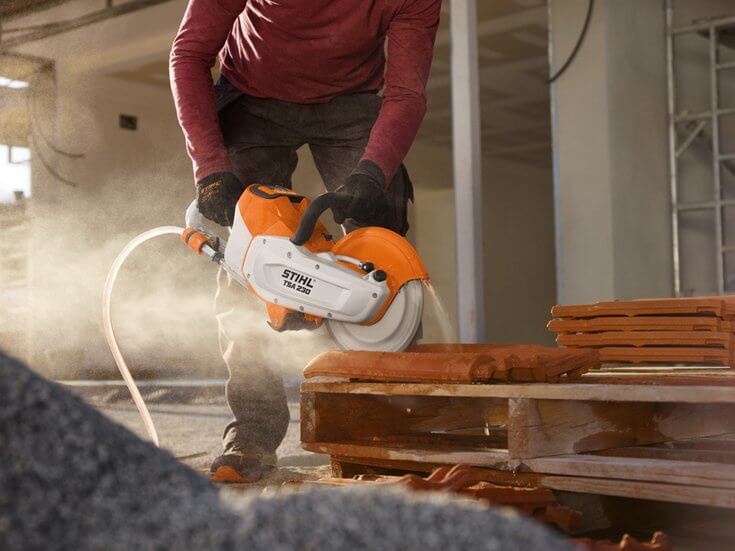 Have you come across the rain cloud symbol next to our STIHL AP System battery powered tools in the STIHL catalogue and wondered exactly what it meant? Or maybe you just thought that battery powered tools, unlike petrol tools, could not be used in the rain?
Actually, all STIHL AP system tools with the rain cloud symbol in the catalogue can be used in the rain, which is particularly useful with our British weather! Designed for professional users and people with large gardens or areas of land to maintain, the AP System tools are designed for tough daily jobs, including working in adverse weather conditions.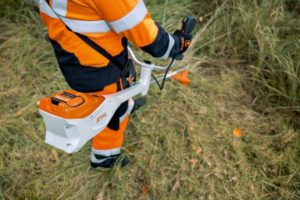 They are certified as splashproof and have undergone extensive, varied and very thorough testing and development at STIHL's Research and Development facilities. The splashwater test meets the well-known IPX4 standard, among others. These tests mean that water splashing against the enclosure of the tool from any direction shouldn't have a harmful effect on its function. We do however recommend keeping them out of salty environments and away from contaminated liquids.
In the event that the battery-powered tool does get wet, just make sure you dry the AP battery and tool after use. Chargers should only be used in dry areas. 
Current models which can all be used in the rain in the STIHL AP System include:
Cordless Chainsaws: MSA 160 C-B, MSA 200 C-B, MSA 220 C-B, MSA 161 T.
Battery-powered Grass trimmers: FSA 66, FSA 86, FSA 90 R, FSA 90, FSA 130 R, FSA 130, FSA 135 R
Battery-powered Hedge trimmers: HSA 66, HSA 86, HSA 94 R, HSA 94 T,
Cordless Long reach hedge trimmers: HLA 66, HLA 86, HLA 135
Cordless KombiTools: KMA 130 R, KMA 135 R
Cordless Pole Pruners: HTA 66, HTA 86, HTA 135
Battery-powered Blowers: BGA 86, BGA 100, BGA 200
Cut-off machine: TSA 230
STIHL Batteries: AP 100, AP 200, AP 300, AP 300 S, AR 2000 L, AR 3000 L.
So you can happily use STIHL AP System cordless tools in the rain knowing they will stand up to the task. Unless of course, you'd prefer to wait until the sun comes out!