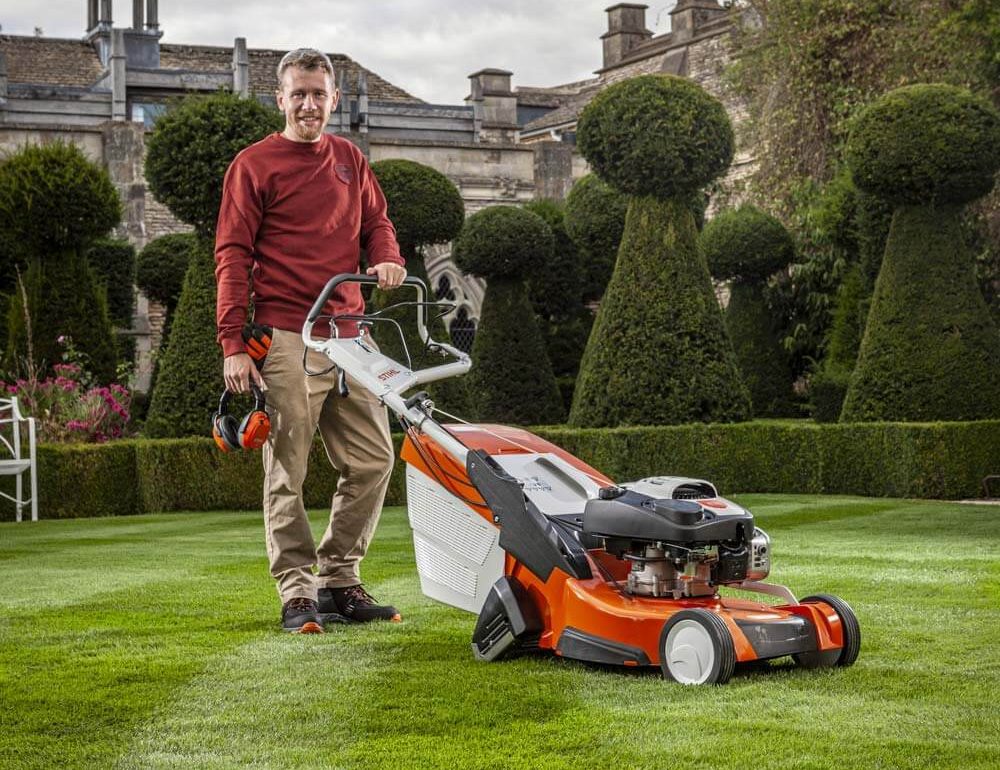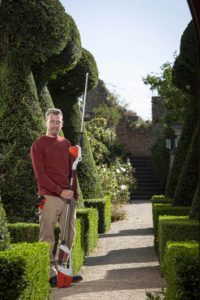 Here at STIHL, we love to hear from people who love our tools. Andy Wain, aka the Fully Charged Gardener, is one of those people and we couldn't help but notice his fantastic pictures on Instagram when he tagged us in (notably an inspired use of our cordless leaf blower on World Naked Gardening day…!). So it only seemed right to sign him up as an official STIHL ambassador, and get to know him a bit better. Read on for our first interview with Andy.
Hi Andy, it's great to have you on board! Can you tell us a bit about yourself?
I am the Head Gardener at Euridge Manor, a private estate in The Cotswolds. My main responsibilities are maintaining the 5 acres of formal gardens that surround the main residence. Its beautiful setting means that it is regularly used as a wedding venue so the grounds have to be kept to the highest standards at all times. I also get involved in other jobs throughout the 450 acres of farm & woodlands when required.
When did you first hear about STIHL?
STIHL first came to my attention back in 1997 – it was the year I bought my first STIHL grass trimmer at the age of 15!
What do you use STIHL tools for?
The gardens at the estate have large areas of formal hedges and topiary, so we use standard and long-reach STIHL cordless hedge trimmers for those (HSA 94 T, HLA 65 & HLA 85). We have areas of formal lawns where we use the STIHL RM 655 RS rear roller lawn mower. We use STIHL chainsaws, pole saw and leaf blowers throughout the gardens and wider estate. And of course, our trusty STIHL pressure washer, which helps us keep the terraces clean for wedding guests.
Tell us a bit more about Euridge Manor.
Euridge Manor is a beautiful family home, nestled in the middle of a 450-acre farm in the rolling hills of the Cotswold countryside. It has been home to the Robinson family for forty years, and has been licensed to hold weddings since 2016.
In 2001 Mr Robinson instructed renowned garden designers Isobel & Julian Bannerman to design the gardens and it took almost a decade to complete the works, but what has been created is truly unique.
The gardens here at Euridge are centred around newly built "ruined" castle walls, with a mock gatehouse. Within those gardens are walls covered in wisteria & roses, flower beds full of peonies and roses and soft herbaceous borders. These plantings are complemented by large topiary pieces and formal box hedges. The centrepiece of the cloister gardens is a formal lawn – this is where I like to get creative with the lawn stripes (although most of them they aren't just stripes!).
Within the gardens, we also have a large production walled kitchen garden. The walls are covered with trained fruit trees: peaches, apricots, figs, plums, apples, pears and cherries. The rest of the kitchen garden is divided into productive beds, surrounded by box hedges, adding formal structure. The gardens also include a boating pond and boathouse, an orangery, formal terraces and roof garden. And of course, the tump – a small grass-covered hill.
I'm really looking forward to sharing more of the gardens with you in the future on the STIHL Blog.
What's your favourite part of the job?
It has to be the creative side of horticulture – creating large-scale sculpture in the form of topiary and hedges, "painting" with stripes on the lawns and creating art with plants in the borders – just magic!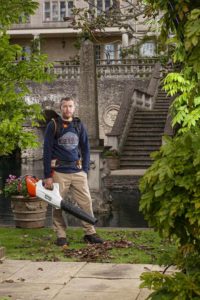 How did you become a STIHL ambassador?
Well… it would appear that STIHL were watching me! I have been active on social media for quite some time, posting pictures of my work and the STIHL machines I use, in particular. Euridge is the perfect backdrop to showcase the fantastic kit STIHL produce and I really like working with the battery kit in particular as it's quiet but really effective.
The guys at STIHL liked what I had been posting so I was asked to take part in STIHL's professional advertising campaign and then it just evolved from there. I became an official ambassador at the start of 2020.
What do you enjoy outside of work?
I do quite a bit of fundraising for charities. But when I'm not trekking or climbing mountains, I love firing up the BBQ and relaxing with my family and friends.