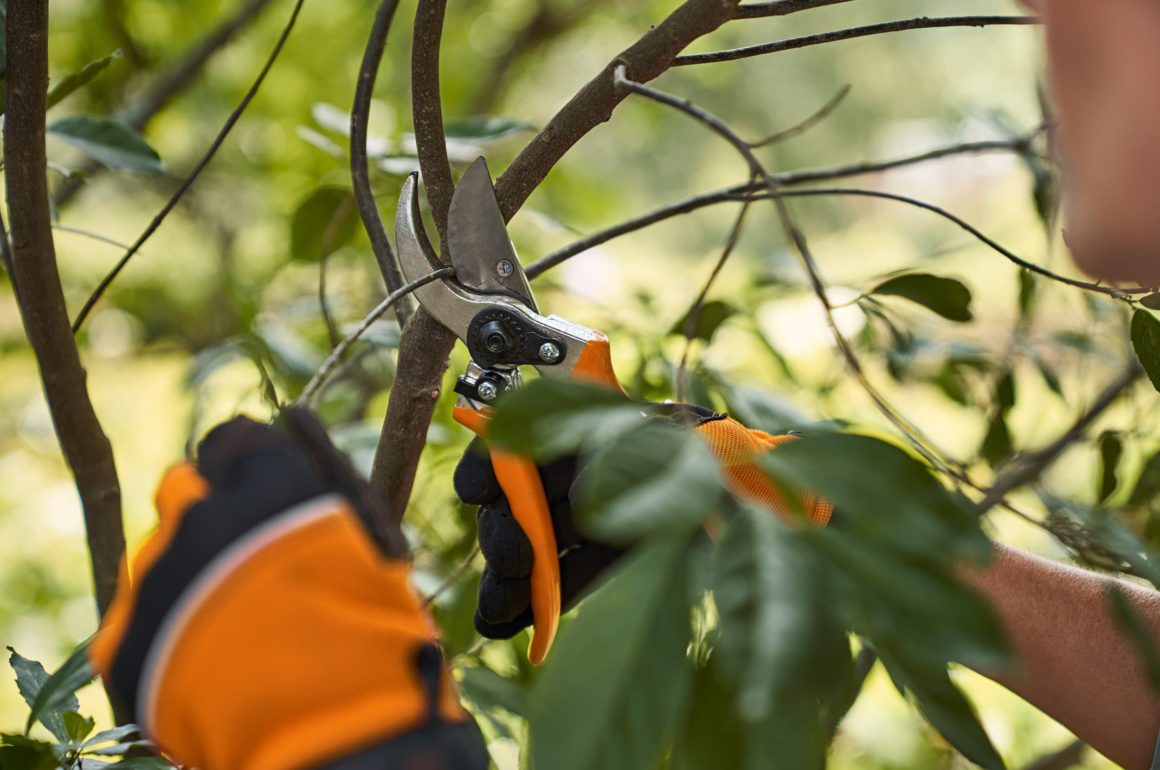 At STIHL, we manufacture a wide range of petrol and cordless power tools which we're always proud to shout about, but did you know we also manufacture a number of hand tools, including secateurs, pruning shears, pruning saws and accessories such as blade sharpeners?
Whether you're tidying up the garden or working in the forest, they make the perfect partner for your power tools and can help put the finishing touch on a job. All STIHL hand tools are made from first-class quality materials so they are solidly constructed for reliable use whilst their ergonomic designs make them comfortable to use as well!
What Garden Hand Tools Do I Need?
To make sure you get the best results, don't forget to use the right hand tool for the job. Think about how long you are going to be using them for – if you are going to be using them for long periods of time, you might want to consider some lighter pruning shears, for example.
Also, consider what sort of garden material you are cutting. Secateurs or loppers with a bypass cutting head are the best choice for pruning live plants as you get a precise, sharp cut. Anvil cutting heads are a better option for cutting dead wood or hardier plants because the design means that less effort is needed when cutting hardwood compared with bypass secateurs
Secateurs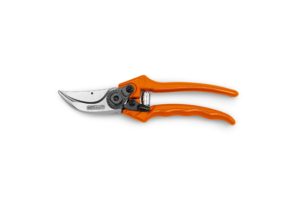 Our range of secateurs has the perfect choice of tool whether you're completing shrub maintenance and light trimming jobs around the garden, providing precise, clean cuts at all times. They're split into two different categories.
The first category is manufactured by STIHL. Each pair of STIHL secateurs is designed for a different type of application, so it doesn't matter whether you're an amateur gardener or a professional landscaper, there's a pair out there for you!
| | |
| --- | --- |
| PG 10 Classic secateurs | Our standard option for light jobs around the garden. A great option for those on a budget looking for a comfortable pair of garden secateurs to use. |
| PG 20 Universal secateurs | A sturdy choice for trimming jobs, these chrome-coated secateurs are corrosion resistant and can be easily sharpened when blunt. |
| PG 30 Professional secateurs | Fully-forged, chrome-plated professional secateurs make these our optimum choice for vine work, harvesting and shrub and hedge maintenance. |
| PG 25 Anvil secateurs | As explained above, anvil secateurs are the best choice when you are cutting hard woods, plastics or hose. The blades are easily replaceable and are coated with non-stick material to prevent jamming. |
For storing your secateurs between jobs when working, we also offer a leather bound holster for all PG models.
The other secateurs in our range are manufactured independently by FELCO, a Swiss manufacturer known globally as one of the best hand tool choices for gardeners everywhere. STIHL have partnered up with FELCO to increase our range and offer more choices for our customers.
| | |
| --- | --- |
| FELCO F 6 | For finer cutting work, this compact pair of garden secateurs is suitable for gardeners with smaller hands. |
| FELCO F 8 (right handed) / F 9 (left handed) | For thicker branches, these bypass secateurs have an angled cutting head and available for right or left-handed users. |
| FELCO F 2 | Suitable for all types of trimming jobs, these have a built-in shock absorber. |
| FELCO F 7 | Ultra-comfortable to use, with a compact cutting head, and a revolving lower handle with a non-slip grip coating for easier work. |
Pruning Shears
Need to get to those hard-to-reach branches sprouting from trees and large shrubs in your garden? A pair of pruning shears could be the answer. With long handles and razor-sharp cutting heads, they are an ideal choice for maintaining and trimming trees and shrubs.
PB 10 Bypass pruning shears (60 cm)

PB 11 Bypass pruning shears (75 cm)

Our entry-level choice, the PB 10 is perfect for all types of pruning work. The shears have robust forged blades with a sap groove and cutting head with internal oil lubrication. They're also comfortable and safe to use, with aluminium handles, ergonomic grips and an impact absorber protecting your joints during use. For harder to reach areas, the PB 11 garden shears are a longer version of the PB 10s.

PB 20 bypass pruning shears (80cm)
If you are using your shears for longer periods of time, the PB 20 shears are a good choice, they are lighter than the PB 11s, as well as being slightly longer and they can tackle thicker branches too. These high strength pruning shears have precision-ground steel blades for trimming without crushing even when cutting fine material. They also have an easy-to-change blade and are chrome-plated for durability.
PB 30 EXTREME bypass loppers
For taking on those tough branches, look no further than the PB 30 loppers. With a forged cutting head, notched blade for improved grip when cutting, sap groove to prevent sticking, rubberised grips and permanent external lubrication, they are a perfect choice for professional gardeners. You can also easily replace the cutting head parts if needed.
PB 25 UNIVERSAL anvil pruning shears
The PB 25 garden shears are our entry-level, anvil pruning shears. Designed for cutting hardwoods, dead woods and plastics, the non-stick coated blades prevent jamming when working and the pull-to-cut method makes them easy to use.
PB 35 EXTREME anvil pruning shears
The professional choice of anvil shears, the cutting head on the PB 35 has holding grooves and a scriber hook for loosening wedged branches. Both these parts are replaceable too, making them ideal for professional users.
If you are spending more time trimming your hedges rather than pruning, we also have a traditional pair of hedge shears. With specially coated, corrosion-resistant serrated cutters, these blades can cut through both soft and tough hedges. Tool-free blade adjustment and beech wood handles make these pruning shears comfortable to use.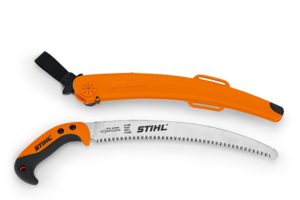 Pruning Saws
For quick and precise sawing jobs, look no further than STIHL's range of handy pruning saws. Whether you need the saw for close-up use or for reaching long branches, we have the pruning saw for you.
MEGACUT pruning saw PR 24 / PR 33
Our straight saw blade is designed for working at body level and is perfect for general gardening, horticulture and landscaping use. With a chrome-plated steel blade and three-sided Japanese teeth, the PR 24 is suited for cutting branches with a diameter of up to 100 mm and the PR 33 for branches of up to 150 mm.
MEGACUT pruning saw PR 27 C / PR 33 C
Our curved saw blade is ideal for overhead and lower level pruning which makes it a great partner for arborists and professionals everywhere. With a chrome-plated steel blade and three-sided Japanese teeth, the PR 27 C pruning saw is suited for cutting branches with a diameter of up to 120 mm and the PR 33 C for branches of up to 150 mm.
MEGACUT pruning saw PR 32 CW
This pruning saw is made of tempered carbon steel for quick sawing and its clustered teeth give a smooth cut so it's perfect for forestry and orchard work. The saw's curved beech wood handle makes it sturdy to use. It's best suited for cutting branches up to 150 mm.
HANDYCUT folding saw PR 16
For quick and precise cuts, this saw can be easily folded away for storage and easy access when you are on the go. With a chrome-plated steel blade and three-sided Japanese teeth, the PR 16 is designed to cut smaller branches up to a diameter of 65 mm.
SUPER TURBOCUT telescopic saw PR 40 CT

This professional pruning saw is designed to cut hard to reach branches when used in combination with the TURBOCUT telescopic shaft (sold separately). With a sharp, chrome-plated carbon steel blade for high-performance cutting, it is also fitted with a bark cutter to prevent tearing of the bark during use.

Once fitted to the telescopic rod, it's adjustable from 184 – 456 cm. The shaft is made from strong aluminium, with a clamp lever and lock for infinitely variable length adjustment. The rubber insulation on the handle gives a secure grip at all times.
Accessories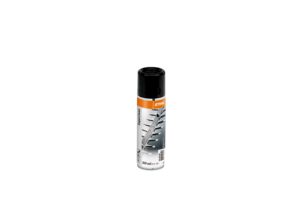 As useful as STIHL's hand tools are, they're no use to anyone if they aren't well maintained and we have a selection of accessories that will help you keep them going!
Our patented Superclean resin solvent spray has been specially designed for cleaning cutting attachments after use, such as hedge trimmer blades and chainsaws, but it's also really useful on hand tool blades! Simply spray this on the blades of your secateurs, loppers or pruners after use to remove sap, making sure they are ready to cut again right away. 
Blade Sharpener
Sharp blades are always important too and the 3-in-1 sharpening tool is a great accessory to help you sharpen up! It has 3 different carbide sharpening blades, which can be used for a wide range of tools including pruning shears, secateurs, axes, hatchets and even household items such as knives and scissors.
The first blade is designed for secateurs and pruning shears.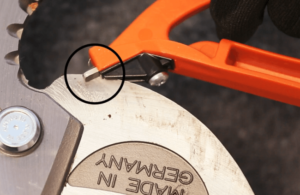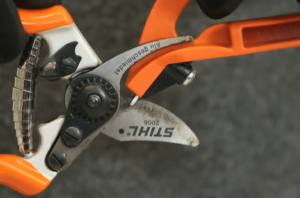 The second blade is designed to sharpen your axes, hatchets and knives.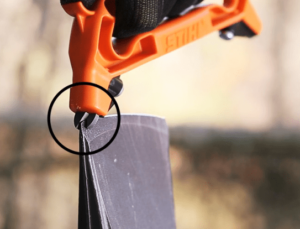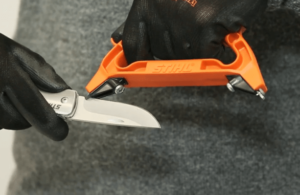 And the third blade is designed to sharpen your scissors.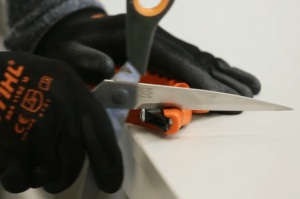 Lastly, our whetstone can be used for a wide range of sharpening tasks. You can sharpen your pruning shears, garden secateurs and hedge trimmers, or precisely grind your axes and bush hooks. This two-sided stone has one coarse side and one fine-grain side and should be used with oil or water when sharpening.
All of our garden hand tools are made with the STIHL quality that we know our customers have come to rely on, so you can be confident, you'll be getting the best cut with a STIHL hand tool. To find out more visit your nearest STIHL Approved Dealer.