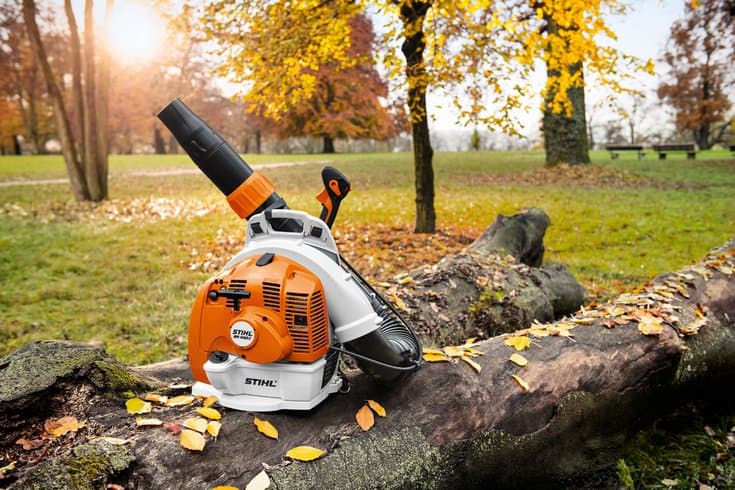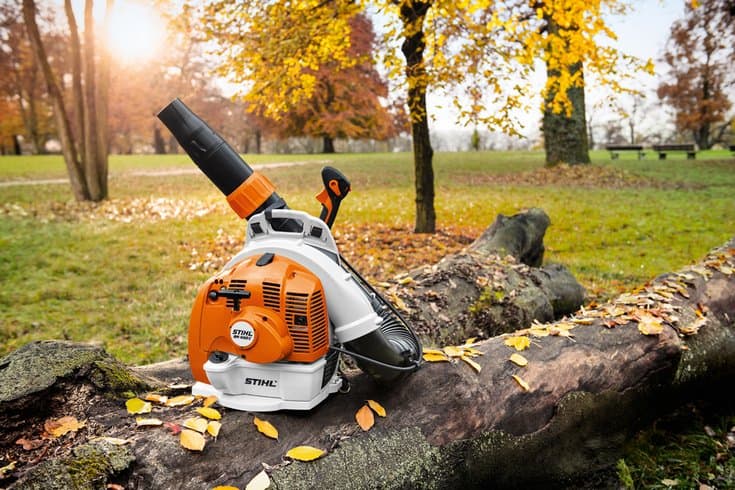 Whether it's fallen leaves, grass cuttings or just general debris, nothing can withstand the powerful blast of a STIHL petrol backpack blower. These mighty machines are extremely effective at blowing leaves away in larger areas quickly and efficiently. They're well suited for landscapers working in public areas and large estates, but even some homeowners with lots of land can benefit from the power of a STIHL backpack blower.
At STIHL, we have an extensive range of backpack leaf blowers, and as it's leaf blowing season we know many of you will be looking to invest in one. So we've put together this buyer's guide to help anyone asking themselves "How do I choose a backpack leaf blower?" to decide which one is best for you, especially if you are clearing large areas. Read on to find out more…
STIHL BR 430 & BR 450 C-EF – Our 2-MIX Backpack Leaf Blowers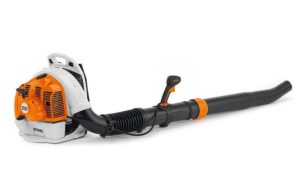 Whilst we make a couple of smaller backpack blowers (the STIHL BR 200 and BR 350) these are both designed for use in a domestic setting. If you are using the blower regularly in a professional capacity, the first option to look at is the BR 430. This backpack blower is one you can rely on and is perfect for professionals looking for a reliable leaf blower that can complete tough jobs.
With a STIHL 2-MIX engine, a blowing force of 26 N and a large fuel tank, it can easily clear large areas of leaves throughout the working day, and you'll find it comfortable to use thanks to the built-in STIHL anti-vibration system (which is a shared feature on all blowers in this guide). This blower is also equipped with a padded harness that can be adjusted for users with wider shoulders. All in all, the BR 430 is a great entry-level choice for those looking for a backpack blower they can depend on in the autumn.
Next is the STIHL BR 450 C-EF, which is arguably our most unique backpack blower. What sets this leaf blower apart from the rest is our STIHL ElectroStart technology. This feature means the BR 450 C-EF can be restarted via the control handle, which makes it extremely convenient to use. You don't need to remove the blower to restart it, so you'll save lots of time throughout the working day and find it easy to use. What's more, as you can easily switch the tool on and off using this method, you'll find it saves fuel when the blower isn't in use. Also built-in is STIHL ErgoStart, so the machine is easily able to be started in temperatures below 0° C, making it perfect for those cold, late autumn mornings. Another really useful feature is being able to adjust the blower tube length without the need for tools – simply twist the orange locking system on the tube. All of these features, coupled with a respectable blowing force of 28 N, make the BR 450 C-EF one of STIHL's most popular leaf blowers available.
STIHL BR 500 – Our Quietest Backpack Blower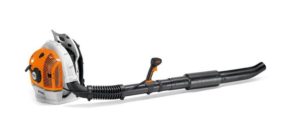 If you're looking for a quieter backpack blower, then the STIHL BR 500 is a great choice. This professional blower is ideal for use in low-noise areas as it has the same sound pressure level as a BG 56 C-E, which is achieved thanks to an integrated muffler. It makes it incredibly quiet for a backpack blower with the reduction in noise perceived by the human ear being 59% less than the BR 450 C-EF!
This does mean the BR 500 has a reduced blowing force of 22 N compared to the other blowers in this guide, but fear not, as it still a reliable choice and has plenty of power for clearing leaves in large areas, due to its STIHL 4-MIX engine and large fuel tank.
STIHL BR 600, BR 700 & BR 800 – Our Most Powerful 4-MIX Backpack Blowers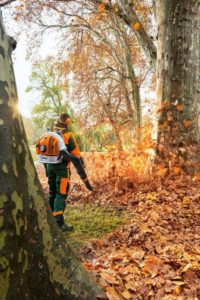 For those who want a bit more power, our 4-MIX backpack blowers are our most powerful leaf-clearing machines, with high blowing forces and air throughput.
The BR 600 is a high-performance leaf blower that has an exceptionally high blowing force of 32 N, making it an ideal choice for the most extensive cleaning tasks. With a fantastic power-to-weight ratio, ergonomic carrying frame and hip belt, it's a comfortable blower to use as well. It also features a carry handle, the STIHL anti-vibration system, economical 4-MIX engine and large fuel tank.
Next is the STIHL BR 700. This very high-performance blower shares all of the features of the BR 600 and more. It has an outstanding blowing force of 35 N and an air throughput of 1550 m3/h. Its comfort features include a soft handle and, like the BR 450 C-EF, an easily adjustable blowing tube and handle position that doesn't require tools to change it.
Finally, the BR 800 C-E is our most powerful backpack leaf blower to date. This powerhouse of a blower has a massive blowing force of 41 N making it one of the most powerful backpack blowers available on the market. This leaf blower has a practical side-start mechanism, which means you can start the machine while it's on your back. It also has a newly designed S-shaped carrying system and comes with a hip and chest belt. It's packed with features so if you want to find out more, take a look at our dedicated blog post here.
For all three of these models, you can also fit the STIHL bike handle accessory (sold separately) to them for more comfortable work over longer periods.
Nozzles, Belts and Handles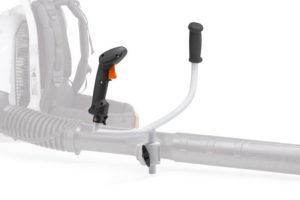 There are a number of accessories available for STIHL's backpack blowers as well, including different shaped nozzles. If you're working on particularly large surfaces and need to spread the stream of air from the blower tube, you can buy flat nozzles for most of our models. This means the leaf blower acts in a similar way to a broom and allows for greater control when clearing leaves into a pile. Alternatively, you can buy a round nozzle which doesn't have the same directional control as the flat nozzle but can clear leaves a lot quicker.
Hip and chest belts are also a great accessory for those that are after a more comfortable working experience. Both can be fitted to the backpack blower's harness. The hip belt distributes weight equally across the hips and the chest belt ensures the shoulder straps are held securely in position.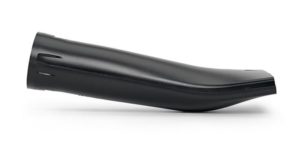 Also available is the bike handle which can be retrofitted to the blower tube and distributes recoil from the blower onto both arms. If you have large areas of leaves to clear with the flat nozzle, it's a really useful accessory and can allow you to control the blower tube with ease!
STIHL SH 86 C-E Vacuum Shredder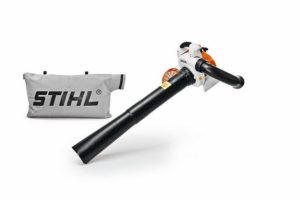 Where you need to clear the leaves and cuttings rather than blowing them away, the SH 86 C-E is a high-power petrol vacuum shredder which is ideal for professional use and can clear large gardens and public areas with ease.
It has infinitely variable speed control for greater flexibility, STIHL ErgoStart technology for effortless starting in low temperatures, our patented anti-vibration system, a HD2 filter, a STIHL 2-MIX engine for low emissions and it can also be converted into a blower (it comes with a flat and round nozzle included). If you're working in a particularly dusty area, you can purchase the dust-reducing collection bag separately which is made from a fine weave to reduce the spread of dust where you are working.
As you can see we have a broad range of backpack leaf blowers so there is something for you whatever you need. Remember, it's always worth visiting your nearest STIHL Approved Dealer to try one on and see what is the most comfortable option – you can find your nearest STIHL Approved Dealer here.