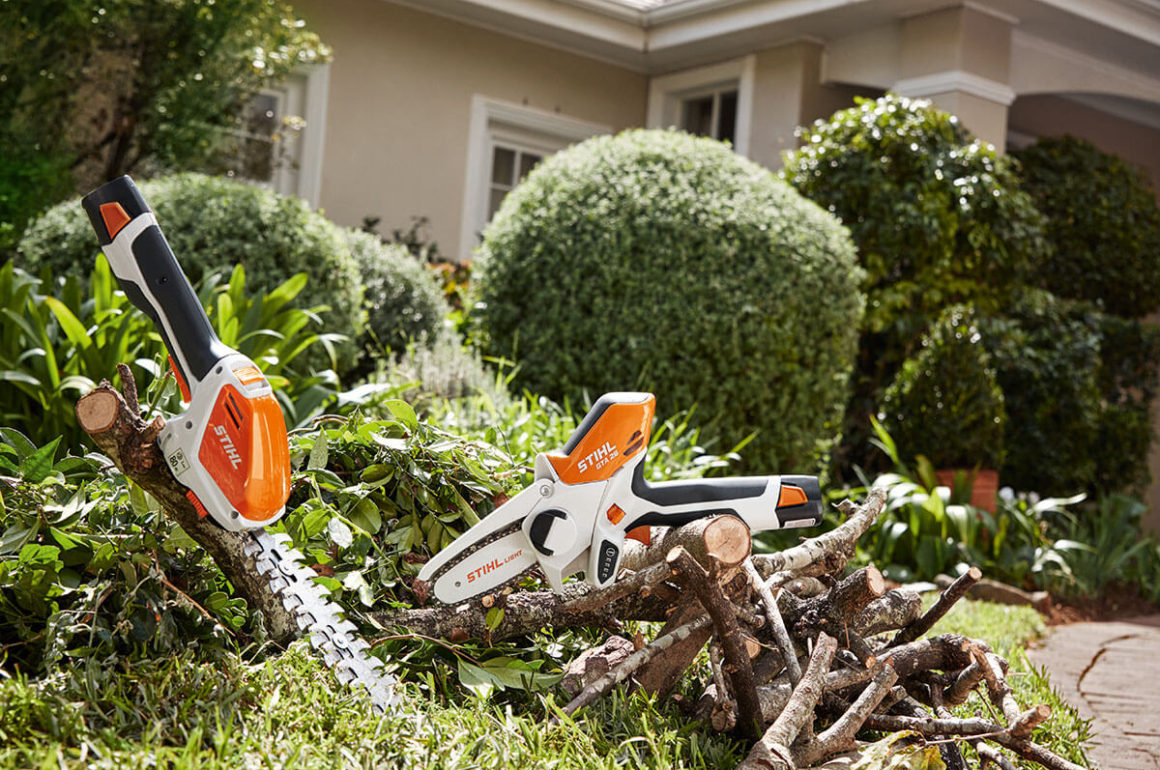 The new STIHL AS System includes a pair of hand-held power tools that are so easy to use, you'll have the best-kept garden on the street in no time! These tools are perfect for your garden challenges as they are so easy to use – just pick one up and get going!
HSA 26 Shrub Shears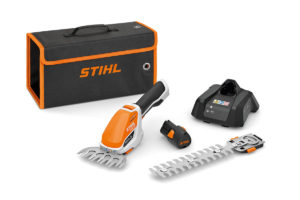 The HSA 26 shrub shears are doubly good value, as they have both a shrub blade and a grass blade included, and these cutting blades can be changed in seconds so you'll always have the right tool to hand. The shrub blade is 20cm long and has teardrop-shaped teeth to draw the branches and leaves between the teeth. A similar design is used on many of our standard-sized hedge trimmers because it helps to give a precise finish to your hedges, which is really useful when you are using the HSA 26 to trim your topiary!
Once your hedges are trimmed to perfection, pop the orange cover over the blade and simply press in the buttons at each side of the base of the blade to lift it out. You can then replace it with the grass cutter – a 12cm wide blade that is perfect for trimming lawn edges or small patches of grass.
If you are going to be using the grass cutting blade on a regular basis and don't want to be constantly bending, the HSA 26 telescopic shaft is a really useful accessory. Simply slot it into the battery slot and insert the battery into the other end of the shaft and you can use the HSA 26 whilst standing up. The shaft is even extendable from 95 – 110cm, and the angle of the head can be adjusted from 125 – 180 degrees.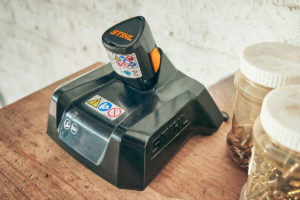 The HSA 26 comes with both of the blades as standard, as well as an AS 2 battery and an AL 1 charger, all packed into a handy fabric carry case, which keeps all of the kit neat and tidy and can even be mounted on the wall using the eyelets on the back.
It is extremely light at just 1kg (including the battery), as well as being quiet and comfortable to use with the rubberised, ergonomic handle. It also has an LED indicator to show you how much battery you have left at the touch of a button. On a full charge, you'll get approximately 110 minutes of working time, which is enough time to trim around 30 box tree spheres.
GTA 26 Hand-Held Tree Pruner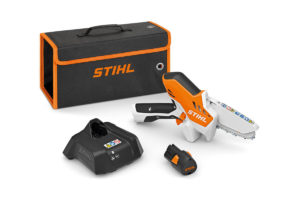 The second tool in the AS System is the hotly anticipated GTA 26 hand-held pruner. This cordless tool is so useful for pruning branches from smaller trees and shrubs, but it's also great for cutting garden waste and even for DIY jobs, such as building a raised garden bed or even a playhouse for the kids (depending on your carpentry skills!).
It features a 10cm guide bar and a ¼" Picco Micro 3 saw chain, which have been developed using our many years of experience manufacturing the world's best-selling petrol chainsaws, so you can be confident of getting an excellent clean cut at all times. The protective hood above the chain moves freely so you can use the full length of the bar to make your cuts too.
The chain is easily replaced without the need for tools so you can make sure that you have a sharp chain at all times, and the GTA 26 comes with its own little bottle of Multioil Bio to lubricate the chain. Multioil Bio is made from 90% renewable raw materials and is 90% biodegradable.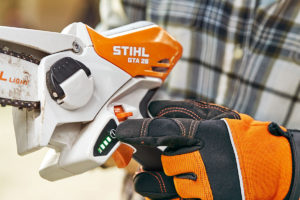 Just like the HSA 26, it comes in its own fabric carry case, with the battery and charger and it has an LED battery level indicator like the HSA 26 too, so you won't be caught short with no battery life left just when you've got into the swing of things! The HSA 26 and GTA 26 both use the same battery, so if you have both tools, you can easily swap the lithium ion batteries over if you have a full day of pruning planned!
You'll get around 25 minutes of run time out of the GTA 26 pruner, which is enough time to make around 80 cuts in branches with a 4cm diameter, but the battery charges in around 70 minutes, so you'll be ready to go again in just over an hour.
The GTA 26 is easy to use – just hold the main handle in one hand and rest your second hand on the black, rubberised handle on the top of the tool to guide it through the cut. To find out more and see the GTA 26 in action, take a look at our video: