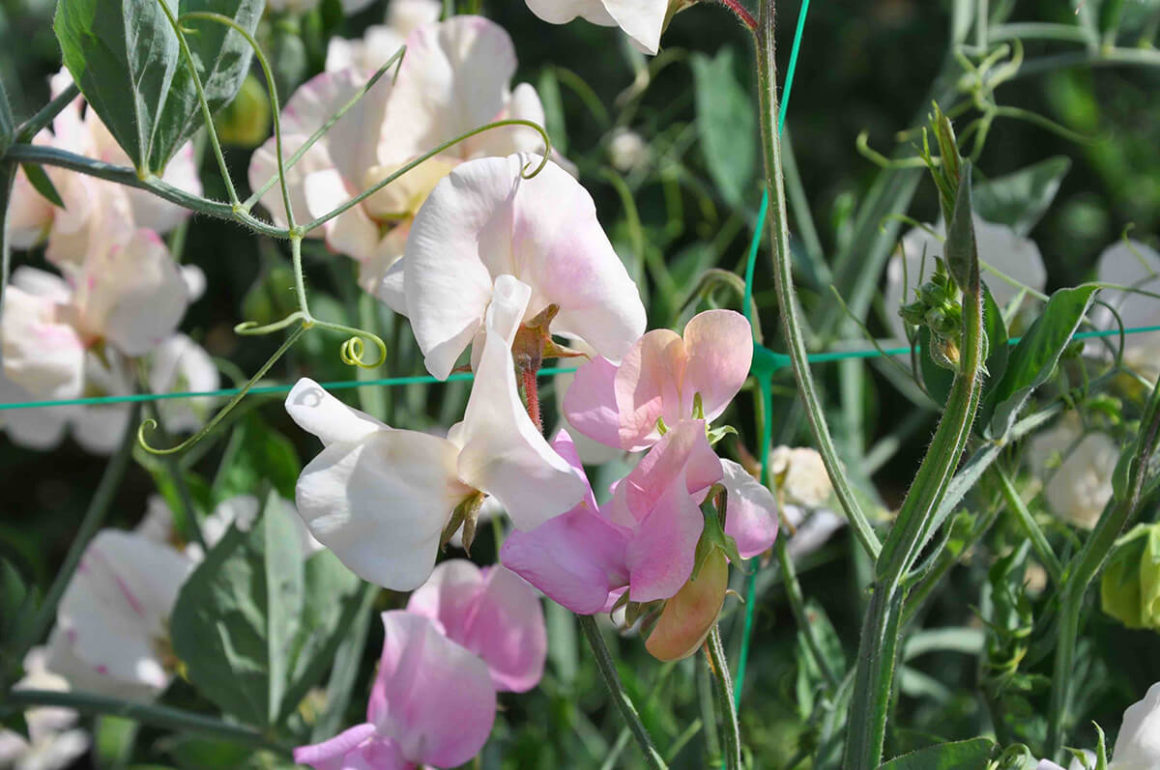 October is all about dazzling, fiery shades of autumn, falling leaves and the countdown to Halloween. Don't retreat indoors just yet though, as there's plenty to do in the garden as the days shorten. In this month's star plants blog, we'll take a look at what is good to plant in October, including the October flower of the month.
October Flower Of The Month: Sweet Pea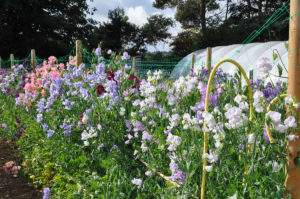 No other month offers such a rich tapestry of colour in the garden than October. The fiery reds and yellows of turning leaves are one of nature's finest spectacles, enhanced by the gentle orange hues of the low autumnal sun. Sure, it's getting dark earlier and many of us dread the clocks falling back at the end of the month, but gardeners aren't about to hibernate any time soon. In fact, the lingering smell of smoke from bonfires and the nip in the air as temperatures tumble make October one of the best months to celebrate everything that the autumn garden has to offer.
Don't be mistaken for thinking that October is just about raking-up leaves, scarifying lawns, clearing borders and pots and packing the garden furniture away before winter. Good gardening is all about thinking ahead, so taking time now to plan how to make your plot even better next season is just as important as putting the garden to bed ahead of winter.
That's why our thoughts should turn to next summer right now, and what better way to look forward than with a flower that epitomises the height of the warmer months, the sweet pea. Now you may ask, why are sweet peas great flowers to plant in October? After all, the season is winding down, and sweet peas germinate perfectly well in spring. And that is true, but October is the perfect time to plant sweet peas as it offers a host of benefits. Sweet peas sown now will grow slowly during winter, establishing good root systems during the colder months to give them a head start next year. They'll be more vigorous with longer, stronger stems and bigger flowers which can appear earlier in the season on plants that can be less susceptible to mildew. That's why exhibition growers sow seed in autumn, and gardeners would benefit from following their example.
It's important to point out that we are talking about annual sweet peas, which only last for a year but are the best option for fragrance (as opposed to perennial sweet peas which are rarely good for scent). As long as good quality seed is used, few gardeners experience problems with germination; however, some swear by nicking the seed coating using a sharp knife (taking care to avoid the eye of the seed) which can help with speedy germination, or soaking seeds in a saucer of water prior to sowing. Fill deep plant pots or root trainers with a quality seed compost and sow the seed around 2cm deep, covering the seed with compost and watering before placing in an unheated greenhouse, cold frame or a cool porch. As plants grow, pinching out the tips helps to encourage bushier growth.
Browsing seed catalogues to choose varieties is a great pastime for dark autumn evenings but if you're looking for the best scented sweet peas to sow now, here are a few tips. Sweet pea 'Fragrant Boundary' is a gorgeous mix of highly scented white, blue and pink blooms that are excellent for cutting. Another top choice for October sowing is 'Painted Lady', an heirloom variety that remains popular to this day due to its profusion of intensely fragrant pink-and-white flowers. No autumn sowing would be complete without 'Matucana' which is famed for its captivating fragrance, said to be the most intensely perfumed sweet pea available with bicolour purple and magenta blooms.
Edible of the month: Autumn-Sown Broad Beans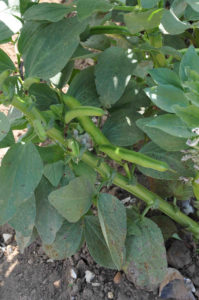 Broad beans can be sown in spring or autumn, and whichever option you choose crops will taste superior to beans that come from a supermarket freezer! If your soil is light and free-draining there are excellent varieties that can go in the ground now (but if you garden on heavy soil that's prone to waterlogging, it's best to wait until spring). 
It's important to choose a variety that's hardy, making it suitable for autumn sowing. 'Aquadulce Claudia' is a tried-and-tested autumn favourite and holder of an RHS Award of Garden Merit for performance. Widely regarded as the hardiest broad bean, plants crop prolifically and pods are crammed with tender white beans which are most flavoursome when picked while young. 
It's also worth considering planting broad beans such as 'Valencia', which offers excellent tolerance to winter cold and is ideal for getting in the ground between October and November. Not only are its pods long but crops are excellently flavoured and freeze well.
Choose an open, sunny site and, when the weather is fine, dig the soil over and remove weeds. Sow seeds 5cm (2in) deep and only water if the soil is dry (unlikely at this time of year). Keep an eye open for mice which can take a fancy to seedlings (it's worth sowing a few spare plants in case some get devoured) and provide canes and string once plants are 60cm (2ft) tall. You'll benefit from harvests at least a month earlier than from spring sowings, and they'll be over by June, freeing up space to sow other crops.
October Plant Of The Month: Japanese Maple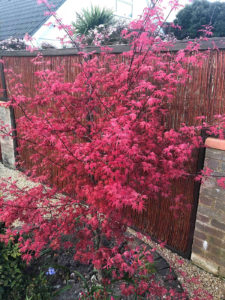 Japanese maples represent the very essence of autumn, putting on an unrivalled display of fiery leaf colours as the seasons turn. These Oriental marvels enjoy fertile, moist, well-drained soil and appreciate a sheltered spot. Get the conditions right and you're in for a treat every year between October and November, making them the perfect garden plant.
Acer palmatum 'Atropurpureum' is a brilliant slow-grower that reliably puts on a show of fiery scarlet every autumn before its leaves fall. Although this small tree will grow happily in sun or part-shade, its hues are at their most intense when exposed to higher light levels, so position carefully for best effect.
Another plant to consider is Acer palmatum 'Dissectum', renowned for its elegant, deeply divided leaves that emerge sporting tones of green in spring but transform into a kaleidoscope of red, orange and yellow shades in autumn, one of the finest spectacles that a Japanese maple can deliver.
Acer palmatum 'Osakazuki' is not only a winner in small gardens, with classic Japanese maple leaves, but it has an enviable reputation for putting on one of the longest-lasting displays of intensely fiery oranges and scarlets, helping gardeners to savour the spectacle before its leaves finally drop. 
What else do you plant in the garden in October? What are your tips for autumn planting? Let us know in the comments. We'd love to know your thoughts on the best plants to plant in October.