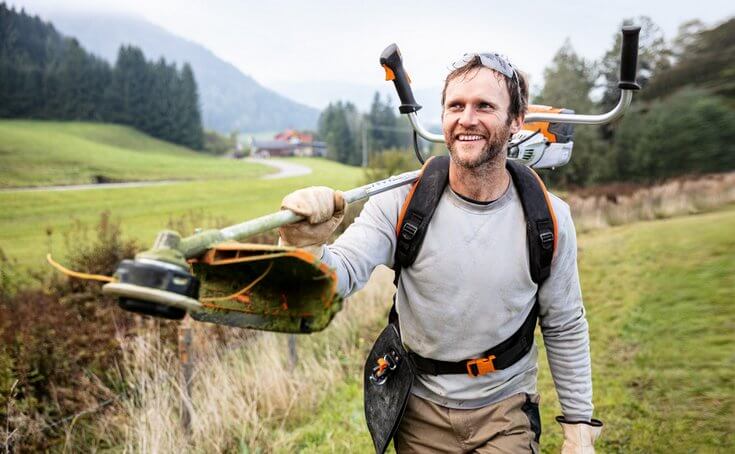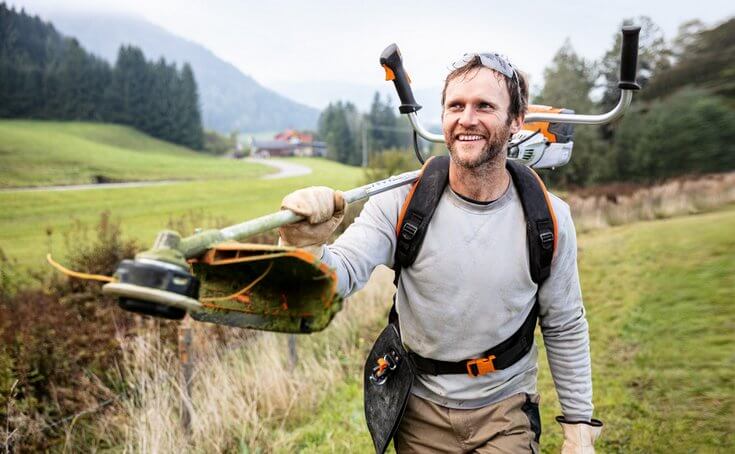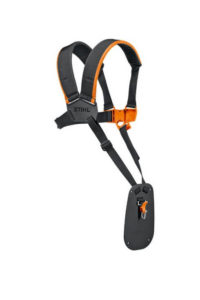 Did you know that using a brushcutter harness with your STIHL brushcutter can make your job more comfortable? Not only can it make the job easier, but it can also help you to get a more even cut and also reduce the risk of stones and debris being thrown out by the tool.
There are a number of ways to set up your STIHL harness depending on the tool you are using and whether it has a round handle or a bike handle. The aim is always to set it up so that the cutting attachment is level with the ground.
If the cutting attachment isn't level, the cut may be higher or uneven. The tendency is then to tip the machine to one side to lower the cut, which can result in a tiger-stripe effect on the lawn and increase the risk of throwing stones and debris. Regardless of your height, STIHL brushcutters can be set for the best comfort and performance. Find out how to use a brushcutter harness to make your job more comfortable with our guide.
Using A STIHL Harness With A Brushcutter With A Round Handle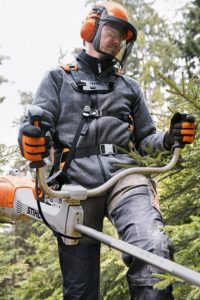 STIHL Brushcutters with round handles are best suited for use across the body. If you try and hold a round-handled brushcutter out in front of you, you will find yourself working in an uncomfortable position with bad posture.
The best harness to use in this situation is a single, adjustable shoulder strap harness. Round-handled machines normally have an eyelet (or carrying ring) to fix the harness to, which can be moved up or down the shaft to suit you best depending on your height.
You should adjust both the strap and the eyelet on the machine at the same time to find the correct and comfortable position for you. The fixed point that you need to consider is the cutting head – this should always be level on the ground, so you need to bear this in mind when you make any adjustments to your STIHL harness.
If you are using a round-handled brushcutter with a grass cutting blade or brush knife, you should always use a shoulder strap.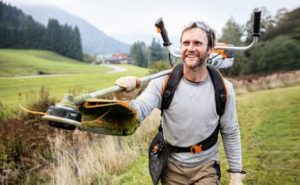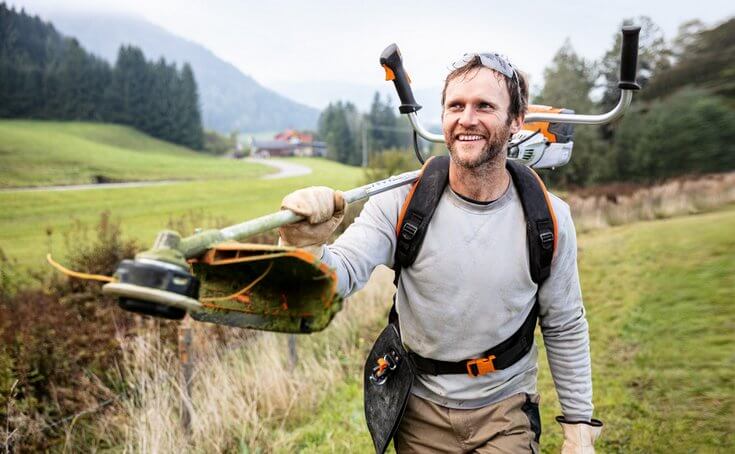 Using a STIHL Harness With A Brushcutter With A Bike Handle 
Brushcutters with bike handles are used out in front of the operator, so a double shoulder harness is generally more suitable with these models as it allows for a more natural posture.
Smaller bike handle brushcutters, like the STIHL FS 55, FS 56 or FS 94 can be used with a single strap harness, which comes supplied in the box. But brushcutters from the FS 70 upwards (including clearing saws) should be used with a double shoulder strap harness for optimum comfort.
 Our double shoulder STIHL harnesses have up to 7 points of adjustment, including 2 points on the shoulders, 2 on the waist, a front pad adjustment and rear pad adjustment. The brushcutter is then attached to the harness by adjustable eyelets. This means you can make lots of small adjustments until it is in the perfect position for you.
Once you have the brushcutter harness on, the first thing you should do is adjust it so that the harness hook is positioned to the side of the right leg. The optimum position for the hook is one hands' width below the hip.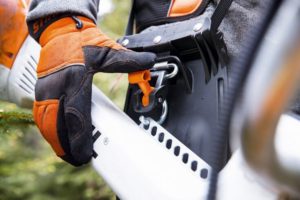 When the hook is in place, the key point that you need to consider again is the position of the cutting attachment. Mowing heads, grass cutting blades, brush knives and shredder blades should rest lightly on the ground, whereas circular saw blades should hover approximately 20cm above the ground. Just attach the machine to the hook and then make sure that the cutting attachment is in the right place by adjusting the other straps, instead of the hook.
With any of our circular saws, the machine should be attached to the harness using the eyelets on the perforated rail. Test it out in different eyelets until the correct balance and position is found.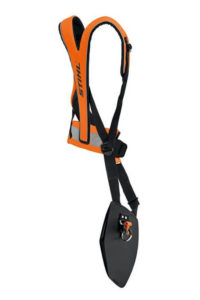 How To Choose The Right STIHL Harness For You
Many of our brushcutters come supplied with either a single shoulder or double shoulder harness as standard. The exact type of harness depends on which brushcutter you are using, but if you are using your tool for a longer period or in difficult conditions, you may find that you need extra support.
We have a range of larger harnesses that can provide you with the extra support you need, and have additional features that make using them even easier:
Our ADVANCE PLUS harnesses come fitted with a comfort carry ring as standard, which makes it even quicker to attach or remove the machine. The comfort carry ring can be bought as an additional accessory so it can be retrofitted to all of our ADVANCE harnesses too.
We also offer a fluorescent orange version of our ADVANCE PLUS universal harness, which is useful for high-visibility when mowing in hazardous areas.
For harnesses that don't come with a chest strap as standard, you can buy an additional chest strap, which will help stop the shoulder straps from moving and slipping.
If you are working for long periods of work with a circular saw, our ADVANCE X-TREEm harness is the best option – it has a length-adjustable back section to make your work as comfortable as possible.
So, if you are working with a brushcutter, a harness is just what you need to make your job more comfortable. Find out more about our full range of STIHL harnesses at stihl.co.uk or talk to your nearest STIHL Approved Dealer.