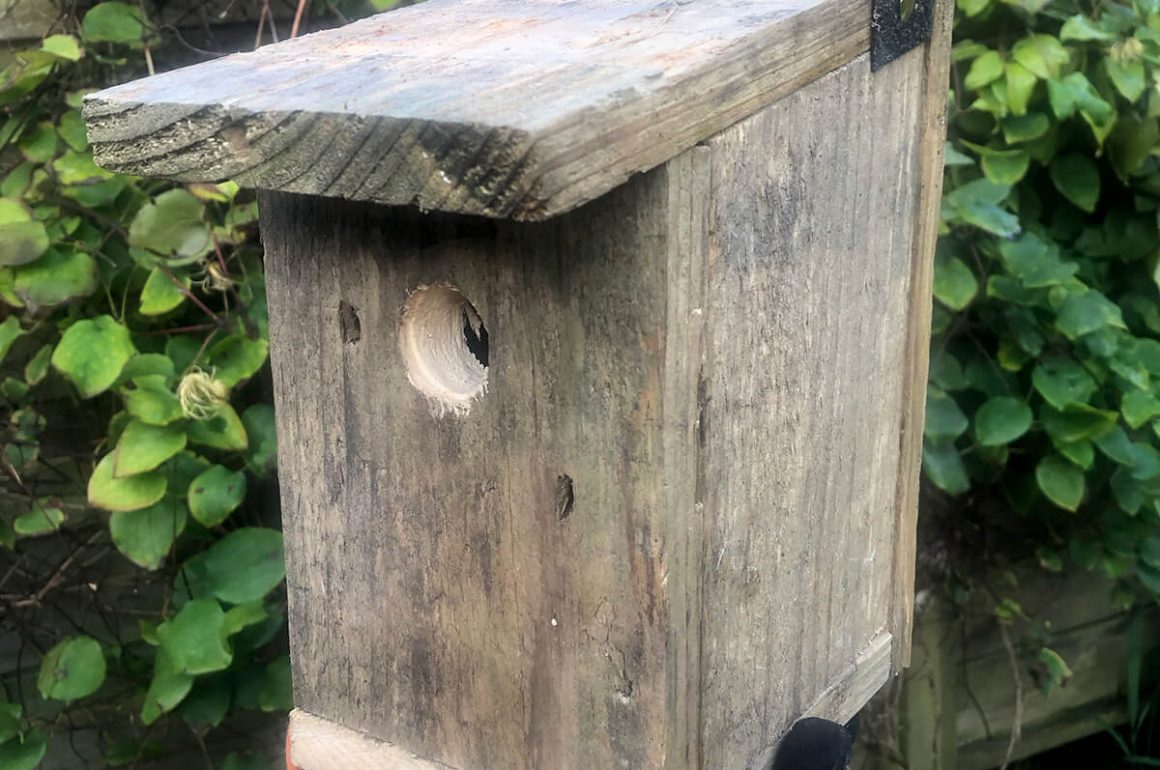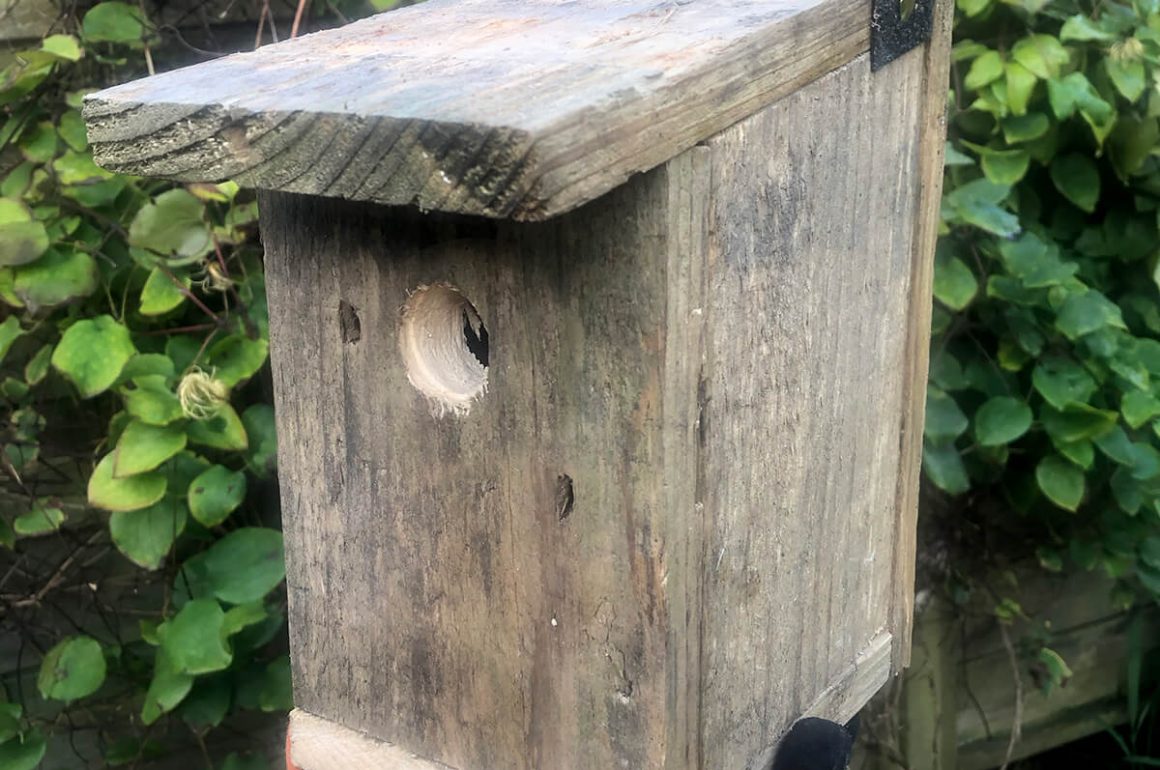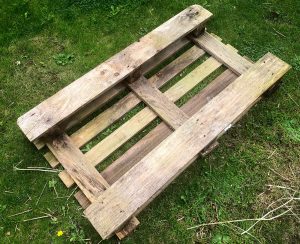 Thanks to COVID-19, our planned social gatherings have been put on hold and our summer this year has largely consisted of jealously thumbing through Instagram at everyone else's amazing holiday photos. We've got an old pallet propped up behind the shed that had been earmarked for converting into a 'rustic' mini bar for outside entertaining on balmy summer evenings, but as that doesn't look likely right now, instead we have decided to dismantle it and construct something considerably smaller – a DIY bird box. A decent sized pallet should provide you with a selection of long planks approximately 130 mm wide by 17 mm deep, which is just the ticket for making a lovely home for your feathery garden pals. 
Forget the bar, here's how to make a banging bird box…
You will need:
A pallet
A crowbar or similar breaking tool
Strong wood glue
Ruler
Pencil
Saw
A 25mm hole drill bit (for the entrance hole)
A 5mm drill bit (for the drainage holes)
A drill
A strip of roof felt or similar
Screwdriver
4 screws
Sandpaper (optional)
Step 1
Select a nice plank of wood and prize it from the pallet, either by using a crowbar, the hook end of a hammer or a forceful kick from a boot clad foot.
Step 2
Measure out and mark up the plank using the plan below, remembering the golden rule of carpentry – always measure TWICE to avoid miscalculations.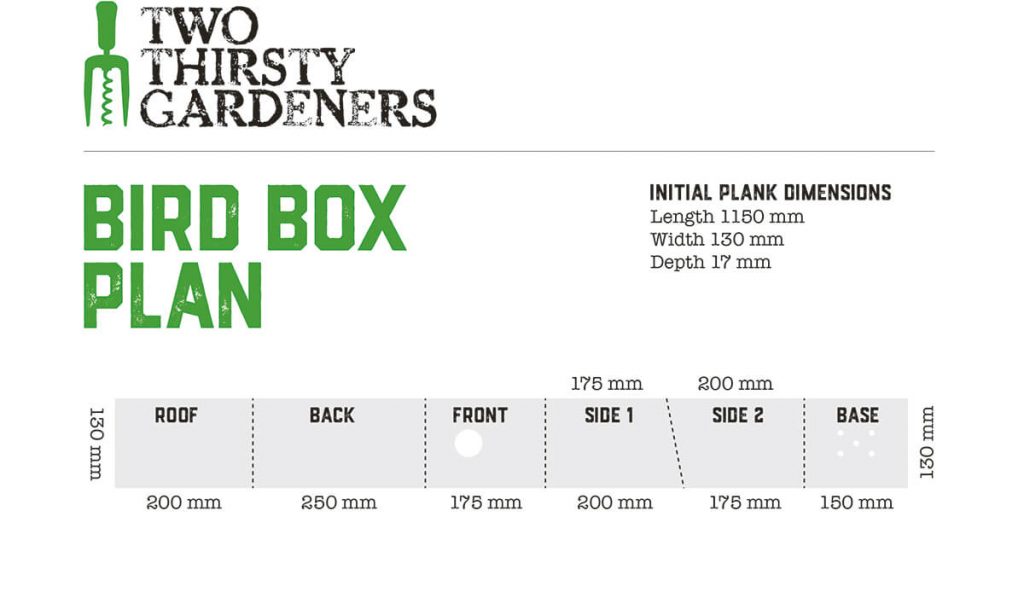 Step 3
Saw up the plank into the prescribed pieces and lay them flat, ready for construction. A cursory sanding at this stage will result in a birdbox of superior finish (and lessen the potential for splinters during construction) but this is not entirely necessary. Birds aren't that fussy.
Step 4
Select the front panel and drill an entrance hole as indicated on the plan using a 25 mm wide drill bit. A hole of this dimension is the perfect size for coal tits, blue tits and marsh tits. For attracting tubbier birds, such as the house sparrow or tree sparrow, go larger and drill a 35 mm hole.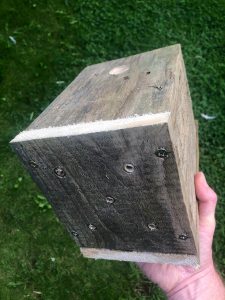 Step 5
Drill a series of small holes in the base. This will provide drainage should the roof spring a leak and inadvertently turn your avian des-res into a watery tomb. For further wet weather protection, see step 8.
Step 6
Place the back section on a flat surface then stick your box together by applying generous strips of glue to the edges that meet. To the back piece, stick side panel 1 and side panel 2 then attach the front section with the hole. 
Step 7
Screw on the base of your box. Screws will allow you to remove the base so that you can clean the box out after each season, ready for new tenants the following spring.
Step 8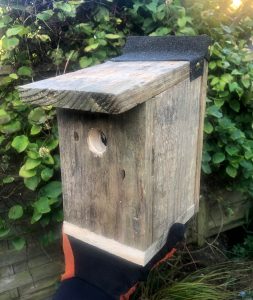 Finally, attach the roof. A weak point for water ingress is where the roof meets the backboard, so add a strip of roof felt to cover the join.
Optional Extra
A dowel perch – added between the hole and base – is a decent addition. Although not essential, it will allow inquisitive birds to check out their prospective home and offer somewhere for adult birds to alight when to-ing and fro-ing from the nest.
Positioning Your Bird Box
You want to get your bird box up by January at the latest so that nesting birds have time to scope it out for dwelling potential. Fix your box at least 2 metres from the ground in a shady position, ideally facing somewhere between north and east.
Have you tried to make anything else for your garden with pallets? Or have you made your own bird box from something else? Let us know in the comments.