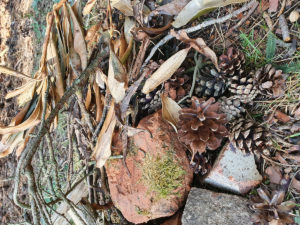 Earlier this year we showed you how to build a bee hotel for solitary bees. The list of do's and don'ts is quite precise because the bee hotel's aim is to attract a specific creature with specific needs. If precision builds put you off and a random, rambling approach to wildlife house-building is more your thing, then why not try constructing a catch-all wildlife shelter that will entice a variety of wild animals. 
The basic principle of these wildlife dens is as follows: construct a frame that offers shelter and protection and fill it with things that might encourage wildlife to bed down for a while. Wildlife dens can be as big or as small as you want them, and you can fill them with as many different types of 'bedding' as you choose. Just make sure they are solid, sturdy and positioned in a place that offers shelter from the midday sun and howling gales, and wait to see who might turn up.
For the outer walls of our wildlife hotel we used an old wooden frame that was previously a mini-raised bed. Wood from a palette was sawn to make a few floors which were held in place with bricks before the gaps were filled with various materials, as follows…
Sticks and stems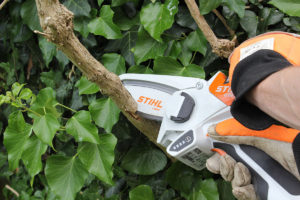 One of the first things we did was get busy with our STIHL GTA 26 garden pruner, which we used to cut up bits of sticks that were scattered around the garden. For your fussier residents, hollow stemmed-sticks (such as bamboo) are a bonus. Sticks make great homes for ladybirds, among other wildlife, who will appreciate the various sized crevices that a small pile will provide.
Bricks, stones, tiles and terracotta pots
Besides using bricks to support our structure, we've also created a bug patio with bricks and tiles, and stuffed a few stones into the structure. Frogs from nearby ponds love to nestle under the bricks as it provides a cool, damp environment away from the midday sun, while other amphibians might well appreciate these areas as a frost-free zone in winter. They'll also attract plenty of woodlice, probably a few slugs or snails, and we might even see a tile used as a sun-bathing spot if there are any reptiles in the area.
Dead wood and loose bark
Rotting bits of old wood and bark should attract more woodlice along with centipedes, beetles and spiders. As with most of our animal den, tiny creatures will also enjoy feasting on the decaying bits which, in turn, will provide food for larger insects and birds.
Straw, hay and dried leaves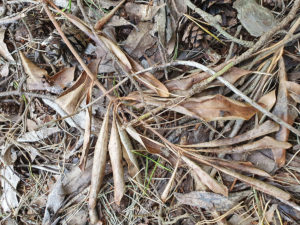 Dry grass and leaves make good nesting materials for hibernating creatures, as well as providing a food source for worms. If you have a space that is the right size, and filled with the right leaves, you might even find a hedgehog moving in (ground floor only) – although you're probably best off producing something specifically designed for our prickly pals if you want to give them a permanent home in your garden. However, along with greedy blackbirds, they will almost certainly appreciate snuffling around the den for some slugs and snails to munch upon.
Nectar and water
We've moved a few flowering plants next to our den. The nectar will attract pollinators to the area who might either use the home as their own residence or dine on some of its occupants. Having a water source nearby will also be of benefit to your new neighbours so why not consider adding a small pond to your garden too?
Once your wildlife hotel is in place, give it a while and see who is moving in and check to see if the leafy areas need topping up. Study the creatures and see what they get up to, also making a note of what birds are attracted to the area for easy meals. There are no guarantees on how your den will be used, but by keeping a check on its use you'll be able to learn much more about your garden wildlife and use this to plan more bespoke residences for your new garden friends.
Have you built a wildlife hotel before? What animals did it attract? Let us know in the comments!