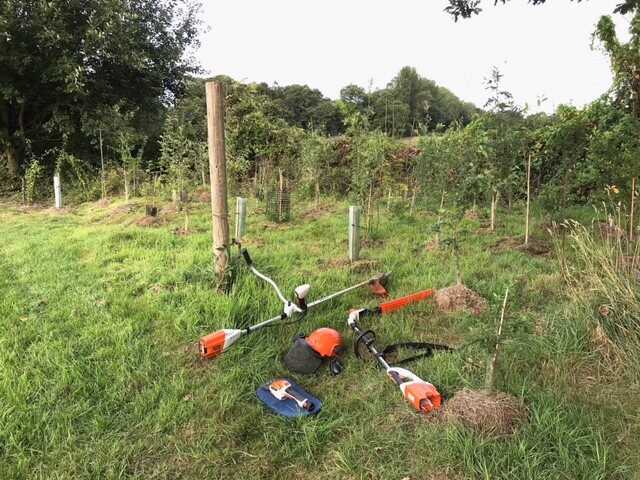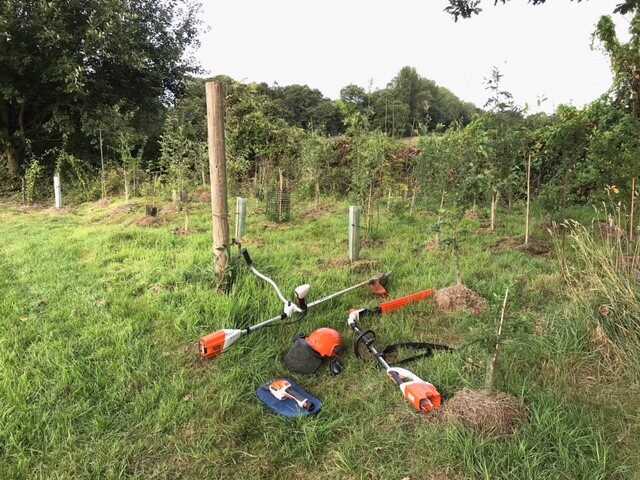 Here at STIHL, we're always happy to receive great feedback about our tools. And occasionally we receive an email that also includes an inspiring story as well. Recently, we were contacted by Sheena Howarth from Worcestershire who has generously shared her story of an unusual way to mark her 70th birthday and how she has been using STIHL tools to do it….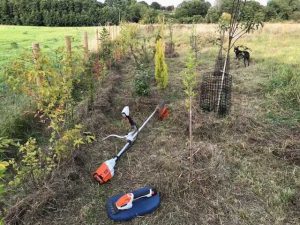 "A year and a half ago, I started a project to plant 70 trees in a field that we own, to mark my 70th birthday in March 2020. It wasn't exactly a 'celebration', more like a goal to aim towards to see if l could actually plant 70 trees myself. I also saw it as a small gesture on my part to do what I could to combat climate change and reduce our carbon footprint.
I have been a member of The Woodland Trust for many years and they have a big tree planting campaign which inspired me and I wanted to support their work by buying trees from them.
Not long after I started, Covid-19 arrived and, like all of us, I suddenly found myself with more time on my hands. I also discovered that planting trees wasn't as difficult as l had initially thought, once l got the right equipment, i.e. a tree spade, tree guards to protect the bark from the deer and canes to keep the trees upright.
The trees from The Woodland Trust came in bundles of 30-40 saplings which were from 8 inches to 2 feet tall, so they just required two quick cuts into the soil to plant them. I planted the 70 trees I had planned and then had plenty of time to carry on doing more, so I planted 150 trees, then 300 and now 483 trees in total!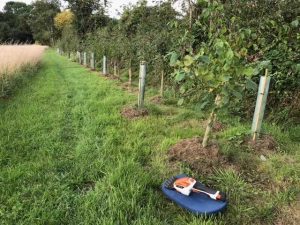 I found that I enjoyed going out into the field each evening, especially after rain when the soil was easier to dig. I paced myself so that I didn't work for too long each day which meant I didn't injure myself. Being an artist working indoors at a desk, it was lovely to be out in the fresh air getting some exercise.
But with young trees you have to keep the grass down around each tree to so this is where STIHL comes in. My husband thinks I'm a bit mad to be doing this but he did buy me two pieces of STIHL equipment that I couldn't have done this without. I have a STIHL FSA 90 battery-powered brushcutter with a GrassCut blade which has been so useful over the summer months. I need my husband to help me into the harness and get the battery out afterwards as my hands are not strong enough to do that. But once I'm set up I go into the field and work for about 2 hours trimming around the trees, very carefully as it is so easy to whack a little tree in half.
With the STIHL FSA 90 I can easily clear the grass around about 20 trees and using a brushcutter is very good for the waistline too! I used to grip the handles of the battery-powered brushcutter far too hard, but have now learnt to relax my hands for the work. As l did damage a few trees with the STIHL FSA 90, my husband also got me the STIHL HSA 26 shrub and grass shears to do the more delicate work around each tree.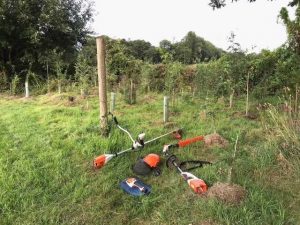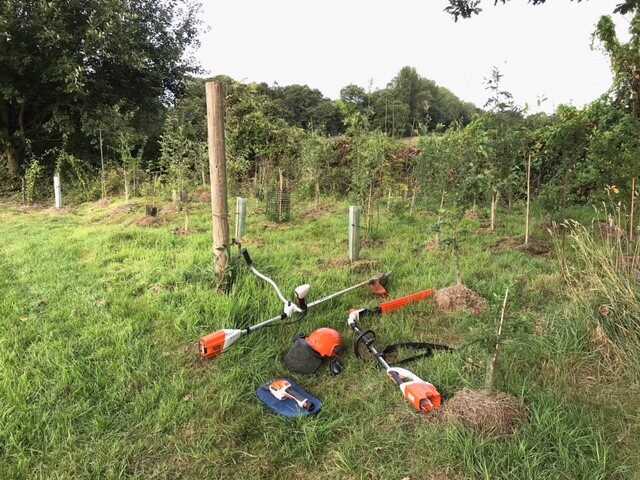 I love using both cordless tools as they are easy to use and well-designed. Having the harness makes the FSA 90 brushcutter much more manageable for me too. I like the fact they are battery-powered too. They have such good battery life and are more than powerful enough. I always recommend them to other people!
l am now planning on planting at least 50 more trees, mainly Aspens and Alders, as there is still space around the edge of the field. l am also learning to allow myself time to sit down to enjoy the lovely view in the field now!"
What an inspirational way to mark a big birthday! We loved hearing from Sheena and we really want to hear more stories like this so please do get in touch if you are using STIHL tools to create something unique. Just drop us a line at enquiries@stihl.co.uk.