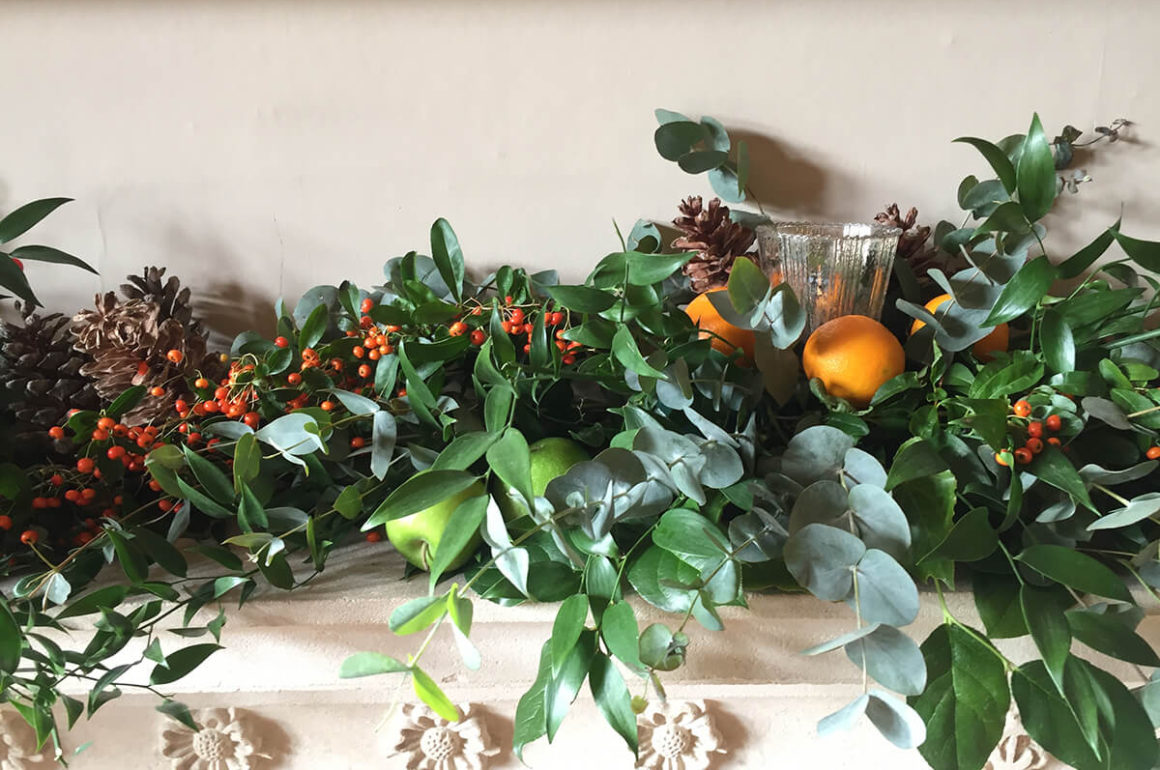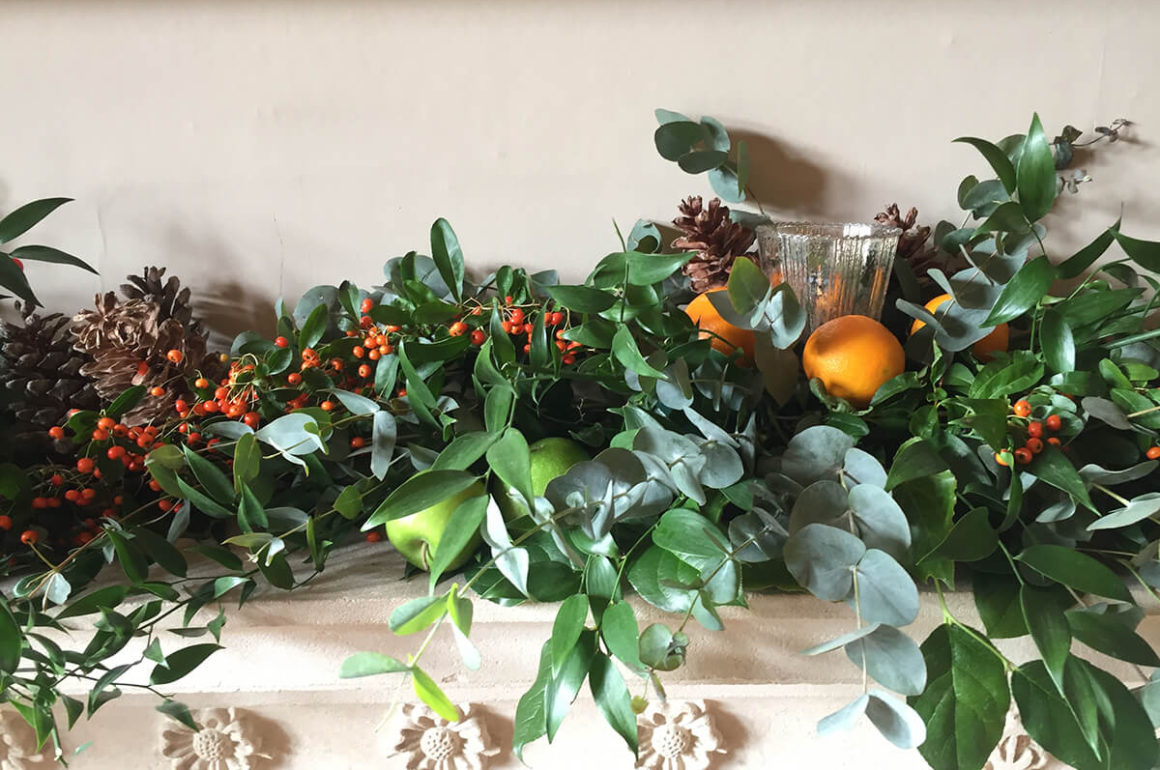 If there's one thing we might have a bit more of this Christmas, it's time! Without the usual round of Christmas parties and social gatherings to keep me occupied (truth be told, it's usually only the work Christmas do and my Mum's annual 'drinks and nibbles' affair!) I have more time to get creative at home.
My Christmas creativity usually stops at making mince pies and draping the odd bit of holly or ivy from the garden over pictures and mirrors. But this year, like many others, I'm pushing my own boundaries and giving the house a bit more garden glory than the odd seasonal sprig.
There is plenty on offer in the garden at this time of year too, and this bounty is perfect for creating your Christmas decorations. So, grab those secateurs, step out into your garden and get snipping.
What To Look For:
Evergreens such as conifer, Holly, Ivy and Sarcococca all make a good basis for Christmas decorations.
Herbs like Rosemary add fragrance and evergreen foliage
Coloured stems such as Cornus alba
Twigs, like birch for example, that could be sprayed with silver or gold paint or fake snow or just leave them natural
Pine cones
Berries of any sort
Sturdy flowerheads like Hydrangea, Verbena bonariensis and Sedum dry well or can be sprayed
Once you've collected your haul, it's a question of what to do with all these riches. Here are two ideas below, along with step by step instructions.
How To Make a Christmas Table Centrepiece
A Christmas table centrepiece is a great place to start as it's fairly straightforward and you only need to add a candle, either real or battery, and a container. You can use a basket, glass bowl, old serving dish or simply a plant saucer as the base.
This won't take long to make but will have you glowing with pride whilst tucking into your Christmas Dinner on Christmas Day!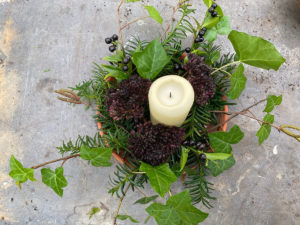 Step 1:
Place the candle in your container, then create the basis of your arrangement by layering evergreen foliage around the edges of the container. You can use moss or some screwed-up chicken wire to secure the foliage in place. I haven't used anything and, while my arrangement is more fragile, once it's in situ it will be fine.
Step 2:
Add interest with coloured stems and twigs, sprayed or not depending on your preference. Go for a feathery, open look.
Step 3:
Finally, add in your statement items: the berries, pine cones and flowerheads. Group them in clusters of three and make sure they're not too large as you don't want to overpower the foliage.
How To Make a Mantelpiece Wreath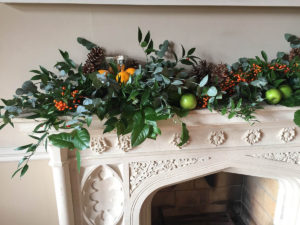 Now you've got into your stride, let's branch out into something a bit more ambitious and create a mantelpiece wreath with foliage from the garden.
This mantelpiece display uses evergreens and Ivy finished off with fruit and candles for a festive show. Not only is it easy to make, but it also costs very little in materials.
Step 1:
Clear the mantelpiece of all clutter. Start with draping evergreen foliage along the length of the mantelpiece allowing some of it to 'spill' over the edge. Include some foliage with silvery tones such as Eucalyptus, Rosemary or sprigs of Olive so it doesn't get too dark.
Step 2:
Add some berries. You could use Holly, but I've used orange Pyracantha.
Step 3:
Place your candles or lights in position. These battery tea lights in crackle-glazed glasses look very festive and shiny but pillar candles and tall candlesticks would work just as well.
Step 4:
Dot in some seasonal fruits to match your colour scheme – we've used tangerines to go with the Pyracantha plus a few green apples. If you had red berries, then red apples buffed up to a shine would look good.
Step 5:
Finish off with a few pine cones. Keep them natural or give them a light dusting of spray snow or gold paint if you feel the arrangement needs a bit more sparkle.
A Quick Word About Oasis…
This used to be the go-to base for arrangements such as these. However, oasis is inorganic and responsible florists have stopped using it due to the harm it does to the planet. It's totally manmade and doesn't break down completely, reducing only to the micro-plastics we're hearing so much about. Instead use chicken wire, on its own or stuffed with moss or straw.
What other ways do you bring the garden indoors for Christmas? Have you made your own Christmas tree decorations?  Share your top tips for making your own Christmas decorations in the comments below.