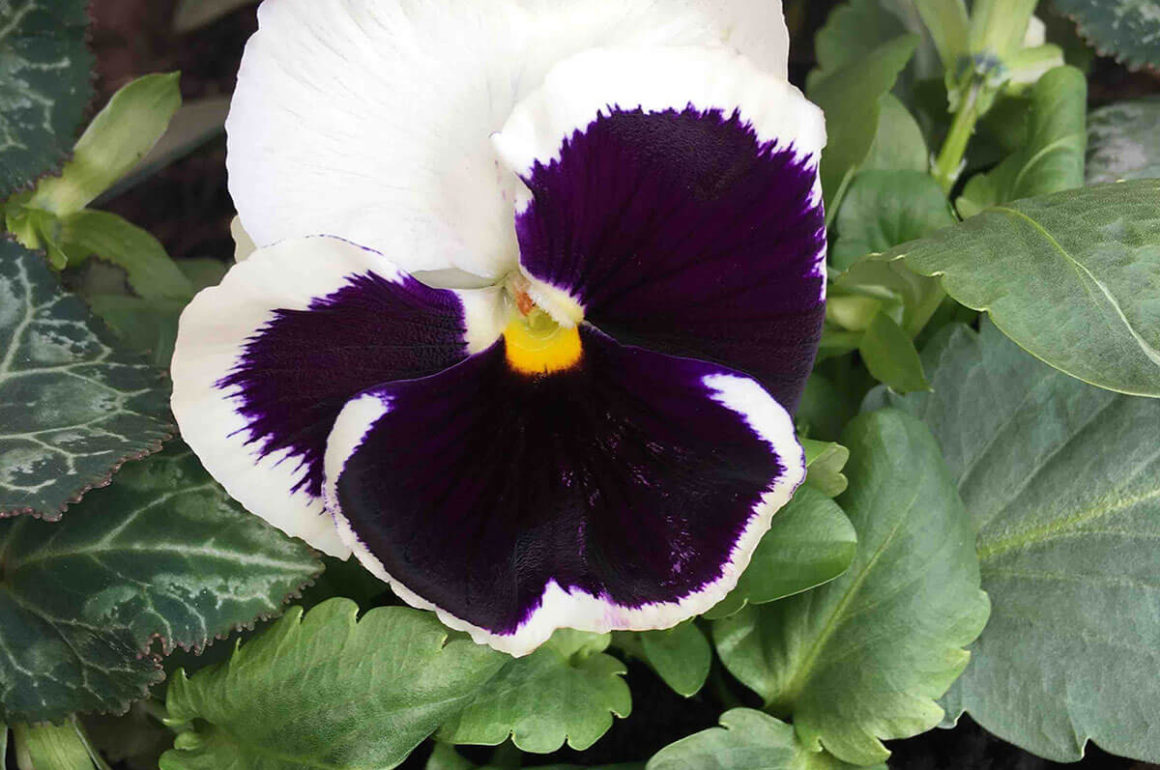 As the gardening year draws to a close, we reveal the finest December plants for uplifting winter containers packed with flowers, buds and berries. We also look at how to plan a productive winter vegetable plot and sing the praises of a Christmas classic, the holly. 
Six Winter Plants For Pots
As friends and family gather to celebrate the traditional Christmas festivities, a glance out of the window into the garden can reveal a bleak mid-winter landscape. That's not surprising. The days are short, the soil is often frozen and we have all been busy, frantically shopping ahead of the holidays.
Take a moment away from the hectic preparations, however, and it's easy to create a beautiful container of winter interest plants displaying vibrant buds, berries and blooms. Sure, you can buy ready-planted winter pots at garden centres this month, but making your own is more fun – and cheaper! Simply grab a container and transform it into a blaze of seasonal cheer with these six star plants for December. All promise to dazzle whether planted solo or combined to create a mid-winter spectacle.
1 Skimmia Japonica 'Rubella'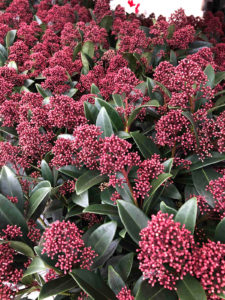 Grown for its tightly packed panicles of long-lasting, intense red buds in winter, which transform into clusters of scented white flowers in spring, 'Rubella' forms the backbone of winter containers and also works a treat when planted solo in plant pots (position a pot either side of a doorway for a stunning display). These evergreens are tough enough to shrug off bitter winters and when they've finished putting on a show next spring, slow-growing skimmias are brilliant for plugging gaps in shady borders.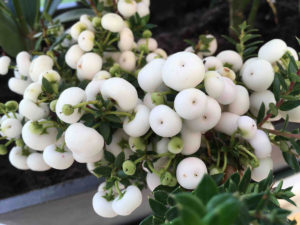 2 Gaultheria Mucronata
Coloured berries make an ideal substitute for a lack of flower power in winter and Gaultheria mucronata will deliver an attractive show, regardless of what the weather throws at it. These small evergreen shrubs bear vivid berries, from pure icy white to intense shades of purple, set above pointed, prickly dark-green leaves. For best results, grow in a shady spot, although low winter sun will be tolerated.
3 Hardy Cyclamen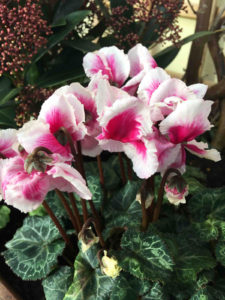 Few plants bring such dainty winter cheer as hardy cyclamen, with many garden centres offering miniature plants in flower for a couple of quid or less. Blooming prolifically in shades of pink, white and red, with bicolours widely available, they blend seamlessly into mixed winter containers. Regular dead-heading is recommended to keep flowers coming. Cyclamen can be prone to rot in wet winters, so grow in well-drained compost, and don't plant too densely. Leaving space for airflow around plants can reduce the risk of trouble.
4 Solanum Pseudocapsicum
Commonly known as the Jerusalem cherry or Christmas cherry, the glowing orange fruits of this compact winter star are a must for injecting colour into winter planters. Its fruits, which cling to stems over a long season, resemble little cherry tomatoes but are toxic if eaten, so it's grown purely as a winter interest ornamental. Jerusalem cherry is a great choice for displays in milder, sheltered regions of the UK.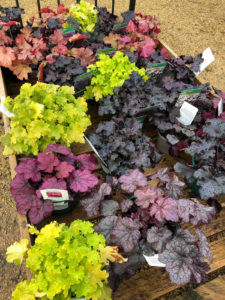 5 Heuchera
Heuchera plants come into their own during the cooler months, forming mounds of vibrantly coloured foliage that introduce a kaleidoscope of colour to areas of dappled shade. While heucheras work a treat when planted in drifts in the garden, opt for lighter-leaved varieties that add a new dimension to containers, ensuring that displays catch your eye in low winter light. 
6 Winter Pansies
Winter pansies, traditionally sold under the name universal pansy, are a stalwart of winter containers, providing a  range of colours that's more commonly associated with summer bedding. Available in a host of colours and shades, they're excellent value for money and are unfazed by frost, rain, wind and snow. Winter pansies are a top performer for plugging gaps in mixed containers, growing en-masse in pots or planting-up a cheery winter hanging basket. Dainty violas are a great choice for the edges of containers.
For best results, plant all of the above into plant pots or containers with plenty of drainage holes (the tub's edges can be softened with trailing ivy), filled with multi-purpose or John Innes No 2 compost. Keep containers lightly watered – there's no need to feed these plants during winter – then relax and enjoy a splash of colour that won't run out of steam until spring is around the corner. 
Vegetable Plot Job Of The Month: Plan A Crop Rotation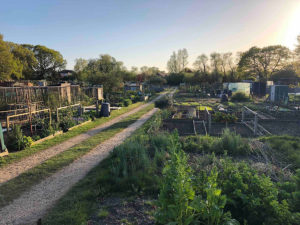 December is all about bringing in home-grown produce for the festive feast. Tightly formed Brussels sprouts (love 'em or loathe 'em!) can be snapped from plants and taste richer if they've been exposed to frost, while leeks and parsnips can be harvested and stored ahead of Christmas. It's also a perfect month for fireside gardening – that's sitting back indoors and planning next year's plot, but there's more to it than simply choosing what to grow.
The biggest mistake gardeners make is to grow the same crop in the same place season after season, because it "did well there last year". In fact, it's a recipe for encouraging build-ups of soil-borne pests and diseases that are partial to a specific crop. However, the problem is easily resolved using a tried-and-tested technique.
Crop rotation, a system of growing different families of vegetables in different places over a three-year cycle, is simple. Divide your plot into three sections: brassicas (including cabbage, kale, radish and Brussels sprouts), root vegetables (such as potato, carrot, parsnip and beetroot) and other crops (beans, courgettes, leeks, onions, peas and spinach, for example). Grow each family on a different section over three years and populations of pests and their eggs will diminish, as will the risk of diseases such as club root.
Shrub Of The Month: Holly
Sprigs of holly adorned with shiny red berries against glossy green prickly leaves beat any plastic Christmas decoration and bring the beauty of nature into our homes in the depths of winter. The berries of this classic evergreen are loved by birds though, so snip off a couple of the best bits ahead of the festive season before they're devoured!
Hollies are remarkably tough. They shrug off pollution, which makes them ideal for creating a hedge to screen a busy road. They're also unlikely to be flattened by gales in exposed situations, are tolerant of salt-laden wind in coastal areas and are excellent for planting to deter intruders who won't fancy a brush with its razor-sharp leaf spines.
 For a holly bush that stands out from the crowd, try the head-turning variegated Ilex aquifolium 'Argentea Marginata'. Its dark foliage with bright cream margins makes a perfect backdrop for masses of vibrant red berries; it's an ideal hardy specimen shrub that'll brighten up a dull corner of the garden all year round. 
How much gardening do you do in December? Are you still planting your favourite plants? Let us know in the comments.