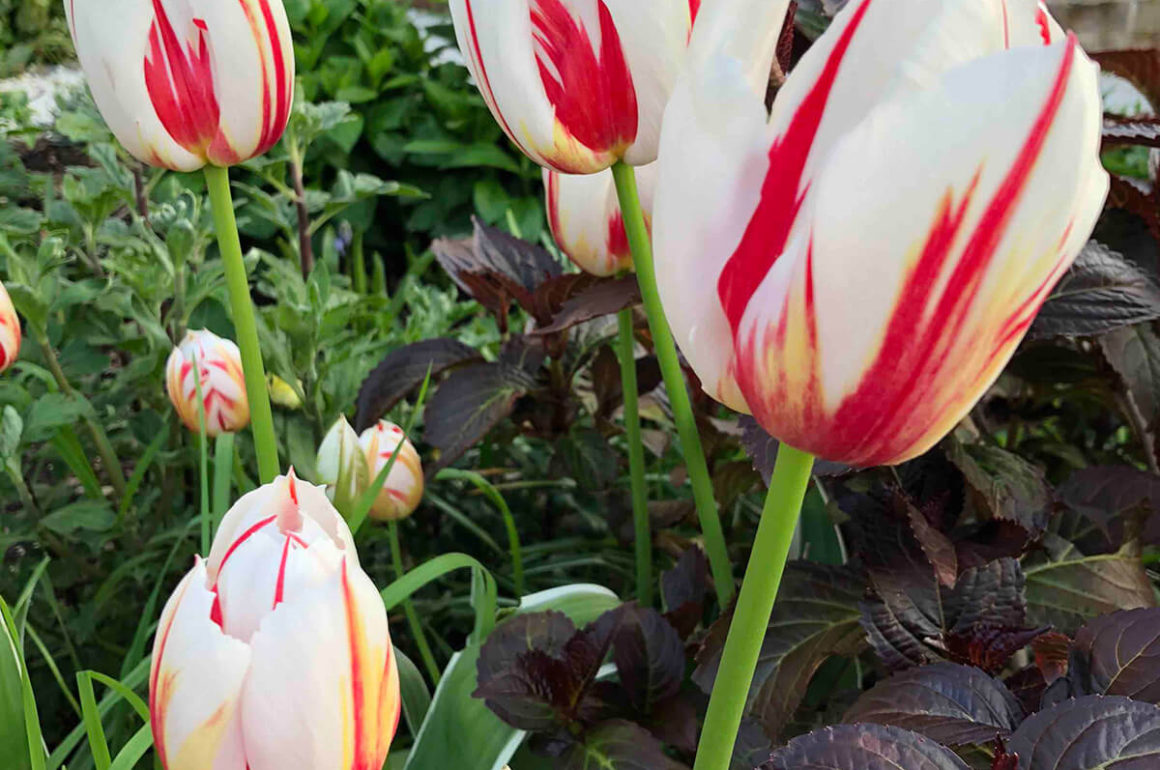 The garden may be ankle-deep in fallen leaves and overnight frosts are starting to bite, but don't think about heading indoors before planting spectacular springtime bulbs and mouth-watering crops for next season! Read on to discover our flower, edible and shrub of the month as we know you're itching to find out what plants are best to plant in November.
November Flower Of The month: Tulip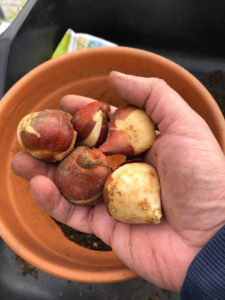 There's something about setting foot in the November garden that rekindles nostalgic memories of childhood. Perhaps it's trudging through piles of crispy fallen leaves with the chill of cold autumn air on your face, or wrapping up warm in a coat and hat to savour the orange glow of crackling bonfires against the dark night sky, while enjoying the sights, sounds and smells of fireworks.
Whatever you love about this time of year, November marks a turning point in the gardening calendar. It's all about getting rid of old-growth and clearing space ahead of next season; an annual ritual of optimism for gardeners. 
On the subject of preparing for next year, November isn't a month to go into hibernation. It's the best time for planting tulips, one of the most statuesque blooms to grace springtime gardens. Tulips can go into the ground or be planted in plant pots as long as the soil isn't frozen or saturated.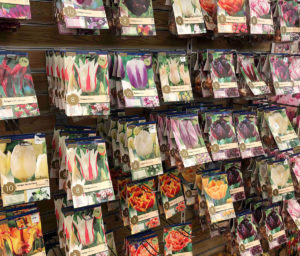 Just like giant tins of Christmas chocolates, tulip bulbs have adorned garden centre shelves since September, so you may wonder why we've left it so late to discuss planting these springtime glories. In fact, it's deliberate. If you plant tulips earlier in autumn when the soil is warm, they're at higher risk of tulip fire, a fungal disease that results in distorted and twisted leaves, leaving foliage looking as if it has been burnt. Wait until November when the soil is cooler, however, and the chance of the disease spreading at low temperatures is reduced.
Tulips are a versatile springtime bloom, with a vast range of styles and intense colours to choose from. They'll light up your garden when planted en-masse in formal flower borders but look equally at home when naturalised in grass. Plus, smaller, low-growing varieties are available to jazz-up rock gardens. And if you only have a patio or balcony, a pot of tulips in flower is one of the most vibrant spectacles to behold between March and May. 
Plant a single shade for a regal display, or mix and match swathes of colours for a riotous spectacle. Although tulips are best known for goblet-shaped blooms, a host of styles are on offer, with fringed, cup-shaped and lily-style blooms widely available, among others. A sunny planting spot is appreciated where the soil is fertile and well-drained.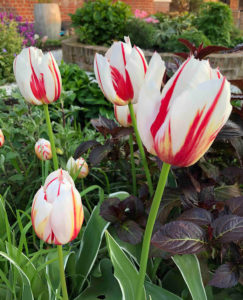 Tulip bulbs detest sitting in soggy soil, so avoid locations that are prone to waterlogging. On heavier or nutrient-depleted soils, dig-in well-rotted garden compost to improve soil structure before planting. Tulips can become top-heavy when they're about to burst into bloom, so a site that's sheltered from winds can help to avoid a springtime disaster too. Simply plant tulips at a depth of two or three times of the height of the bulb.
When it comes to choice you'll be like a kid in a sweet shop, so here are a few tips. Tulip 'Black Parrot' is a head-turner. With its purple-black, wavy, serrated petals, this black tulip is one of the darkest varieties on the market. For a display that will make your garden glow, choose 'Monsella', a yellow tulip which has spectacular yellow blooms infused with streaks of red. Finally, you won't find a more elegant tulip than 'White Triumphator'. Its pure white, lily-shaped blooms are unbeatable for setting borders alight at the beginning of the season.
Star Edible Of The Month: Garlic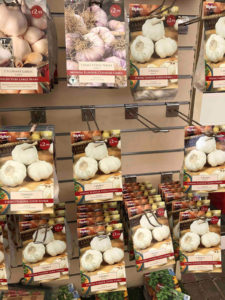 Legend has it that the pungent aroma of garlic is capable of warding off vampires, but with Halloween behind us, it's best to focus on garlic's horticultural attributes, because this is an easy-to-grow crop that's ideal for planting as late-autumn turns to winter. Just like onions, garlic is part of the allium family and adds a delicious element to Mediterranean-inspired recipes.
To yield decent-sized bulbs next summer, garlic needs to be exposed to a period of cold, which makes November ideal for planting garlic. Crops perform best when grown in full sun, preferring well-drained soil that has been improved with well-rotted organic matter prior to planting. It's grown from cloves, broadly known as hardneck and softneck types. Softnecks are easy to grow, packed with smaller cloves and are renowned for storing well, but can be less tolerant of prolonged freezing winters.
Hardnecks are the choice of keen cooks, and while they produce fewer but bigger cloves, in many cases they're noted for strong flavour. Hardnecks are hardier, too, making them the go-to choice for growing in colder areas of the UK. If you prefer a less pungent flavour, consider elephant garlic, which produces large, mild cloves. The hardneck 'Lautrec Wight' has won fans thanks to its creamy texture and superior flavour, while the robust softneck 'Early Purple Wight' is the one to go for if you're impatient because it crops from May.
Garlic bulbs, available at garden centres and online, need to be broken up into cloves before planting – select the largest, fattest cloves to go into the ground. Unlike onion sets, which sit with their tips exposed at planting, garlic cloves should be planted around twice their depth, with the tips 2.5cm deep, ensuring that their pointed ends face upwards. A generous spacing of 15cm between cloves is recommended. Keep crops weed-free, remove any flowers and a delicious crop will be ready in summer when foliage turns yellow. 
November Shrub Of The Month: Viburnum x bodnantense 'Dawn'
November isn't a month that's renowned for flowers and fragrance in the garden but Viburnum x bodnantense 'Dawn' is an beautiful exception. That's why no plot should be without it! The bare stems of this deciduous, hardy shrub are ablaze with deliciously perfumed pink and white flowers that emerge from red buds in November and carry on until early spring, while much of the garden is deep in winter slumber. 
To fully appreciate this viburnum's uplifting winter scent, grow it close to a regularly trodden pathway or near to your door, as long as the site is sunny and the soil is moist but well-drained. Plants will reach a maximum height and spread of 2.5×1.5m when mature.
What else do you plant in your garden in November? What flowers do you think represent winter? Share your autumn planting with us in the comments.