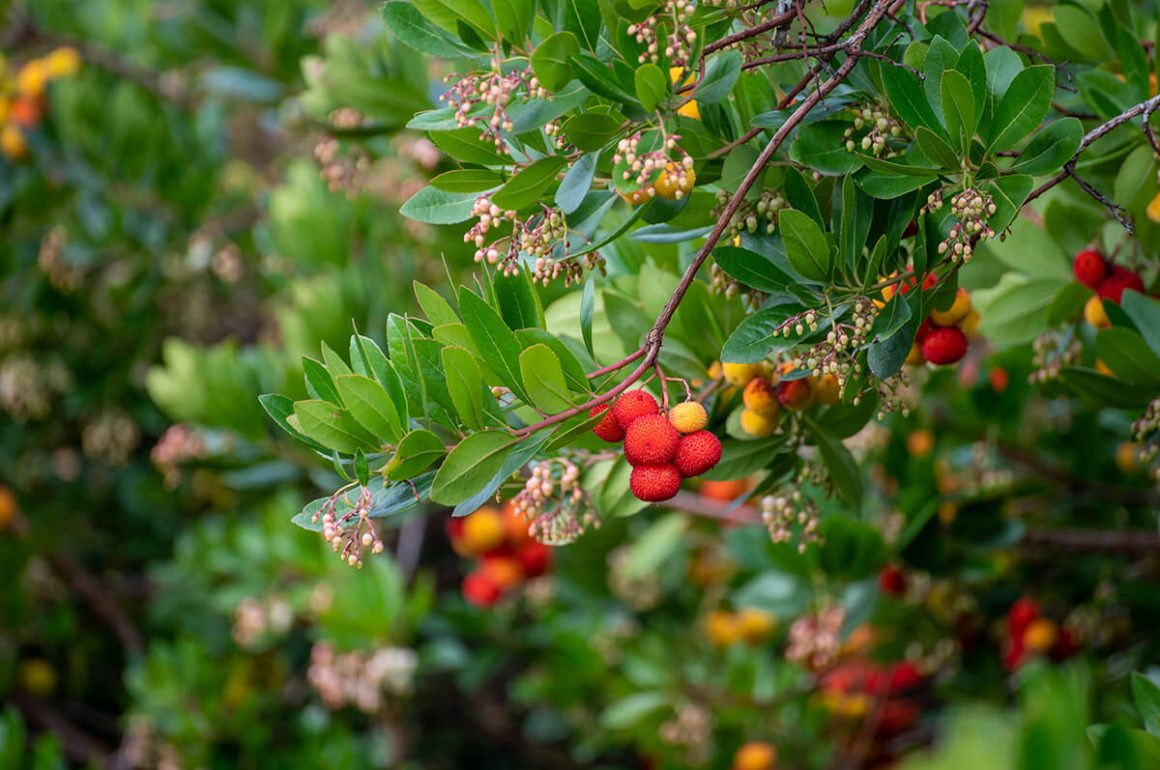 As the season of mists and mellow fruitfulness gives way to the frosty mornings of autumn, ghostly silhouettes of a well-placed tree add interest to gardens across the country.
While autumn is a celebration of fiery leaf hues, there's no need for gardens to become barren as we edge closer to the chilly days that lie ahead. Winter trees grown for their brilliantly coloured bark have the power to amaze and delight.
Now that the soil is moist and workable, and temperatures are comfortably cooler, it's the ideal season to plant a focal point tree that'll provide decades of enjoyment. Take a look at our top six winter trees below. There are options for gardens of all sizes to brighten your view on even the gloomiest, coldest days of winter.
1. Best for Fiery Hues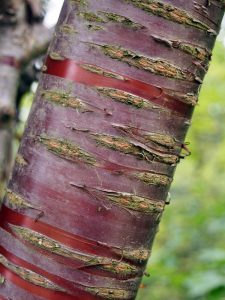 The Tibetan cherry tree (Prunus serrula) is a star of the autumn and winter garden. As the seasons turn, its narrow leaves transform into a cascade of brilliant shades of yellow, before tumbling to reveal richly coloured, mahogany-red bark.
This sun-loving specimen tree grows slowly, making it a great choice for smaller gardens, while polished, heavily textured bark creates a stand-out feature when illuminated by a splash of golden autumn sunlight.
It's a must for adding drama to winter gardens during the darkest days of the year and heralds the arrival of spring with a fanfare, bearing a profusion of small, white springtime flowers as winter loses its grip. As trees only reach a height and spread of 5x4m in 20 years, this charming cherry is a popular choice in urban environments where space is at a premium.
2. Try a Brilliant Birch Tree
When the garden lies deep in winter slumber and thick, grey mist hangs over the frozen landscape, the brilliant white bark of the West Himalayan birch (Betula utilis var. jacquemontii) shimmers through the gloom.
Ideal for planting as a focal point tree, its magnificent white bark gradually peels away to reveal fresh layers beneath, ensuring a wintertime spectacle for years to come. This popular birch tree is adorned with yellowy brown catkins in spring and is prized for autumn colour, too, when green, oval leaves display vivid golden shades before falling to the ground.
These winter trees do need space, growing to a height and spread of around 8x4m in 20 years. But it's a must as a specimen tree in winter gardens and looks exquisite when planted along pathways.
3. Winter Strawberry Tree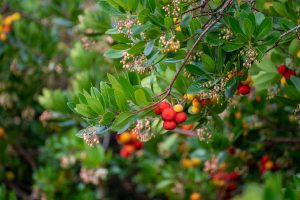 Taking pride of place on the Royal Horticultural Society's Plants for Pollinators list, the Strawberry Tree (Arbutus unedo) is a horticultural oddity that's prized for its brilliant bark during the colder months.
This attractive evergreen promises to delight with rough, peeling, brown-red bark, but it's far from a one-trick pony. Bright red fruits are borne in profusion in autumn, while clusters of pink-tinged, white, urn-shaped flowers come to the fore in November. During winter, unusual, strawberry-like fruits from the previous year's flowers ripen, providing a natural feast for wild birds.
These winter strawberry trees reach a height and spread of around 5x4m, making a wonderful addition to sunny, smaller gardens with moisture-retentive, well-drained soil.
4. Try an Amazing Acer Tree
The clue's in the name: when the Paperbark Maple tree  (Acer griseum) sheds its leaves in autumn, a skeleton of papery chestnut/cinnamon-coloured, peeling bark reveals its true glory. Peeling bark curls intricately while still clinging on to the tree, creating a stand-out feature at a time when the garden is crying out for colour and interest.
A proud holder of a Royal Horticultural Society Award of Garden Merit (AGM), the hallmark of great garden performance, this compact acer is also held in high regard for its magnificent displays of autumn colour, when leaves transform into a kaleidoscope of brilliant orange and red shades.
Trees are unlikely to exceed a height and spread of 5x4m in 20 years, making this compact, slow-growing acer a great choice for small winter gardens, where it'll excel in a sheltered position in sun or part-shade, provided that soil is well-drained.
5. Snow Gum Trees For a Winter Wonderland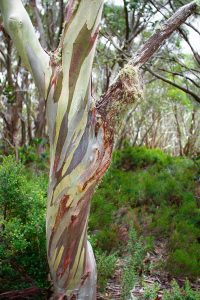 Even if a blanketing of snow is a rare occurrence, the Snow Gum tree (Eucalyptus pauciflora subsp. niphophila) will turn gardens into a winter wonderland.
This RHS AGM-winning evergreen is famed for its showy bark, which flakes attractively to reveal patches of wintery green, grey and cream. Slender, grey-green, leathery aromatic foliage contrasts wonderfully with peeling bark, providing year-round interest, while creamy white flowers from late spring into summer are a magnet for pollinators.
Snow Gum trees can reach a mature height and spread of 8x8m after 20 years, so allow plenty of space for this beautiful specimen.
6. Golden Birch Trees for a Golden Glow
Prized for year-round interest, and reaching a crescendo in winter, the peeling cream bark of the Gold Birch tree (Betula ermanii) forms a statuesque spectacle throughout the seasons. It's when leaves turn yellow and fall, however, that its bold display of intricate bark can be appreciated in its full glory.
Peeling cream bark adorns stems with a warm glow, while papery bark peeling from branches is guaranteed to turn heads. The show isn't over when warmer weather arrives, as long, yellow-brown catkins put in an appearance as fresh leaves unfurl.
Tolerant of most soils and thriving in sun or partial shade, Gold Birch trees can tower to a height and spread of 12x8m over 50 years, so it's best suited to large gardens away from properties.
What trees give winter interest in your garden? Do you have a favourite winter tree to grow? Let us know in the comments below.