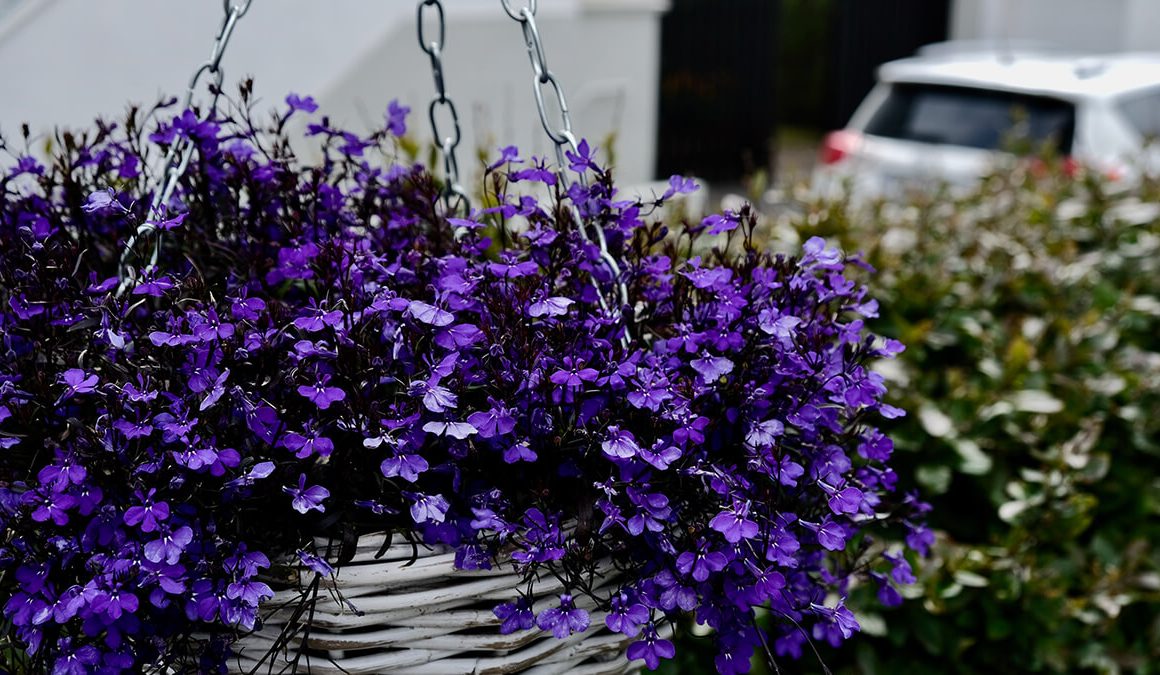 Do you want your hanging baskets, plant pots and garden containers to create a summer spectacle? Gardening expert and STIHL ambassador Jane Moore is here to help with her top ten summer bedding plants for hanging baskets. Read on to find out her favourite flowers for colourful garden containers.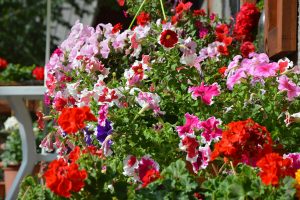 Let's start with the practicalities. When you're planting hanging baskets, flower pots and containers, less is definitely not more. Oh no, more is more, so don't stint on your plants! Instead pack 'em in for maximum impact. The general rule of thumb is that you want one plant for every inch of the basket diameter, so a 12-inch (30cm) pot or basket will need about 12 plants. Bear in mind, though, that this is a rule of thumb, because obviously if you have a whopping Geranium or Fuchsia as your centrepiece, then these fulsome plants will occupy the space of several more diminutive plants, so adjust accordingly. But don't be stingy, you want a good show straight away, not right at the end of the summer.
Trailing Geraniums and Fuchsia plants
They take a little while to get going but once they do, trailing Geraniums and Fuchsias are the stars of the show. These develop into big plants as the season progresses so give them some room and use them as the main feature, surrounded by smaller dainties. Fuchsias like the blousy 'Swingtime' look great with soft pastel Lobelia and pale Surfinia petunias, while trailing, ivy leafed Geranium plants come in pale pastels as well as the richer shades of burgundy and deep red.
Pendulous Begonias
I don't normally do Begonias but I can make an exception for these hanging and trailing plant varieties. For sheer exuberance and floweriness, especially in fiery warm shades of orange, yellow, peach and red, Begonias are hard to beat, especially in a hanging basket. Plant them on their own for a show-stopping hanging basket.
Surfinia Petunias
A real superstar for baskets, Surfinia also looks great trailing over the edges of pots and window boxes. The flowers are freely produced all summer on the long trailing stems, in jewel shades including rich dark blues and purples.
Lobelia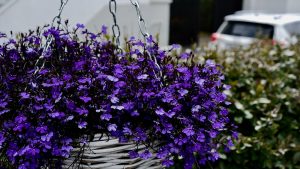 A summer bedding container or hanging basket just isn't complete without a Lobelia or two. There is nothing else that creates that tumbling waterfall of flowers quite so well. Look out for one of the Fountain series or for Cascade which trails to 45cm or 18 inches long.
Bidens
Sunshine in a plant, that's how I think of Bidens. There is a white form which you don't see often, but the yellow is best. These golden yellow daisies are unstoppable, set off by masses of ferny foliage. It's fair to say that this plant looks great with anything, and in anything.
Calibrachoa
Easy to grow and just as easy to love, there is a Calibrachoa in a colour to suit everyone from hot oranges and reds to cool purples and pastel pinks. But perhaps the best thing about these lovely little trumpet blooms is that they drop off all by themselves so there's no need for you to snip off the dead heads.
Nemesia and Diascia
These bushy little plants are great basket fillers with their darling flowers like dainty little snapdragons. Both are good 'doers' with a relaxed cottage garden look that's perfect for hanging baskets in shades of white, pink and salmon and soft blue. These positively do need cutting back after flowering to spur on more blooms.
Verbena
Last but by no means least, Verbena is a stalwart staple of many of my flower pot and basket schemes. Given their diminutive size, these richly coloured heads of flowers on their wiry, trailing stems pack in a bigger punch of colour than you would imagine.
What are your favourite summer plants for baskets and garden containers? Which one of the top ten summer bedding plants will you try this year? Let us know in the comments below.