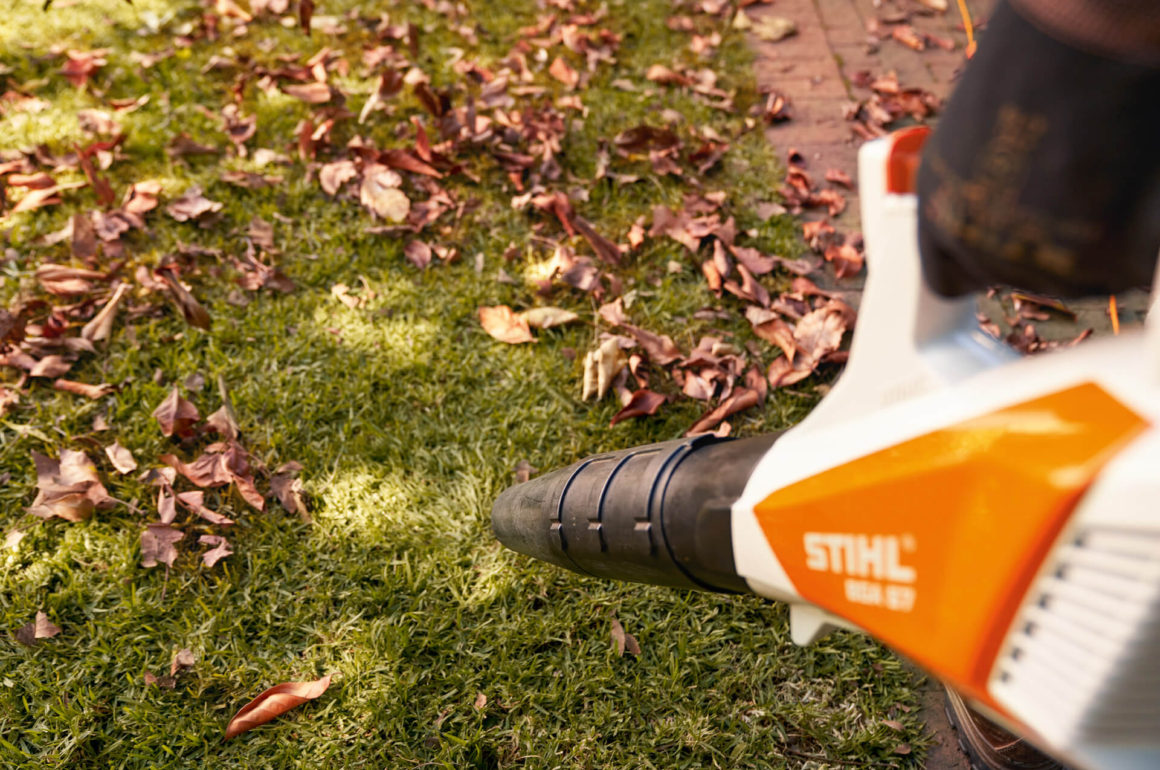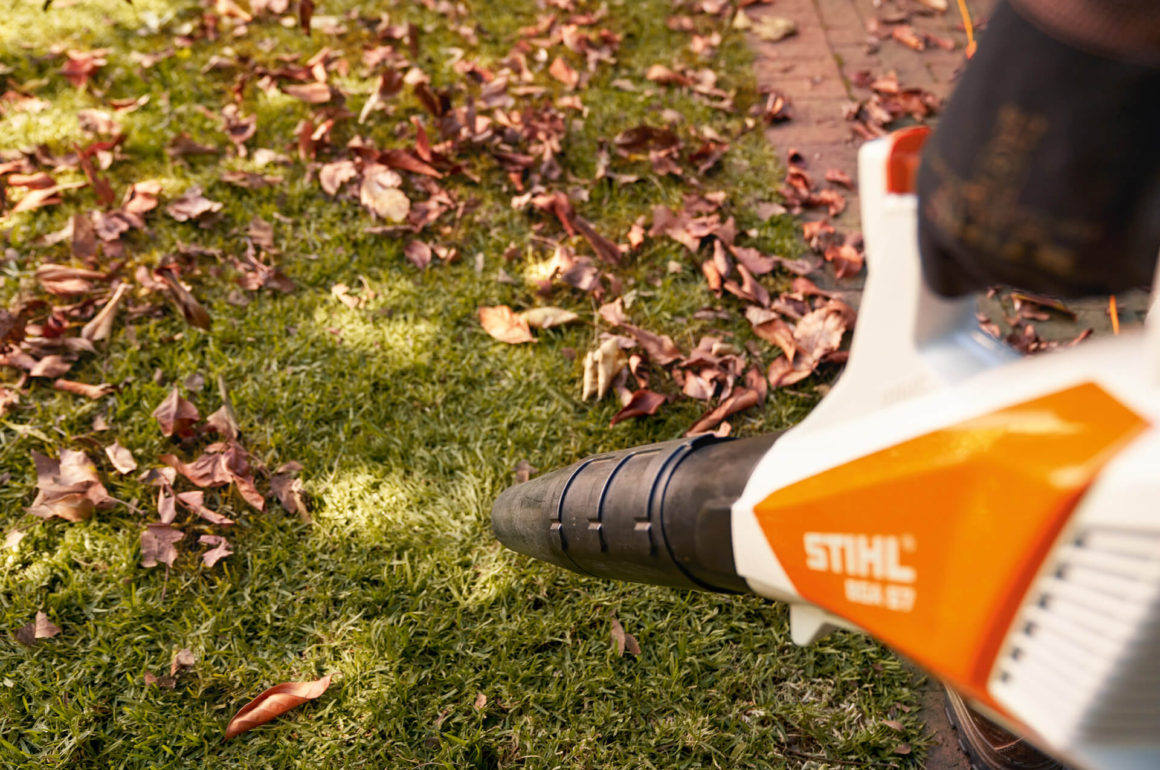 Do you have a carpet of Autumn leaves covering your patio and garden right now? If so, you might be wondering how on earth you are going to clear all of them. Rake them up? There's too many! And surely there's a quicker way?
Well, we're pleased to say that, yes, there is! At STIHL, we have a range of handheld leaf blowers to get the job done. Whether you prefer a battery-powered tool or a petrol one, there's a leaf blower or a garden vacuum out there that's ideal for your garden, but which one?
Petrol leaf blowers & garden vacuums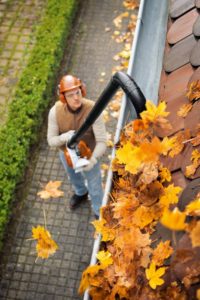 Firstly, let's take a look at the petrol range. The BG 56 C-E is our entry-level handheld petrol leaf blower, but it still packs a punch thanks to its 2-MIX engine. STIHL's 2-MIX technology has been developed to maximise the power output and reduce fuel consumption so it's ultra-efficient. Starting this blower is simple too. This machine features STIHL's tried and tested ErgoStart technology which means this leaf blower can be started easily and with little effort from a smooth pull of the cord.
The BG 56 C_E is versatile too – it can be easily converted into a garden vacuum with the vacuum attachment, giving you the option of sucking up and shredding your leaves rather than blowing them into a pile. Also available for the blower is a gutter cleaning set for clearing the dirt and leaves that have built up in your hard-to-reach gutters.
Alternatively, if you're planning to collect leaves more than you'll be blowing them away, we also have the SH 56 C-E – a petrol garden vacuum that can also be used as a leaf blower. With ErgoStart technology for easy starting, a HD2 filter, reliable 2-MIX engine and an anti-vibration system, the SH 86 C-E is comfortable to use making it an ideal choice for use around the garden.
To make sure your petrol tool works at peak performance levels at all time, don't forget to use a high-performance fuel. MotoMix is STIHL's patented fuel formula that has been created especially for 2-stroke engines – making it the perfect partner for your petrol leaf blower or garden vacuum. Made from a combination of specially created fuel and HP Ultra oil, this pre-mixed formula means you won't have to worry about measuring and mixing the fluids yourself, so it's easy to use too.
Battery leaf blowers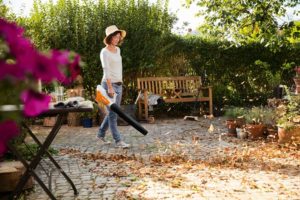 If petrol tools aren't for you, then why not consider a cordless battery-powered leaf blower? The BGA 45 costs just £109 (Recommended Retail Price) and is part of STIHL's AI Line range of garden power tools with integrated batteries. Designed for clearing small outdoor areas, this leaf blower comes fitted with a built-in 18-volt battery and only weighs 2kg, making it easy to use by anyone. It's also very quiet so you won't disturb your neighbours either. A fully charged BGA 45 can clear around 200m² of leaves on one charge.
If the area you are clearing is larger, and you need that extra battery capacity and power, the BGA 57 is another option. This leaf blower is part of the AK System of tools and it comes with a removable 36-volt lithium-ion battery that can be used in other tools in the range. It's one of the great benefits of the BGA 57, because once you have one AK battery you can simply purchase the other tools in the range without having to pay for another – one battery, many uses!
The recommended battery for this leaf blower is the AK 20 which gives you around 22 minutes of working time on a full charge – so you'll have enough time and power to clear up to 760m² of leaves. But, if you want a little bit of extra run time, you can always opt for the bigger capacity AK 30 battery with the blower – which gives you approximately 27 minutes of blowing time and the ability to clear up to 900m² of leaves!
Like the BGA 45, the BGA 57 is also very quiet, extremely lightweight and easy-to-use. Its streamlined design combined with a three-setting length-adjustable blower tube means it's a versatile tool for users of all abilities. The economic battery technology also means there are no emissions when you're using it either and it's easy to switch on and off – perfect if you're just doing a quick clear-up.
Electric leaf blowers & garden vacuums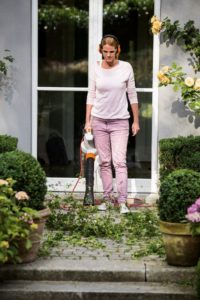 If you're looking for a leaf blower where you don't have to worry about either your fuel or your battery running out, another option a corded leaf blower. The BGE 71 is an electric blower which is designed to clear small to medium areas around your home. It's so easy to use – just plug it in, switch it on and you're ready to go! It also has a built-in cable strain relief hook which helps prevent damage to the electric cable. It has a high blowing force and can be converted into a garden vacuum to shred your leaves (which can then be used as mulch for your garden). Or, you can always take a look at the SHE 71, our electric garden vacuum that is perfect for smaller gardens. This can also be used as a blower so it's another versatile option.
Safety first
When using any leaf blower, don't forget to wear the correct Personal Protective Equipment (PPE). You should always make sure your eyes are protected from dirt and debris if you're blowing it around the garden.
When using a petrol machine, we always recommend that you use ear protection too and we offer an extensive range of ear protectors (including Bluetooth ear protectors, meaning you can listen to music while you work!).
Don't forget to wear sturdy shoes and snug-fitting clothing, and tie long hair back too, so you don't get anything caught in the tools.
Which leaf blower is right for you?
Whether it is a petrol, battery or electric leaf blower you choose, our investment in Research and Development means you can always count on STIHL tools to get the job done.
But if you're still unsure about which blower to choose, you can always visit your nearest STIHL approved dealer who can offer advice and recommendations based on the size of your property and your needs.
Let us know what sort of leaf blower you are looking for in the comments.