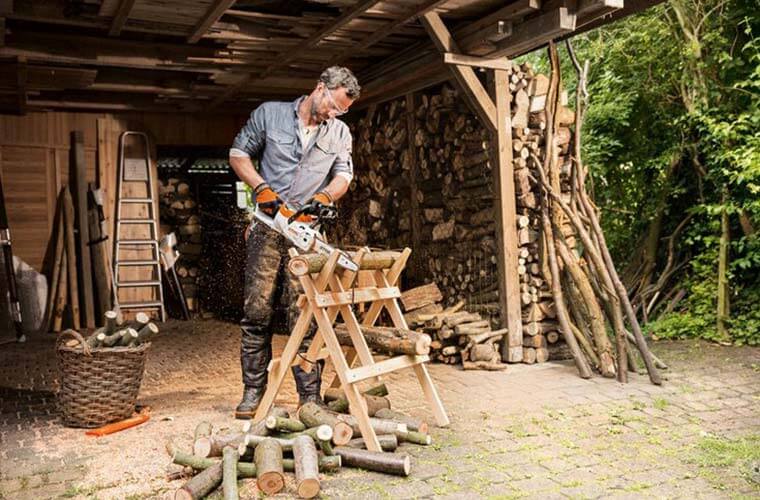 Here at STIHL, we understand that choosing the best chainsaw for you is a big decision and there are many things to consider. Are you looking to save time when chopping firewood? Or save money pruning your own small trees around the garden? We understand that chainsaws can be daunting if you've never even used one before, let alone owned one. As the No. 1 petrol chainsaw manufacturer in the world, STIHL knows a thing or two about chainsaws so check out our chainsaw buying guide below.
What are you cutting?
The most important thing to consider is what you will be cutting. Will your saw be used to prune small branches from larger trees or shrubs? Will it be used to fell small trees in the garden? Or will it be used to saw your own firewood, turning the bigger logs into a perfect size for the wood-burner?
If you know you need to get through larger branches, the best chainsaw for you may be one with a bit more power. But if the timber you are sawing is smaller, then one of our lighter weight or cordless models will be ideal. Although it may be tempting to think bigger is better, we would always suggest that you use the lightest saw for the job in hand. The bigger saws can be considerably heavier so we suggest leaving the very large saws to the professionals!
Cordless Chainsaws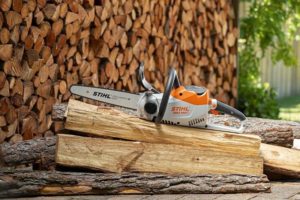 Our cordless chainsaws are some of the lightest in our range. The MSA 120 C-B and MSA 140 C-B are part of our AK System of cordless tools and are perfect for cutting branches or sawing firewood. You will get approximately 100 cuts of 10cm x 10cm from one battery charge with these saws depending on the softness of the timber. The batteries in both of these saws are interchangeable between the other tools in the AK System so you can pop the battery straight into a blower, grass trimmer, mower or hedge trimmer when you're done.
If you need to chop larger logs and branches or even fell small trees, then the MSA 160 C-B and the MSA 200 C-B are worth considering. Part of the AP System, alongside over 25 other battery-powered tools, these two saws offer more power than the AK range but with the same cordless benefits.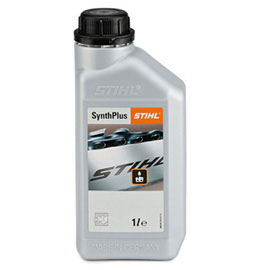 All of these saws benefit from low vibrations and no emissions. They are easy to use for those people not confident at starting and running a petrol machine with no need to pre-mix fuel and no risk of fuel going stale in your machine if you only use it occasionally. You will need to top up the chain oil but STIHL's Ematic chain lubrication system provides maximum lubrication, longer wear and less oil consumption than conventional methods of chain lubrication. The transparent oil tank also means that you can easily see when you need to top up. We generally recommend topping up the oil when you swap or recharge the battery.
Best of all, they are extremely quiet. So quiet, in fact, that the MSA 120 C-B, the MSA 140 C-B and the MSA 200 C-B have all been awarded the QuietMark so you don't even need to wear ear defenders with them. QuietMark tested these saws and confirmed that they are amongst the quietest on the market so you won't have angry neighbours to contend with either!
Electric Chainsaws
An alternative option for those who want something light and manoeuvrable but without the noise of a petrol saw is one of our corded electric saws. These are a good value option if you know you have access to an electricity supply and are perfect if working inside or under cover. Ice-sculptor, Anne-Marie Taberdo is a fan of our electric saws and you can see why here:

Petrol
The final option in our chainsaw buying guide is our petrol models, starting with the MS 170, which is a great entry-level, small chainsaw for homeowners. Petrol saws are a great value option for those with larger gardens or smallholdings.
To operate your petrol chainsaw you need a mix of petrol and engine oil to power and lubricate the engine. The recommended mix is 1 part engine oil with 50 parts petrol. You can find a guide to mixing fuel on our website or why not download the STIHL App which has a simple fuel mix calculator (just search for STIHL in Google Play or the App Store)?
Alternatively, you could consider STIHL's pre-mixed fuel, MotoMix, which is a combination of premium non-ethanol, high-octane motor fuel and our highest quality STIHL HP Ultra oil.
Additional features
For those of you that want your chainsaw to work just that little bit harder for you, many of our models include additional features, indicated by the letters at the end of their model names. Here's a quick guide to these features below:
C = The letter C at the end of a model name (for example, in the MS 181 C-BE) denotes that the saw is a Comfort model. This means the chainsaw has additional features designed to make it more comfortable to use.
E = E stands for Ergo Start, which is STIHL's innovative technology designed to make starting a petrol saw easier. For those of you who are interested, the secret is an additional spring between the crankshaft and the starter rope rotor. But the most important part is that the saw is easier to start! You could also consider a cordless chainsaw if this is particularly important.

B = B denotes the STIHL Quick Chain Tensioning system which makes it very easy to tension the chain. Simply release the sprocket cover and turn the thumbwheel to set the optimum tension. You should never operate a saw with a loose chain, however, no tools are needed to tighten the chain on any of the saws with a B in their model name so it couldn't be easier to ensure safe working.
All of our cordless saws also have the Quick Stop Super brake feature which means that the chain will stop automatically as soon as you take your finger off the throttle. This makes for safer operation of the saw.
Chain – how does it work?
STIHL saws, bars and chains are designed to work perfectly in unison to create the perfect cut. STIHL chains are made from steel and every cutter is inspected by hand. If you look at a chain, you will be able to see the sharp cutting tooth and the flat depth gauge. As the chain goes around the bar, the cutting tooth shaves off little chips of wood. The size of the chip that is removed is the same size as the space between the depth gauge and cutting tooth.
Maintenance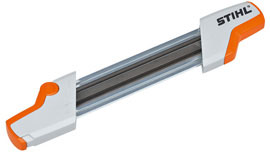 Maintenance of your chainsaw is essential, particularly with regards to keeping your chain sharp. At best, a dull saw chain will cut inefficiently; at worst, it can cause your saw to kick back out of the wood, which can be dangerous. Your dealer can sharpen your chain for you, or you can use our sharpening tools to do it yourself at home. In particular, the 2 in 1 EasyFile makes the job just that – easy! The design of this nifty little tool means that you can sharpen both the cutting tooth and the depth gauge at the same time, which significantly reduces maintenance time.
Safety first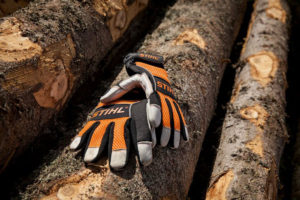 Although technology improvements (such as the mandatory addition of a chain brake to all saws) have made using a chainsaw much safer in recent years, you should still always wear Personal Protective Equipment (PPE). We have produced a guide detailing what PPE you should wear with different tools, but chainsaw protective trousers are vital. STIHL's trousers have protective patches on the thighs, which are filled with fibres. If a saw cuts through the top layer, these fibres are pulled out by the chain and bung up the sprocket to slow and stop the chain.
We also recommend a helmet with face visor or eye protection, gloves and chainsaw boots. If you're starting from scratch, we appreciate this seems like a lot of kit! But having seen some of the more questionable videos on YouTube, we are keen that all STIHL chainsaw users are fully protected. Don't forget that PPE is not the only thing to consider – safe operation of your saw is the best protection against accidents so please do read the safety manual thoroughly before starting.
Feel the chainsaw
So you've done your research but nothing beats actually feeling the weight of the saw – you need to be confident that you can control the saw so you should always visit your dealer and discuss your options with them. And if you're still unsure, STIHL Approved Dealers will be able to offer advice on the best chainsaw for you and your needs.
And once you have your saw, make sure you read this post from Chris Pratt, British STIHL TIMBERSPORTS® athlete and professional arborist, who has given his tips for getting the most out of your new chainsaw.