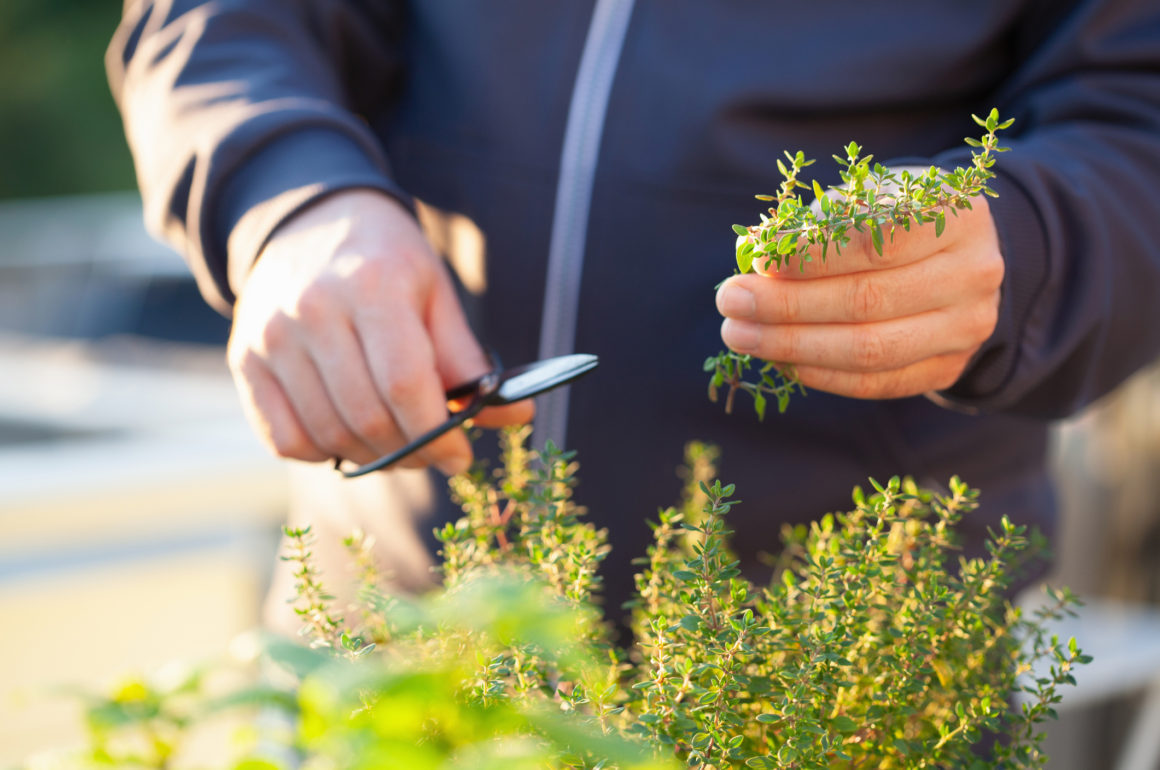 As we enter the depths of winter our gardens and allotment turn to various shades of brown, given a gloss by the perpetual Somerset rain, with hardly an edible treat in sight. But we still get to add some green freshness to our cooking thanks to a few hardy herbs that show off their tasty leaves all year round. Below are our three favourite evergreen herbs…
1 Rosemary. Or Sage.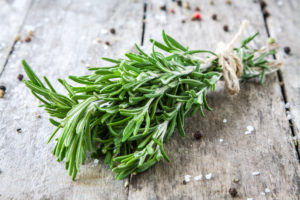 Just as we were writing this, the Royal Horticultural Society has decided that rosemary is actually a type of sage and not a species in its own right. Both rosemary and the familiar garden sage are evergreens and great for growing by the back door for quick snipping when you're busy in the kitchen. We find garden sage has more limited uses in the kitchen (although it's a must in any stuffing recipes and goes great with roasted squash) so it's rosemary that's the closest to the door. 
It's easy to grow directly in the ground or plant pots, but ideally likes good drainage, and there are several varieties you could try – from ones that will form a tidy, compact shape, to tall plants that can be used as hedging. Don't strip the plant bare during winter as it's trying to store energy for when the spring warmth arrives, but a few leaves here and there will be fine. We like sprinkling them on most things that get the 'roasted' treatment, from spuds and carrots to beef and lamb. And we also consider rosemary the best herby garnish for a gin and tonic.
2 Thyme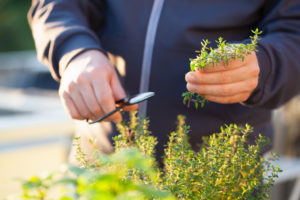 Thyme is a Mediterranean herb that likes warmth with drought-like drainage and, if you get an evergreen variety (not all are frost hardy) that suits your garden's conditions, it could well run riot over summer, resulting in ample pickings for winter. Grow in the ground or containers (some will even thrive in cracks between paving slabs) adding plenty of grit before planting. Try to keep plants slightly raised from the soil so they don't sit in standing rainwater.
In the kitchen, it's the kind of herb that can give a flavour boost to just about any winter soup or stew. It's also good sprinkled over eggy omelettes and tortillas, tomatoey sauces and, if you have a lemon-scented variety, grilled fish.
3 Bay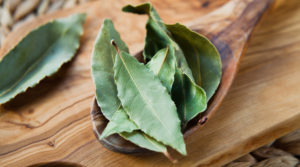 We reckon bay is one of the most underrated homegrown ingredients going. Some folk will add a bay leaf or two to a tomato-based stew but won't explore its flavour much beyond that. It's actually a remarkably spicy ingredient, being a common component of the spice blend 'garam masala', and an essential ingredient in our onion-pickling spice. And if you're ever pan-frying, grilling or barbecuing an oily fish, do so with a bay leaf adjacent to its flesh and you're in for a real treat. We even simmer it in a 50/50 mix of water and milk for an easy chai-like cuppa.
It's simple to grow too – shove it in a pot or the ground and the chances are you won't need to pay it too much attention other than watering if it gets dry, giving you easy spicy pickings all year round.
What other evergreen herbs do you grow in your garden? And what do you do with your herbs? Tell us in the comment below.