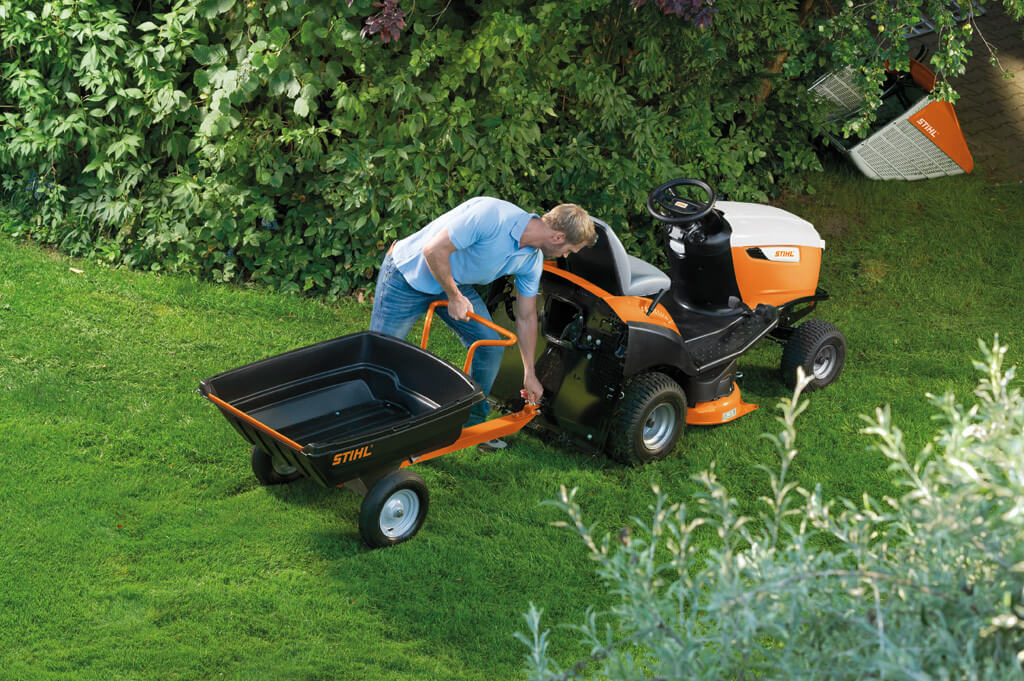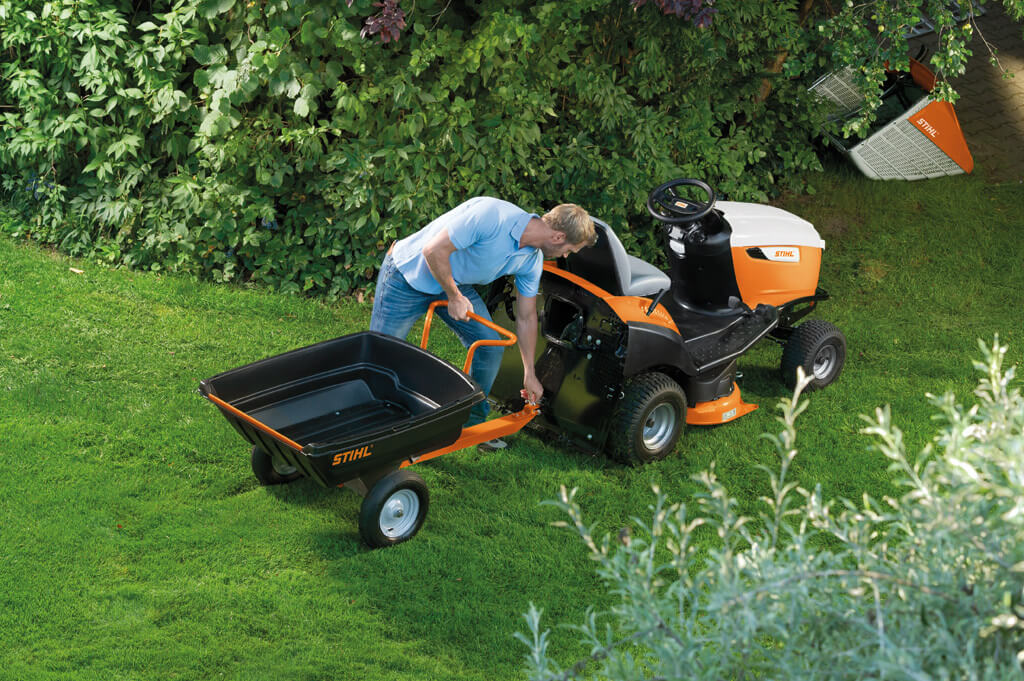 If you have a large area of lawn to tame, then look no further than STIHL's range of premium ride on lawn mowers, catering for large lawns up to 10,000m2 (or a hectare). To put that into perspective, a football pitch (75m x 110m) is about 0.8 hectares and a rugby pitch (144m x 70m) is about a hectare, give or take a few metres.
STIHL has a range of ride-on mowers for all types of jobs, so your choice depends on lawn size, how intricate your garden is or how many flower beds or obstacles you have to navigate. You'll also want to consider whether you want to cut and collect your grass clippings for a more formal lawn, or cut and discharge the clippings out of the side of the mower for lawns of a less formal nature or if you don't want to dispose of the cuttings. All the STIHL riding lawn mowers are easy to control from the comfortable driving seat and are powered by great quality engines. Other smart features include easy to empty grass boxes, simple to adjust mowing heights and above all else, a class-leading cut to leave your lawn with a crisp, neat finish.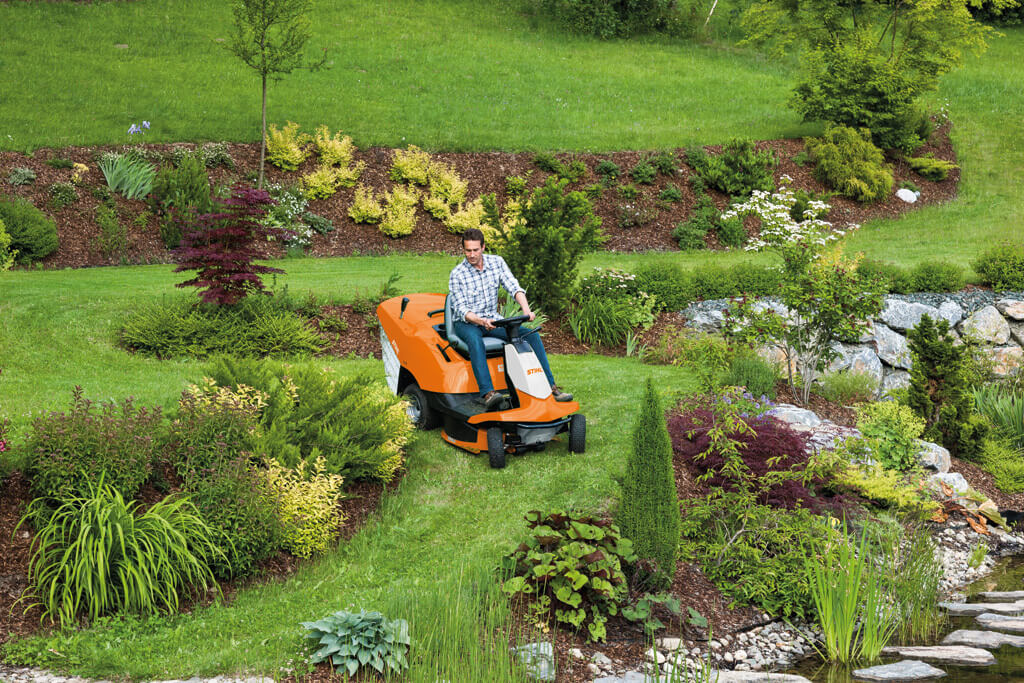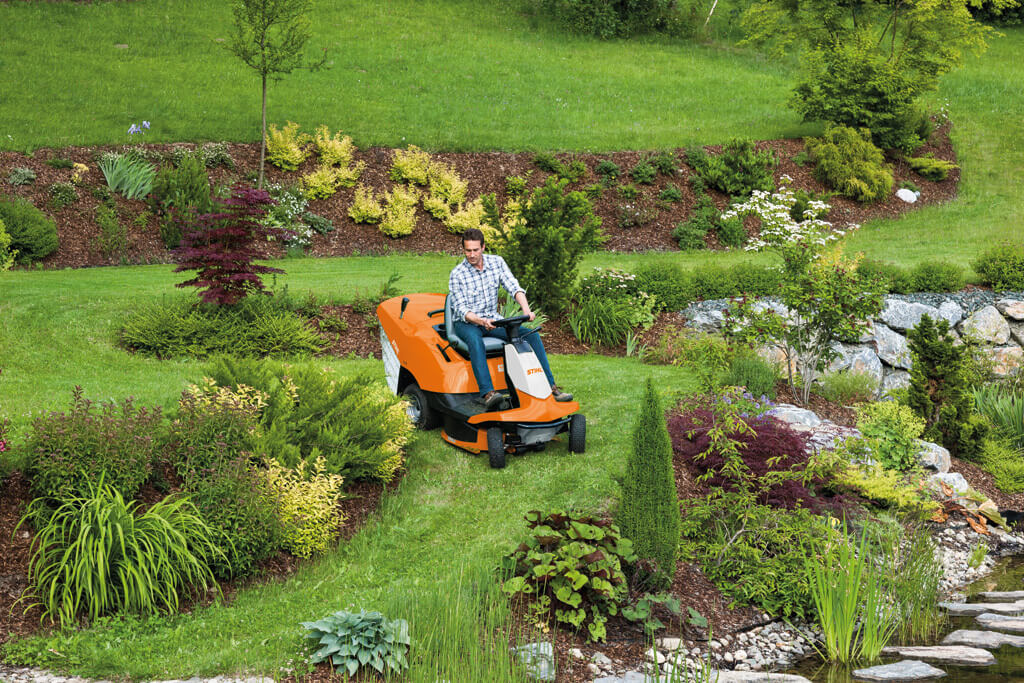 There are 3 key models in the STIHL 4 series ride-on mower range. The RT 4082 cut and collect ride on mower is really simple to operate and will cut large lawns quickly and comfortably. In confined areas, this riding lawn mower can be easily steered around trees and bushes, as the mid-mounted engine design gives you an unobstructed view for improved visibility out the front while covering areas of up to 4000m2.
The RT 4097 SX and RT 4112 S models have side discharge and are powered by Briggs and Stratton engines to cater for large lawn areas where cutting and collecting is not an option.  On the RT 4097 SX, a 95 cm cutting width means it has a small turning circle, so you can easily move around any lawn obstacles with ease, covering up to 6000m2. The RT 4112 S lawn tractor has a 110 cm cutting width for areas up to 8000m2. On these riding lawn mowers, all controls are within easy reach from the driving seat: forward-reverse gears, hydrostatic drive, central cutting height adjustment, and the blade clutch.
Take a look at our 4 Series ride-on lawn mowers in action.

If you're looking for a larger machine to cover a greater area and to collect the cuttings, the 5 series range starts with the RT 5097, a compact lawn tractor designed to cut larger lawns up to 6000m². The single pedal drive system coupled with a simple forward and reverse lever makes this lawn tractor extremely easy to use.  The synchronised twin bladed deck offers excellent collection, even in damp conditions, so you can mow come rain or shine. The riding mower can be easily manoeuvred between obstacles thanks to its responsive steering and tight turning circle too. To reduce time spent emptying the grass, the RT 5097 features a large 250-litre collection box which can be emptied in a flash from the comfort of the driver's seat with a handy lever.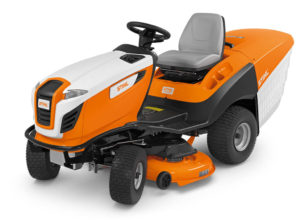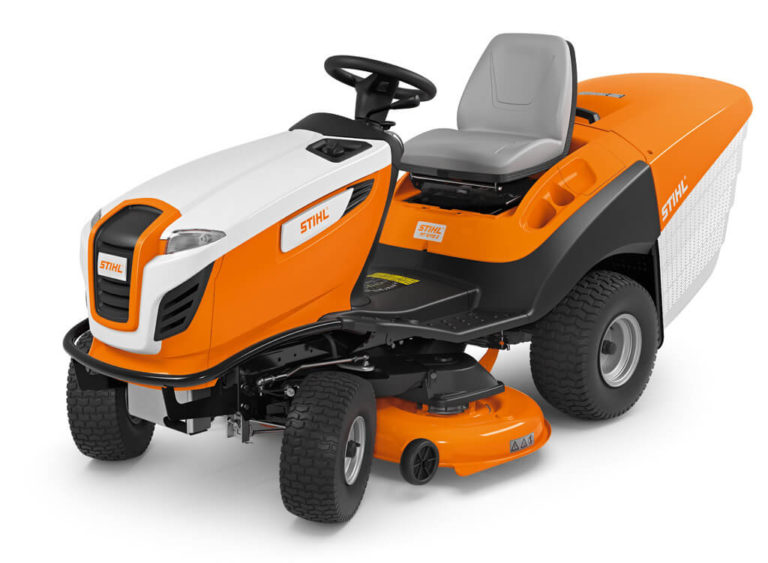 Another model in the 5 series range is the powerful STIHL RT 5112 Z lawn tractor – this model performs brilliantly on larger lawns up to 8000m². Fitted with a powerful twin cylinder engine, large 110cm cutting width deck and 350-litre capacity grass box, this lawn tractor offers all the performance of the 6 series range, in a more compact design. This mower can easily be manoeuvred between obstacles but is just at home when mowing large open areas too.
Finally, at the top of the STIHL riding mower range is the premium 6 series, with two models to choose from. Both mowers have Briggs and Stratton twin cylinder engines, with the RT 6112 ZL featuring a 110cm wide mowing deck which is suitable for areas up to 8000 m2, whilst the RT 6127 ZL features a 125cm mowing deck, which is perfect for areas up to 10,000m2. Both these models have a single pedal drive.
All models in the range can be fitted with a mulching plug to block off the deck from the grass catcher box. This keeps the grass within the mowing deck for longer, so that the grass is cut into smaller clippings then dropped back into the soil to supply vital, natural nutrients for a lush green lawn. You can also attach a tilting trailer for transporting items around the garden, and there's also a garden roller, to flatten any disturbance in the soil, such as molehills and worm casts.
Visit your local STIHL Approved Dealer to take a look at the STIHL range of Ride on Mowers and find out which would be perfect for you.