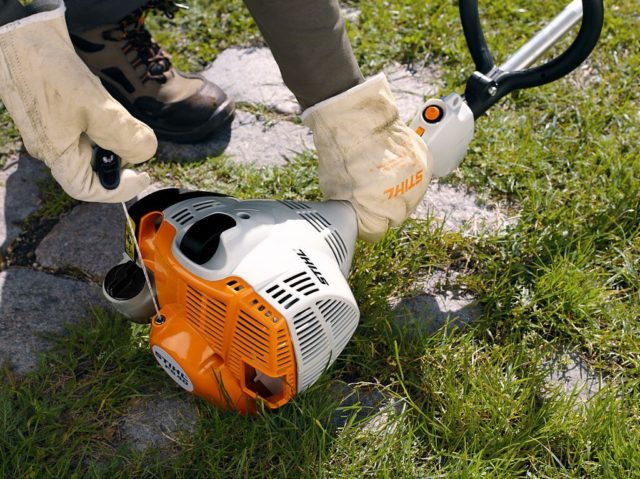 So Spring has arrived and the grass is starting to grow. Your lawn edges are starting to look a bit scruffy and you need a tool to tidy them up. But trying to decide what grass trimmer you need to tame your lawn can be a bit of a challenge. With so many different products available, we're here to help you decide what grass trimmer is the best one for you.
 What is a grass trimmer?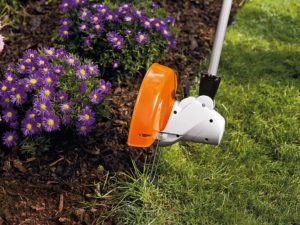 Grass trimmers, also commonly known as strimmers (or string trimmer, line trimmer, weed whacker and even whipper snipper!), are predominantly designed for light work around the garden or property. Most are fitted as standard with cutting line (the diameter of the line will depend on the model), but there are also other cutting attachments which may help with that slightly more stubborn grass growth. More compact and lighter than their bigger, more powerful brushcutter cousins, grass trimmers are a great tool for keeping your lawn in tip top condition all year round.
What are you trimming?
One of the first questions you should ask yourself is about what kind of work you need the tool to do. It could be that your garden is in need of serious maintenance, which includes tackling hardy weeds and brambles. In this case we would steer away from the grass trimmer range and point you towards our range of brushcutters. However, if the work is general grass and lawn maintenance, with the occasional session of weed whacking, then our grass trimmers are more than capable of the task!
Your next choice is whether to go for a cordless (battery powered), petrol or electric grass trimmer. Each have their benefits as explained below.
Cordless, battery-powered grass trimmers
As cordless technology has improved in recent years, the popularity of cordless gardening power tools has also grown substantially. This isn't really surprising given how convenient battery tools are – with no emissions, they are also quiet and easy to use. Our range of STIHL cordless grass trimmers offer the perfect balance between power and convenience. For a light and compact option the FSA 45 Lithium-Ion grass trimmer is unrivalled for managing smaller lawns. Weighing in at just 2.3 kg, including the built-in battery, this trimmer comes with plenty of added features to help you get the job done. The adjustable head and shaft allow you to change the grass trimmer into a dedicated lawn edger in a matter of seconds, so there'll be no more getting on your hands and knees, using hand tools to perfect your edges. The FSA 45 is powered by Lithium-Ion technology (as are all STIHL cordless grass trimmers), which means you get all the power exactly when you need it, but without the added noise and exhaust fumes you would get from a petrol engine, and without the hassle of having to trail a cable around the garden when using a mains electric trimmer.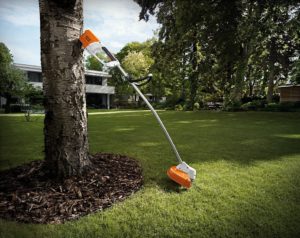 If you have a larger lawn to maintain then the FSA 56 battery-powered grass trimmer offers all the power you will need with the added convenience of being light, well balanced and simple to use. The 36V Lithium-Ion battery used to power the FSA 56 is also interchangeable with the other tools in the AK System of cordless tools, which is perfect for medium-sized gardens and includes two lawn mowers, a blower, two chainsaws, a hedge trimmer and a long-reach hedge trimmer. The FSA 56 can run both 1.6mm (standard) and 2.0 mm diameter cutting line (optional), which gives you a good option for tackling slightly longer, thicker grass growth.
If you need a grass trimmer to tackle thicker, longer grass growth around the property then the FSA 65 and FSA 85 are definitely worth considering. Part of the AP system of cordless tools, the AP batteries used to power these two grass trimmers are easily interchangeable with over 25 other tools in the range.
Petrol grass trimmers
Petrol grass trimmers are ideal for large gardens and areas where there may be slightly thicker grass growth and weeds. The FS 38 and FS 40 petrol grass trimmers are very similar in performance but there a couple of differences in terms of design and starting features. If you are after a robust, yet light petrol tool then the FS 38 is a great option, however, if you want something with a more simple starting system, then the FS 40 is the one to go for. If you want a bit more power with the added benefit of STIHL's ErgoStart system, look no further than the FS 50 C-E. STIHL ErgoStart takes most of the effort out of starting the machine by introducing a coiled spring within the starter cover. This clever innovation lets the spring do all the work, and makes it much easier to start!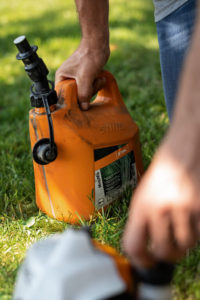 When it comes to fuelling your petrol grass trimmer, we always recommend using STIHL MotoMix premixed fuel. MotoMix has many benefits over standard fuel as there is no ethanol added and there are hardly any aromatic compounds, which makes for a much cleaner burn, healthier for both you and the environment. Ethanol is added to station fuel and after time can absorb water, which can be especially detrimental for two-stroke petrol engines resulting in running issues. As MotoMix contains no ethanol at all, it means you can store it for up to five years without the worry of it separating like a standard fuel/two-stroke mix will after a few weeks.
Electric grass trimmers
If you have a small lawn and there is an electric supply that is easily accessible then electric is still a good option. You just have to be mindful about how far the trimmer will reach and the cable position. For a lightweight, feature packed electric trimmer, the FSE 52, with adjustable shaft length and head positon, is a versatile tool and great for smaller, more intricate lawns. If you need something with a bit more power to get through longer grass and any pesky weeds, then the FSE 60 is the best option for you.
What Personal Protective Equipment should you wear with your grass trimmer?
When using any power tools you should always wear the recommended Personal Protective Equipment (PPE) for your own safety. For grass trimmers we recommend that you wear safety glasses and a clear face visor (which are EN 166 certified) to protect your eyes and face from any debris, snug-fitting clothing which covers your legs and arms, suitable work gloves and safety boots.
Don't forget to check for wildlife
It's always important to check for wildlife before using any power tools in the garden. Hedgehogs are in decline in the UK and often bed down in long grass or weeds, so when using a grass trimmer, always check undergrowth before starting work.
Storage of your grass trimmer
Before you pop your STIHL grass trimmer back into the shed or garage, it is always worth giving it a little clean to get rid of any grass build-up around the head and shaft. Always make sure the machine is switched off before you start, and the battery is removed when using cordless tools. A brush and bit of elbow grease is the best option and the sooner you do it after using it, the easier it will be to clean. We don't recommend using a power washer as this can cause damage to the machine.
Once the tool is nice and clean, pop it on to a bracket or screw (if it has a hanging eyelet). Storing it suspended off the ground keeps it away from the damp and makes for a more organised shed or garage.
For cordless tools we recommend storing the batteries somewhere separate to the tool that has a more ambient, consistent temperature. That way they will always be ready to go when you need them. You can find out more about looking after your battery in our blog post about battery care and maintenance.
If you're storing your petrol grass trimmer for longer than 4-6 weeks we recommend that the tool has no fuel left in the fuel tank and that is run dry. This will help to ensure that there are no deposits and build up around the fuel supply system if the fuel starts to go off.
As you can see there are plenty of different grass trimmers to choose from, but if you need further advice, why not visit your nearest STIHL dealer and take a look at the options in person?
What do you look for in a grass trimmer? Have you tried cordless power yet, or is petrol more your thing? Let us know in the comments.