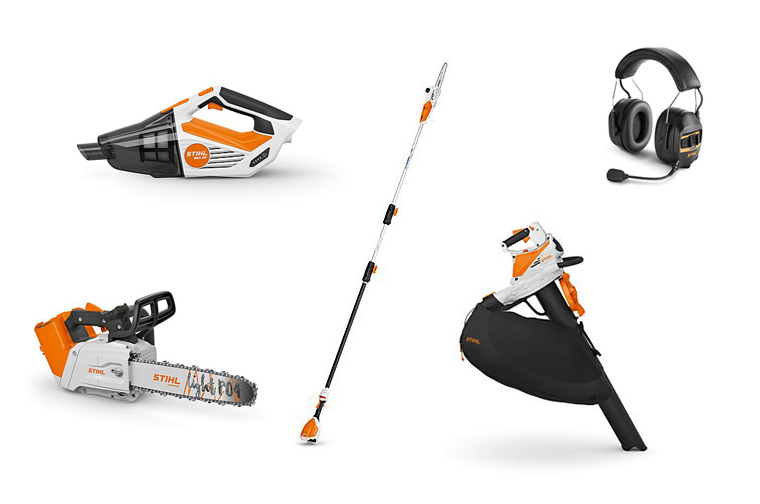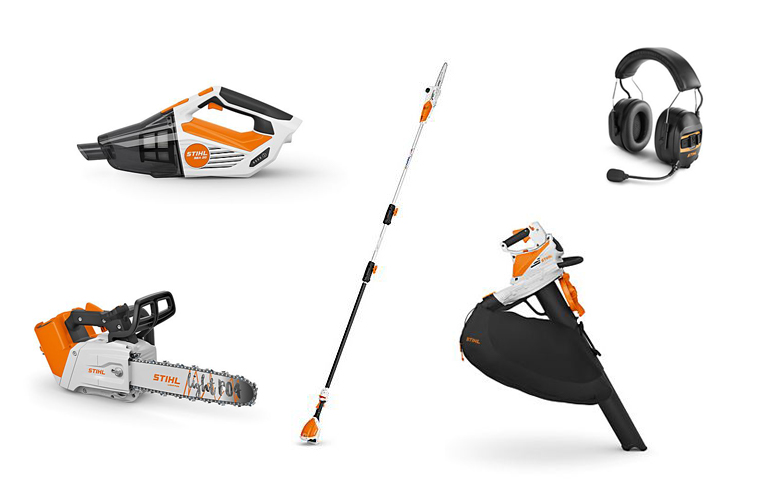 The 2022 STIHL product catalogue is out now and as usual it's packed full of new and exciting products designed to make your life easier, whether you are using them at work or in your own garden. Launching throughout the year, we have some of our most innovative new STIHL tools ready to share with you now.
The STIHL MSA 300 battery-powered chainsaw and AP 500 S battery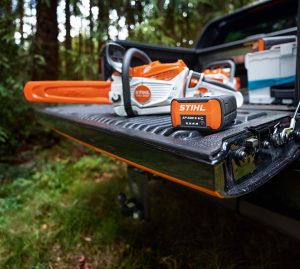 The STIHL MSA 300 battery-powered chainsaw is our most powerful professional cordless chainsaw. Part of the STIHL AP System of battery tools, it has three power levels which let you adjust the chain speed of the chainsaw between 20, 24 or 30 m/s. So you can use it in the right way for whatever task you are doing, whether it's felling, pruning or cutting to length, all whilst maximising the battery life. It also features an anti-vibration system and like all of our battery tools, it's quieter than the petrol equivalent and easy to use. The LED display on the chainsaw makes it easy to monitor oil levels, check the status of the chain brake and the temperature of the cordless chainsaw too.
It's designed to be used with our new STIHL AP 500 S battery for maximum power. It isn't just about the power with the AP 500 S though. It features power laminate technology which gives it double the number of charging cycles (when compared to a typical AP System battery with cylindrical cells) before you start to see any degradation in the capacity of the battery.
Available from April 2022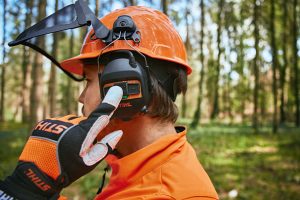 STIHL ADVANCE ProCOM smart communication system
Another exciting new innovation for forestry and arb teams is our STIHL ADVANCE ProCOM system, which connects up to 16 headsets in a communication network. Each headset can be up to 600 m away from the next one and this will still enable all users to communicate with each other. They are packed full of features too, including radio and Bluetooth functionality and ambient mode, which means you can hear noises in your environment through the microphone as if you aren't wearing ear defenders. If a noise in your environment reaches a certain level, the ambient mode automatically turns off so your ears are fully protected at all times.
These are available as standard ear protectors, as well as an ear defender set that can be fitted to the ADVANCE X-CLIMB or FUNCTION Universal helmet.
Available from March 2022
STIHL MSA 220 T arborist chainsaw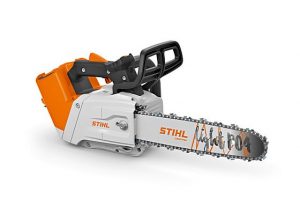 We've got another great new tool for arborists as well in 2022, with our newest battery-powered top-handle chainsaw. The STIHL MSA 220 T has the equivalent cutting performance of the MS 201 TC-M petrol chainsaw, but with all the benefits of battery power. It's quieter and easy to use with an LED display that lets you know at a glance whether the chain brake is on or off.
It's also available as the MSA 220 T-CO, a version that has an oil sensor display which quickly lets you know if the chain oil needs to be topped up. Both versions come with a 3/8" P PS3 saw chain for excellent cutting performance.
Available from May 2022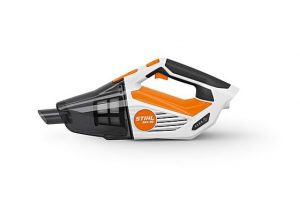 STIHL SEA 20 hand-held vacuum
We haven't just been developing our professional tools though. Our advances in battery technology have helped us introduce new tools in all of our battery ranges. The STIHL SEA 20 is the newest addition to our STIHL AS System, where it's joining the HSA 26 shrub shears and the GTA 26 cordless garden pruner as a handy addition to your kit at home. It's perfect for a quick clean-up in the car, garage or workshop and has a selection of nozzles to suit the job you are doing. It also has a cruise control function so it's comfortable to use, and a drawstring bag to store it in.
Available from September 2022 (subject to change)
STIHL SHA 56 battery-powered vacuum shredder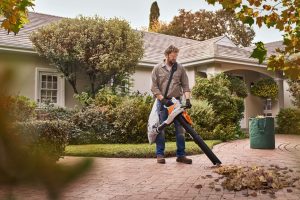 At STIHL, we have been receiving requests for a battery-powered leaf vacuum for some time. We listened to your requests and are pleased to announce the STIHL SHA 56 cordless vacuum shredder. It's the newest tool in our AK System and it's worth the wait. It can be used as a standard blower that can blow up to 700 m2 of leaves on a single charge of the recommended STIHL AK 20 battery. Or you can easily switch it to a vacuum shredder without tools, so you can collect and shred up to 90 m2 of leaves or small cuttings into the collection bag, making it much easier to dispose of in the garden waste bin, or add it to your compost heap. As part of the AK System of battery tools, the batteries are also interchangeable with the other AK System tools in the range such as cordless grass trimmers, chainsaws, lawn mowers and hedge trimmers.
Available from September 2022 (subject to change)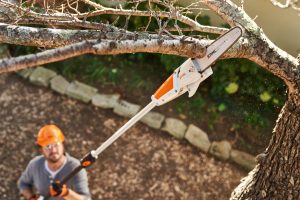 STIHL HTA 50 cordless pole pruner
Another new addition to the AK System of battery powered tools for 2022 is the STIHL HTA 50 pole pruner. This is ideal for tree maintenance work in larger gardens and delivers impressive cutting performance thanks to its ¼" P PM3 saw chain. It has a total length of 280 cm, but you can also buy a 50 cm shaft extension if you need that extra reach.
With a working time of up to 45 minutes using the recommended AK 20 battery, it's the perfect tool for pruning trees in no time.
Available from June 2022
With all of these new tools, we've got you covered whether you're working in the forest or cleaning up at home. But that's not all the new products we're introducing this year. We've also got new service kits to help you keep on top of maintenance, upgrades to many of our most popular products including petrol lawn mowers and pressure washers, and brand new adult and children's merchandise.
You can find all of these new STIHL products and more on the STIHL App or in the latest STIHL catalogue, and if you want a paper version of the catalogue to pore over, just pop into your nearest STIHL Approved Dealer.