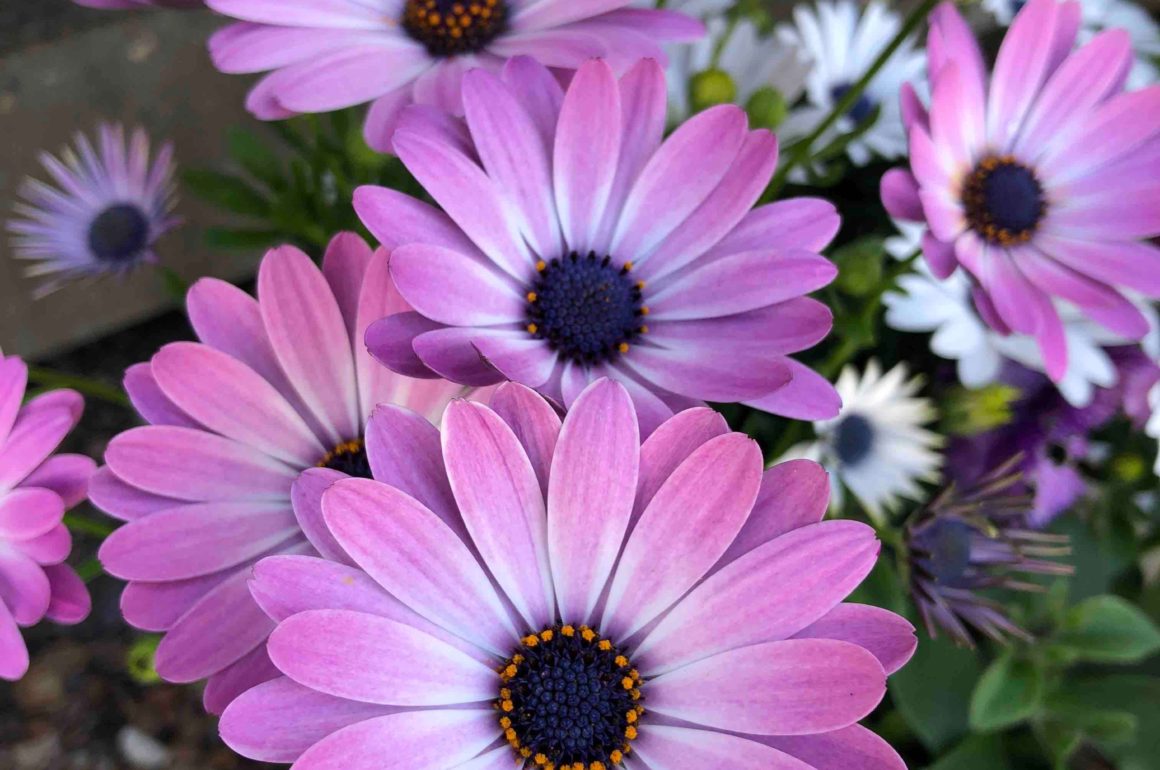 Garden writer Marc Rosenberg, who has been gardening for 30 years and has contributed to the STIHL blog since 2018, shares what he's sowing and growing in July with a diary from his small suburban garden. Planting one of the UK's toughest flowering shrubs, turning up the heat with an African exotic and choosing slug-proof plants top the agenda for July.
1. Discover The Rock Rose Plant
Imagine a shrub that thrives on neglect, loves poor, dry, nutrient-starved soil and flowers profusely all summer, luring an army of pollinators.
The shrub in question is called cistus, better known as the rock rose. I picked this one up (pictured) last year for a few quid and it's now working wonders in my sun-soaked front garden, blending in to the Mediterranean and coastal theme, alongside the fragrant blooms of lavender, firework-like stems of agapanthus and arching, strappy leaves of phormium.
Rock rose plants, orcistus, make a superb summer gap-filler for sunny garden borders that suffer from depleted soil, displaying a profusion of pink or white papery flowers. Most cistus are hardy but plants are relatively short lived, with a tendency to become woody within five to 10 years.
That's why it's worth buying a young shrub that'll pack maximum flower power (don't fork out for bigger specimens) and letting it fill out in a sunny position. As long as soil is free-draining, the rock rose is worth its weight in gold. 
2. Crank Up The Heat With Some Exotic Plants
Visit a garden centre during July and the trend for exotic plants will be in full swing. Plant sales areas are packed with bananas, cannas, lilies, crocosmia, passion flowers, dahlias and anything that managers can tempt us to buy to create a holiday atmosphere at home.
Long before Covid-19 threw holiday plans into disarray, I had a passion for growing plants that are reminiscent of hotter climes, even if such tropical flora looks a tad out of place in suburbia.
As a result, I made another impulse buy: a red-hot poker for my jungle-style border. Kniphofia, to use its proper name, is a spectacular exotic plant, sending up towering flower spikes in vibrant shades of orange, red and yellow.
Red hot pokers, which are native to Africa, are reliable, easy-to-grow perennials, provided they're planted in the right place. I've chosen a spot where plants can bask in sunlight – and fertile, well-drained soil is essential, because kniphofia dislikes winter wetness. Fingers crossed that ideal growing conditions will coax these funky flowers into bloom. 
3. Earthing Up Potatoes
July is a busy month on the vegetable plot, with daily watering and regular feeding a must to ensure an abundance of produce come late summer. With potatoes, however, there's an extra job that's essential for a healthy crop and that's why I've been busy 'earthing-up'.
 It's a simple process of using a garden spade to draw soil up around stems as they grow taller, creating ridges of earth along each row – a process that's repeated several times during the growing season.
Earthing-up potatoes prevents developing spuds from being exposed to light which can turn potatoes green and render crops inedible and poisonous. Remember that potatoes need a lot of watering in hot weather.
4. Enjoy The Magic of Mallows
It's that time of year where gaps become evident in flower beds – perhaps where a perennial failed to make it through winter. Summer bedding plants can inject instant colour but rarely add height to garden borders. 
This is where lavateras – commonly referred to as shrubby mallows – are invaluable for plugging bare spaces, growing skyward at a rate of knots. These vigorous growers are packed with hollyhock-style flowers, making them a top choice for cottage-style gardens, bearing an abundance of pink or white flowers all summer.
Like cistus, lavatera isn't fussy about soil type, but plants will sulk if sunk into soggy ground, so good drainage is essential. Lavatera is also a winner for wildlife-friendly plots, because its open flowers are easily accessed by pollinators.
Shrubby mallows need a sheltered, sunny spot to reach their maximum potential (many will exceed 6ft high) and although they have a reputation for being drought-tolerant, plants will need plenty of water at first, until roots are established in the soil.
The biggest drawback is mallows' tendency to become woody if neglected; however this is easily avoided by trimming plants back by a third in autumn, then pruning hard to around 1ft (12in) high the next spring. You'll be amazed how quickly mallow plants bounce back, with vigorous, flower-laden stems in time for summer.
5. Bolster Slug Defences
In spring, the Royal Horticultural Society warned of a "perfect storm" as the emergence of slugs and snails coincided with wet weather as fresh growth began to unfurl in gardens.
Soggy conditions in April and May prompted experts to warn that hostas, beans and sweet peas were at high risk from munching gastropods – and this wrecking spree has carried on into midsummer. 
If you are looking for natural ways to get rid of slugs, the RHS is recommending that gardeners encourage birds, frogs and hedgehogs into gardens. Despite taking care to attract beneficial wildlife, I'm still out with a pot every evening, collecting snails from flower beds, plants and fences.
Where molluscs are a menace, the RHS is urging gardeners to plant flowers and perennials that are rarely targeted, including euphorbia, geraniums (pictured), fuchsias and salvia.
Geraniums are a top choice as their thick, fleshy leaves are unpalatable to slugs and snails. Plus, they're unbeatable for flower power and drought resistance – a winning combination. 
6. Last Chance To Sow Carrots
There's nothing like the crunch of biting into delicious, sweet, home-grown carrots. July is the last chance to direct sow late-maturing carrots and I've opted for 'Autumn King 2' which has been bred to crop heavily as temperatures tail off later in the season. 
This tried-and-tested variety will yield a fine crop of carrots up to 30cm (12in) long, with young roots ready for pulling by October. It's advisable to cover new carrot sowings with fine grade netting, to keep the dreaded carrot fly away. 
7. Go Crazy For Daisies!
Dining al-fresco is more enjoyable when surrounded by gorgeous blooms and the Cape Daisy (osteospermum) makes an excellent instant impact patio display. I couldn't resist planting one in a spare garden container.
Cheery Cape Daisies love a sheltered, sunny spot and flower heavily all summer. Liquid feeding fortnightly, regular watering and frequent deadheading of spent blooms holds the key to keeping their big, daisy-style flowers coming non-stop until autumn.
What garden jobs do you have on your list for July? Will you be planting any exotic plants? Let us know in the comments.