Whether you're craving the sun-soaked resorts of the Mediterranean or crying out for the clear turquoise sea and white sands of the Caribbean, it looks as if many of us are going to be holidaying at home again this summer.
Don't despair, however. While we may not yet be able jet off in search of wall-to-wall sunshine, it's easy to introduce exotic and tropical plants to our gardens – creating horticultural havens for dining alfresco, firing-up the barbecue or simply relaxing with a cold beer or a glass of wine.
Here, we take a look at 10 of the easiest exotic plants that'll transform any British back yard into an enchanting horticultural haven featuring the flora of hotter climes, perfect for any summer staycation.
1. Passion Flower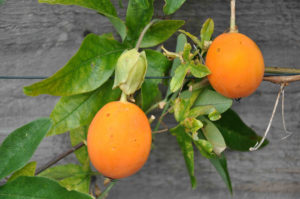 The intricate blooms of passion flowers are the definition of easy exotic plants. Even if you're new to gardening, you'll be rewarded with an abundance of beautiful flowers that wouldn't look out of place in a botanic garden. The blue passion flower, Passiflora caerulea, is the one to go for: it's a vigorous climbing plant that scrambles up trellis, walls and fences using its clinging tendrils and is hardy throughout much of the UK. Plants repeat flower profusely throughout summer when grown in a sunny site, with the added bonus of golden orange ornamental fruits that last well into autumn.
2. Olive
The sight of olive trees clad with grey-green oval leaves and ripening fruits can rekindle treasured memories of sun-soaked Mediterranean holidays. Luckily, you don't need much horticultural know-how to nurture a slow-growing olive in a flower pot here in chilly Blighty. Olives thrive in sunny, dry conditions and occasionally crop in the UK, although fruits are unlikely to be edible. Olea europaea trees can survive outdoors year-round in mild regions although it's advisable to grow in plant containers and move trees into greenhouses or porches ahead of winter in regions that experience prolonged spells of sub-zero temperatures.
3. Bottlebrush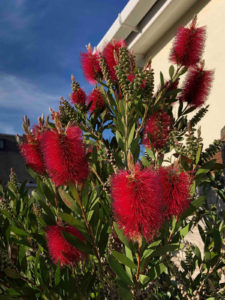 Add a touch of Down Under to your garden with the head-turning crimson bottlebrush. Callistemon citrinus 'Splendens', to give it its proper name, is a medium-size evergreen shrub that forms the backbone of tropical plant borders, clothed with narrow, ovate leaves that are a common sight in warmer climes. Every spring, especially during warm starts to the season, dazzling crimson bottlebrush-like flower spikes are borne near shoot tips, acting as a magnet for pollinators and luring bees in their droves.
4. Sea Holly
If Covid-19 restrictions curtailed your plans for a trip to the coast, why not bring architectural seaside-style flora to your garden? Eryngium, with its striking, thistle-like, blooms, is a must for gravel and coastal-style gardens. Flowers, in shades of blue or grey dependent on variety, are beloved by pollinators and sea holly plants are a doddle to grow in a sunny spot: they'll thrive in poor soil, as long as it's free-draining, and require little watering.
5. Cabbage Palm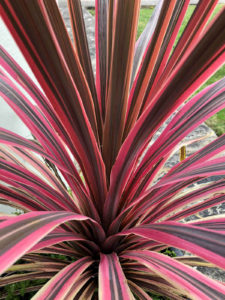 Cordyline australis is a classic fuss-free exotic that brings a touch of the English Riviera into any back yard, with plants available in bronze, green or even eye-catching crimson. Most can survive UK winters unharmed although young plants (especially those with coloured leaves) can be prone to frost damage in colder areas. If winter chills are an issue, grow in garden containers of John Innes No. 3 compost and move into a frost-free greenhouse in autumn. Mature exotic plants of this New Zealand native can even bear panicles of fragrant cream flowers.
6. Canna
With their big, lush leaves and showy flower spikes, cannas turn up the summertime heat, transforming flower beds, garden borders and containers into a sea of vibrant, exotic flowers. These tender perennials bloom magnificently in shades of red, yellow, pink and orange, holding flower spikes high above green, bronze or variegated foliage. Fertile soil in a sun-soaked spot is a must, or grow in garden containers filled with John Innes No. 3 compost. Liquid feeding throughout high season will keep flowers coming fast, as long as spent blooms are snipped away promptly. Cannas will thank you for plenty of water when the mercury soars.
7. Agapanthus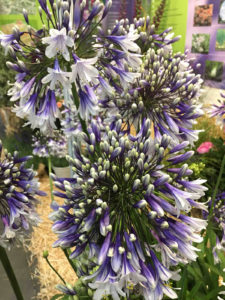 African lilies are a mainstay of exotic borders, with buds soaring high and exploding into firework-like heads packed with trumpet-shaped flowers in summer, held above strappy leaves. Although blue is the most common colour, nurseries also stock whites, purples and bi-colours, with a huge choice of evergreen or deciduous varieties (those that lose their leaves in winter are often hardier, so check labels). Plants will be reluctant to flower in shade, so grow in plant pots or borders in areas of well-drained soil in full sun, watering plants regularly during their first year. Liquid feeding with a general-purpose fertiliser from late April until flowering will boost the spectacle.
8. Dahlia
Dahlias are the comeback kid of the horticultural world – their giant, showy flowers have soared in popularity and are guaranteed to spice up summer garden borders. Don't worry if you missed the chance to start dahlia tubers into growth in spring, as garden centres will be crammed with pot-grown specimens all season long. Dinner plate-sized bicolour flowers hold the highest exotic appeal and will bloom non-stop from summer into autumn, adding a tropical touch to sunny borders even when the nights begin to draw in. Snip faded blooms away regularly to encourage plants to repeat flower and stake taller, top-heavy specimens to prevent stems from collapsing under the weight of their own flower power. Find out more about growing dazzling dahlias in our blog post dedicated to them.
9. Tree fern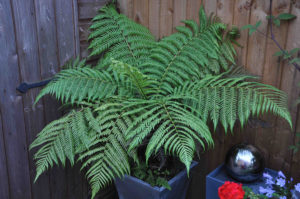 All too often, tropical plants need full sun to work their magic but the tree fern, Dicksonia antarctica – a slow-growing native of Tasmania – can transform areas of light shade into a Jurassic-style jungle. Huge, deeply-serrated leaf fronds begin to unfurl as the weather warms up, while frond production can be boosted by keeping crowns moist throughout the season and liquid feeding with seaweed extract. Mature tree ferns can be pricey but smaller specimens that are ideal for growing in garden containers represent better value for money.
10. Aeonium
Exotic plants are often defined by floral magnificence with foliage playing second fiddle. Not so with the polished, succulent, fleshy leaves of aeonium – and the popular variety 'Zwartkop' is the one to go for. Its enormous leaf rosettes appear almost black in dazzling summer sunshine while these north African natives work a treat in glazed or terracotta flower pots. Move plants into a light, frost-free place in autumn where temperatures won't dip below 5°C.
What exotic plants are your favourites? Are there any exotic flowers that you would love to grow in your garden? Let us know in the comments.