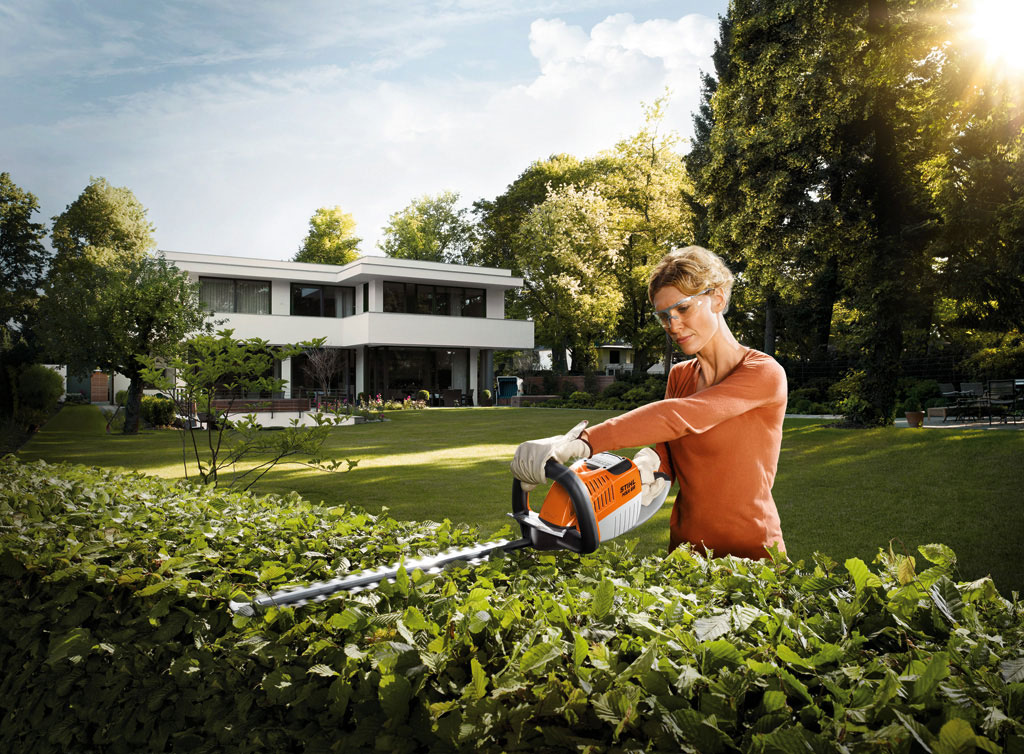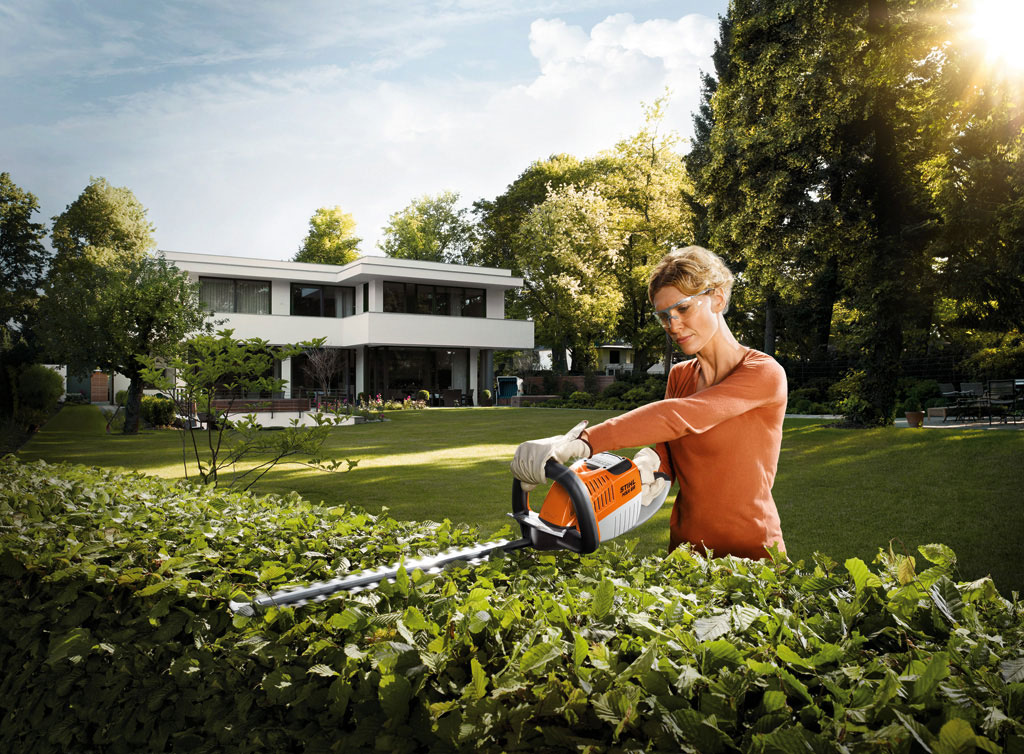 We're all on a mission to achieve perfect, neat hedges in the garden. They can form beautiful borders, offer shade and privacy, as well as offering interesting shapes and textures. Cutting a hedge manually can be a laborious job, which is probably why hedge trimmers are among our most popular tools on offer! In the right hands, they can precisely cut a hedge into any shape imaginable, or simply keep it look healthy and neat. All while being simple, lightweight and easy to use. However, like all power tools, there are certain things that must be done in order to safely and efficiently operate it, and without proper maintenance, the tool will lose performance over time.
With this in mind, we've put this blog together to help you extract the absolute most from your STIHL hedge trimmer. 
Prune hedges from a young age
Most hedgerows will become very woody as they grow, with thicker branches and a much more unhealthy appearance. Not only can you risk losing the perfectly manicured hedge of your dreams, but they can start to be a little tougher to maintain! To help keep needy teenage hedges at bay, care for them at a young age with regular trimming.
To help keep your hedge looking healthy and vibrant, be sure to slightly taper your hedge so it is wider at the bottom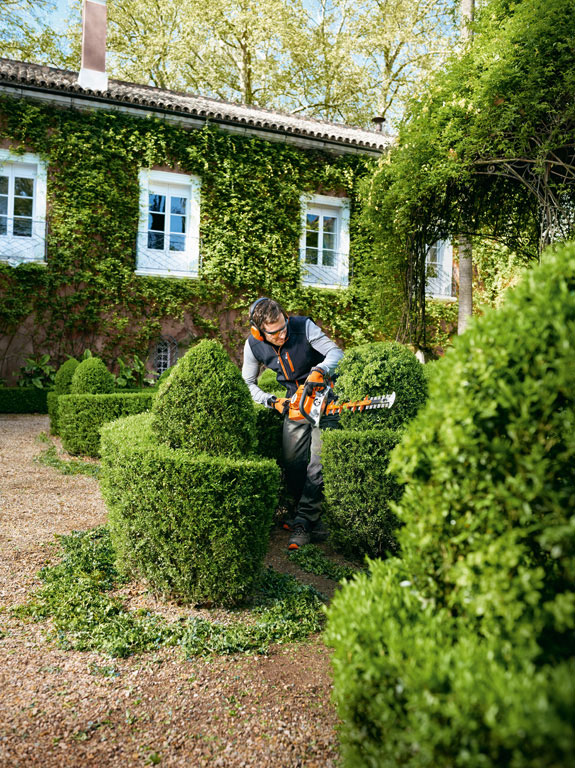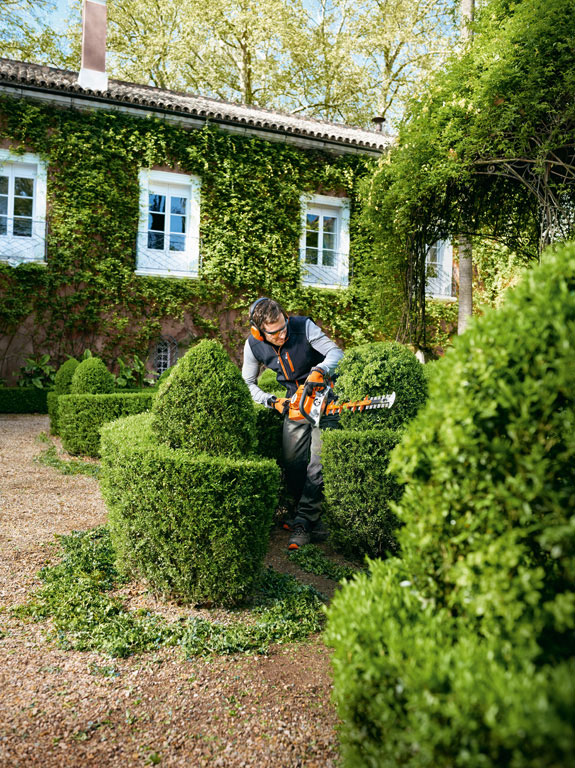 than the top, this will allow more light to reach the bottom of the plant and will help keep it healthy and encourage growth.
Start out slowly
When you're cutting a hedge, it's not dissimilar to having a haircut. Be sure to start by taking only small amounts off the hedge. This will neaten it up, without potentially butchering the plant and leaving it to grow out over a longer period of time. Most hedge trimmers cut very quickly, so be patient and take your time.
When you do cut, start from the sides and cut from the bottom up, in the direction of the hedge growth, as this will be a much smoother action.
Deal with the debris
Cutting the hedge is a big enough job, so you want cleaning up afterwards to be as easy as possible. The simplest way to do this is to place a large garden sheet below the area you're working on. Most of the clippings should fall directly onto the sheet, for easy disposal.
Of course, gravity ensures that the clippings from the top of the hedge won't fall neatly off as you might like, and will instead need to be picked off by hand. But why not try one of our handy catcher plates, so you can clear as you go!
If there's a small amount of debris left on the ground, you can always run over these with the lawnmower to pick them up.
Keep it clean
When you're cutting a hedge, your trimmer will collect dirt, sap and other residue, as well as the remains of the hedge. This will make the blade far less efficient at cutting, making it harder to cut your hedges in future if it isn't cleaned up.
To clean your trimmer, start by carefully picking out any leaves, twigs or other bits of debris (while the device is switched off or unplugged, of course). Once you have cleaned off the debris, take a dry cloth and our special resin-cleaning solvent, spray the blades of the trimmer, and then wipe off the resin.
This will help keep your trimmer clean, shiny and effective at cutting through hedges, meaning it won't have to be sharpened as often. And now that we've mentioned sharpening…
Keep the blades sharp
With any cutting tool, the most important thing is to keep the blades sharp. If you fail to do so, the hedge trimmer will become ineffective at trimming, and could suffer a minor existential crisis as a result. To avoid this, be sure to either take your trimmer to your local STIHL dealer or, if you feel confident, learn to sharpen the blades yourself.
To do this, you'll need a sharpening file and a whetstone. Start by sharpening the blades using the file, only moving in the direction of the cutting edge, never in the other direction, before turning the tool upside down, and removing the build-up from the bottom with a whetstone.
When you've finished, be sure to spray your tool with the resin solvent again to ensure the blades don't rust.
If you'd like to see someone sharpening a hedge trimmer, our colleagues in the US have put a handy video together.
By following these tips, you should have healthy hedges and a pristine trimmer without any excess hassle or stress. And remember, if in doubt, get in touch with your local expert dealer, who'll be happy to help!