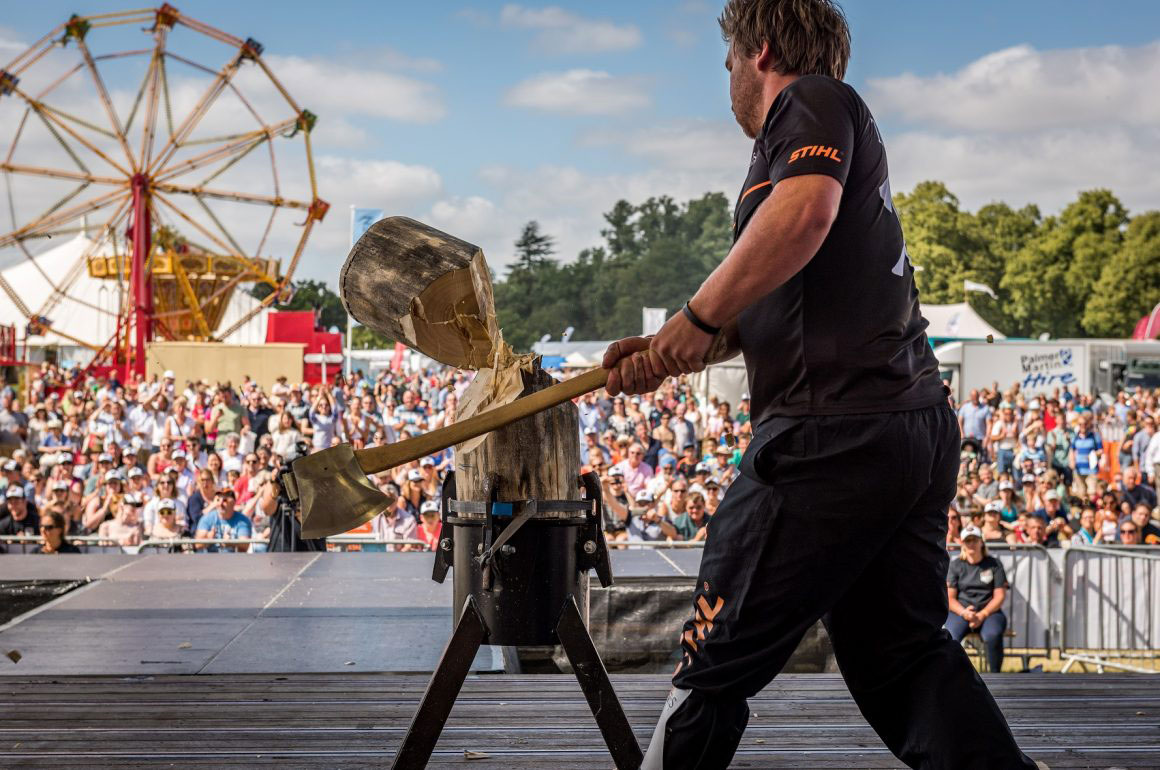 After holding the STIHL TIMBERSPORTS® British Championship at the first ever BBC Countryfile Live event in 2016, we are really excited to be taking the STIHL Stage back to Blenheim Palace again this year.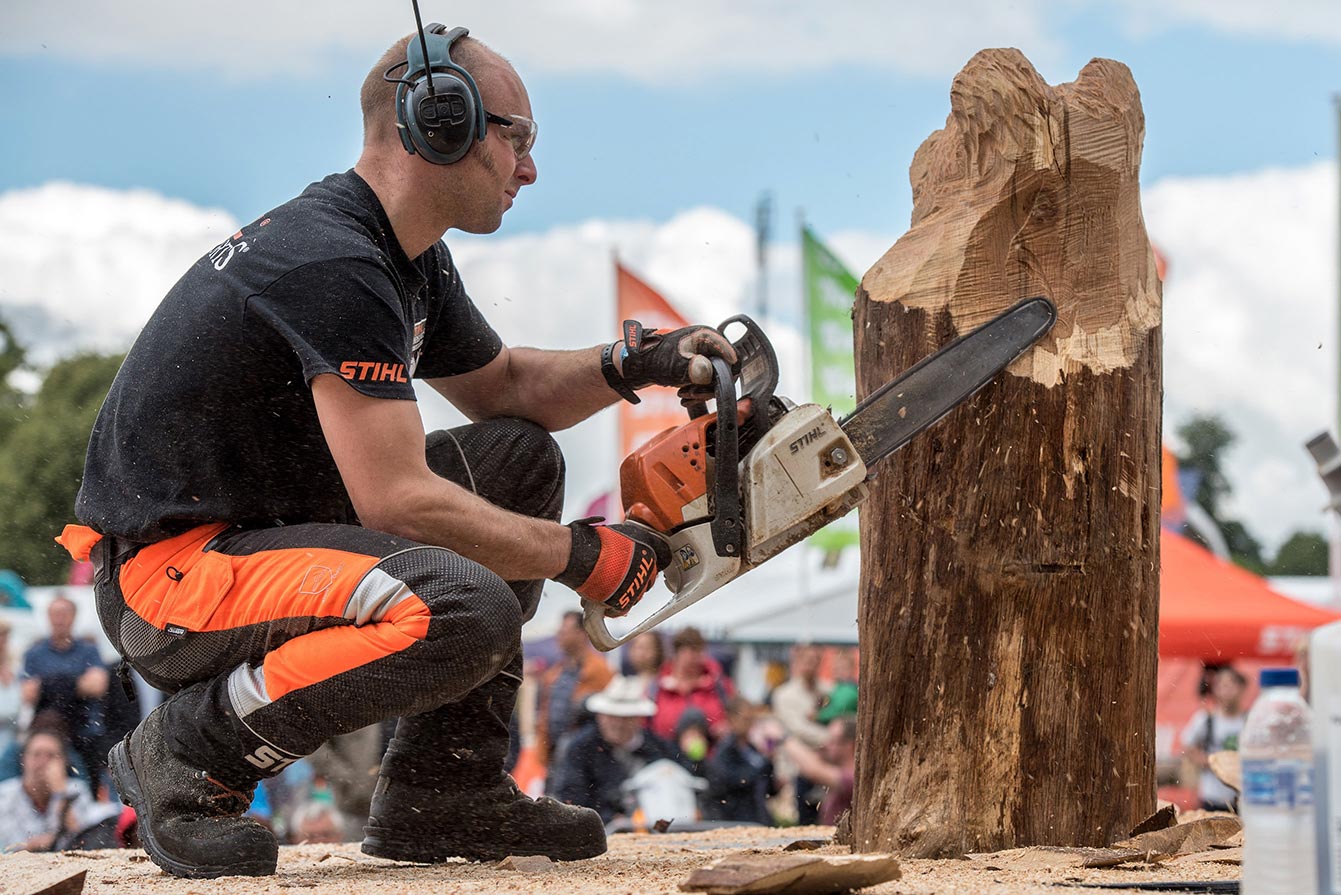 The magnificent surroundings of the Palace parkland are once again hosting the live version of BBC's Countryfile programme and we have planned a packed schedule to keep the crowds entertained. Proving a great draw last year were Treevolution, who wowed audiences with their chainsaw carvings both on-stage and off-stage. We will be auctioning the results of their handiwork for STIHL's chosen charity for 2017, Surrey Young Carers, so you will even get the chance to own one of these unique creations.
For the gardening enthusiasts amongst you, make sure you take note of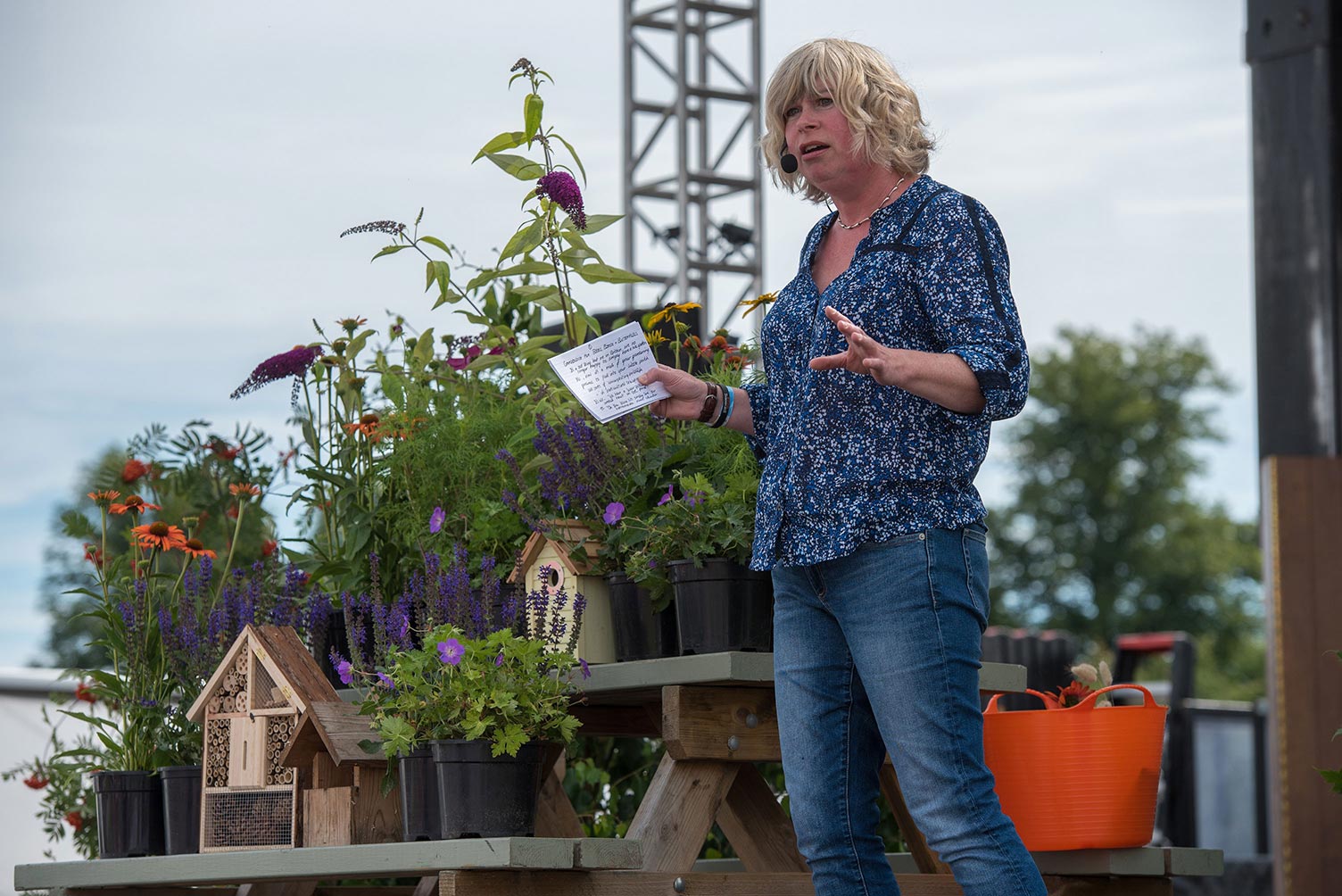 the times for our on-stage talks from Jane Moore, head gardener of The Bath Priory Hotel and former RHS Chelsea Flower Show award-winner. Jane will be sharing her gardening knowledge and you can even submit questions in advance for her to answer at the show; just tweet us at STIHL GB (@stihl_gb) with the hashtag #askjane!
Elsewhere on our stand, STIHL experts will be demonstrating our lightweight and cordless products and sharing their expertise, including the basics of chainsaw maintenance, plus the innovative iMOW robotic mower will be in action throughout the show so you can find out how iMOW could transform your lawn.
And if all of that wasn't enough, you can find out more about the history of STIHL's chainsaws and visit the STIHL shop selling TIMBERSPORTS® merchandise at special show prices.
But of course, the highlight of the show will be TIMBERSPORTS® – check out the schedule for details of what's on when, but you can be sure that whichever part of the TIMBERPORTS®action you get to see, you will be guaranteed a thrilling show!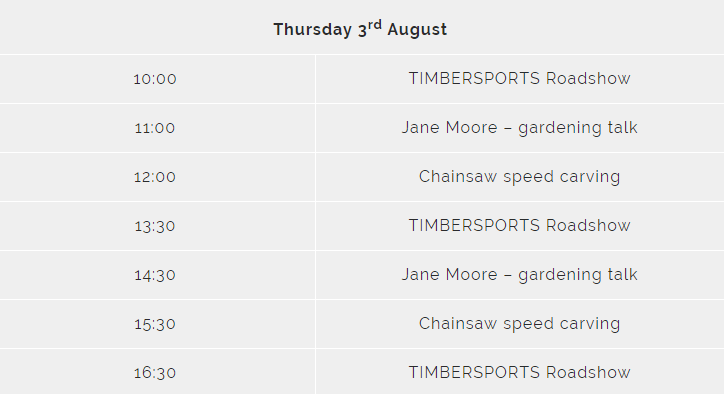 *Times are subject to change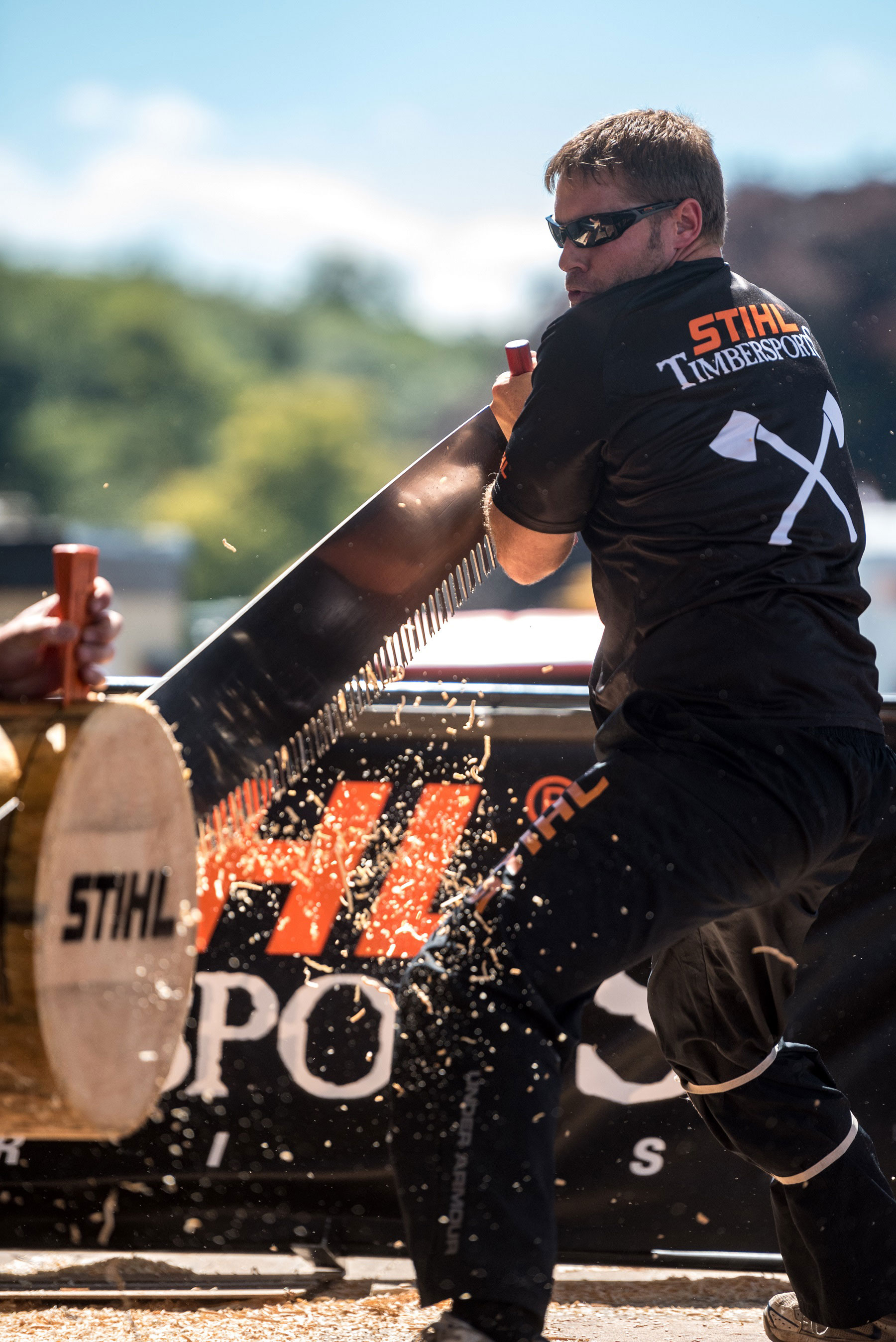 Elgan Pugh will be aiming to defend his title as the reigning British Champion at the Pro Championship on Saturday 5th August, but the growing interest in the sport means that competition is fierce – can he keep his crown?
During the Pro Championship, 16 athletes will go head-to-head in all six TIMBERSPORTS® disciplines using axes, chainsaws (including the impressive Hot Saw weighing 30kg) and a 2-metre long cross-cut saw, whilst the Rookie competition on Sunday 6th August gives our younger athletes a chance to shine.
If all this sounds too good to miss, we have four VIP tickets to BBC Countryfile Live including an exclusive backstage tour of the STIHL TIMBERSPORTS® Stage up for grabs this week, as well as ten pairs of standard entry runners-up tickets. To enter the competition just answer the following question:
Which BBC Countryfile presenter was a Strictly Come Dancing finalist in 2010?
Matt Baker
Ellie Harrison
Adam Henson
Complete this form to submit your entry. Competition closes at Midnight on Sunday 16th July 2017. Only one entry per person. You must be over 18 to enter. Entry is open to residents of GB including IOM or Channel Islands (excludes NI). Full Term's and Condition's below.
---
Term's and Conditions's for prize draw entry form – Win weekend VIP tickets to BBC Countryfile Live
Prize: One individual will win four VIP day tickets to BBC Countryfile Live at Blenheim Palace. Full prize details are as follows: VIP tickets for four to BBC Countryfile Live, Blenheim Palace on either 3rd, 4th, 5th and 6th August 2017, VIP parking, VIP concierge service, VIP dedicated entrance, front row seats for the Countryfile Arena, backstage tour of the TIMBERSPORTS® Stage and a TIMBERSPORTS® Goodie Bag. Ten runners-up will receive a pair of standard BBC Countryfile Live tickets.
Opening Date: Monday 10th July 2017
Closing Date: Midnight on Sunday 16th July 2017
Draw Date: Monday 17th July 2017
Competitions or Prize Draws exclude employees of ANDREAS STIHL Ltd., or any of its subsidiary companies, their families, agents or anyone else connected with the promotion. No third party entries, bulk entries or entries submitted by agents will be accepted. ANDREAS STIHL Ltd. reserves the right to verify the eligibility of entrants.
Entry is open to residents of GB including IOM or Channel Islands (excludes NI).
Entrants must be at least 18 years old to enter unless otherwise stated.
Only one entry per person is allowed.
To enter, entrants must answer the following question; 'Which BBC Countryfile Live presenter was a Strictly Come Dancing finalist in 2010?' and complete and submit an online Survey Monkey, accessible via social media posts and the STIHL blog. The promoter reserves the right to verify the validity of entries.
The Prize Draw runs during the Prize Draw Dates until the specified Closing Date. Entries received after this date and time will not be entered into the Prize Draw.
The winners will be electronically drawn at random on Monday 17th July 2017 and notified via mail, email or telephone no later than 5pm on Tuesday 18th July 2017. It is then the responsibility of the winner to respond to the Promoter with the relevant contact information required for the Promoter to deliver the prize. The winner must respond with this information within 7 days of the Promoter sending notification. If the prize is unclaimed after this time, it will lapse and the Promoter reserves the right to offer the unclaimed prize to a substitute winner selected in accordance with these rules.
Runners-up prizes must be redeemed using an online code provided by Andreas STIHL Ltd by 24th July at the latest.
ANDREAS STIHL Ltd. will not be responsible for any inability of a prize winner to take up the specified prize.
ANDREAS STIHL Ltd. assumes no responsibility and is not liable for any costs, charges or expenses which winners may be required to pay at any time in connection with a Prize.
Cash or credit alternatives will not be offered. However, in the event of unforeseen bad weather causing the event to be cancelled or the prize deemed unredeemable, STIHL product to the value of £500.00 can be selected by the winners of the Countryfile Live weekend. If the chosen product exceeds the prize fund the remaining amount will be payable. The selected product(s) will be presented by your nearest approved dealer.
In the event of fraud, abuse, and/or an error affecting the proper operation of this Prize Draw, ANDREAS STIHL Ltd. reserves the right to end or suspend the Prize Draw; amend these terms & conditions; declare void the notification of the winner; and/or to allocate available prizes by conducting a simple draw from all wrongly allocated winners.
If any provision of these terms and conditions is held invalid by any law, rule, order or regulation of any government, or by the final determination of any court of a competent jurisdiction, such invalidity shall not affect the enforceability of any other provisions not held to be invalid.
The winner may be required to participate in publicity connected with this Prize Draw and it is a condition of entry that the winner agree to their name and country of residence being made publicly available if they win.
The name of the winner may be obtained by sending a signed handwritten request along with a stamped self-addressed envelope detailing your request to the Marketing Team, ANDREAS STIHL Ltd. STIHL House, Stanhope Road, Camberley, Surrey, GU15 3YT, UK.
Entrants' data will be collected, stored and processed for the purposes of administering and assessing this Prize Draw. Any personal data relating to Competition entrants will be used solely in accordance with current UK data protection legislation and will not be disclosed to a third party without the entrant's consent.
Entrant is providing information to ANDREAS STIHL Ltd. and not to any third parties.
ANDREAS STIHL Ltd. decision is final and no correspondence will be entered into.
ANDREAS STIHL Ltd. reserves the right to suspend, cancel or amend the promotion and/or review and revise these terms and conditions at any time without giving prior notice and by continuing to take part in the promotion subsequent to any revision of these terms and conditions, entrants shall be deemed to have agreed to any such new or amended terms.
This promotion is governed by English Law and is subject to the exclusive jurisdiction of the English courts.
The promoter of this Prize Draw is ANDREAS STIHL Ltd. STIHL House, Stanhope Road, Camberley, Surrey, GU15 3YT, UK.