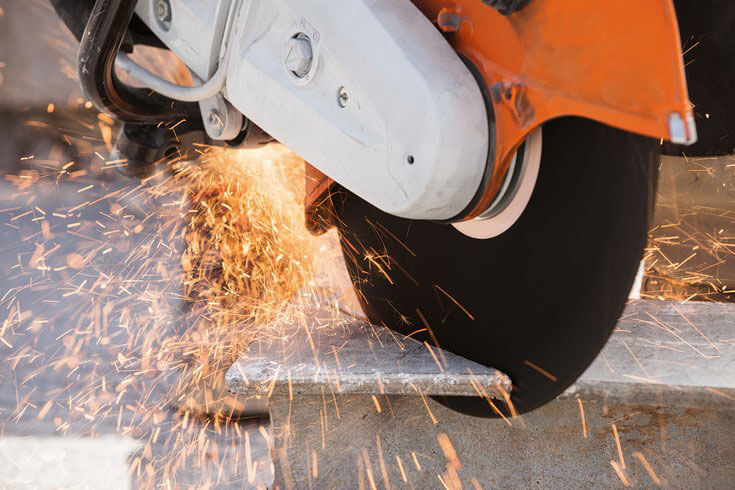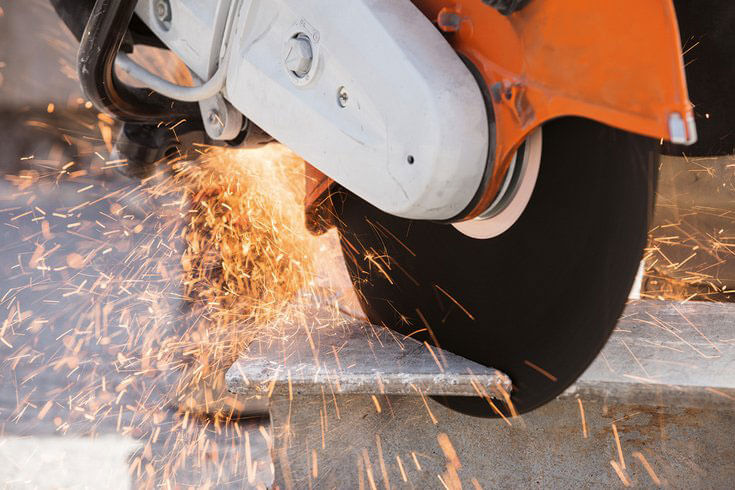 STIHL cut-off machines are among our best-selling products and it's not hard to see why – they can be used for a wide range of construction tasks, whether it be for cutting structural steel, cast-iron pipes, tarmac, concrete, granite or other materials. Often called the STIHL saw on-site, these cut-off machines play an essential role in the building trade and are regularly hired in for the job from many of the hire centres nationwide.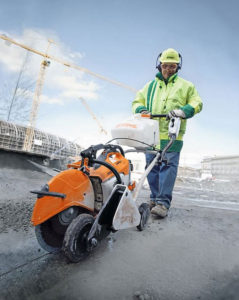 Most popular in the STIHL cut-off machine range is the TS 410 with a 12" cutting disc.  Powered by a 66.7cm3 STIHL engine, it's a very robust and capable tool that's used to working in tough conditions on construction sites across Great Britain. Its main job is making short work of cutting tasks, whatever the material, but there's a lot more to this machine than meets the eye.
To keep the STIHL TS 410, and all our cut-off machines working at their best between services, it has cyclone routing and a long-life air filter system – making daily filter cleans unnecessary. The filter and routing of the air means that 80% of the dust particles in the air are removed and not collected in the foam filter. Instead, they are separated by the cyclone system and vented back into the outside air, which means more working time and less downtime.
All STIHL cut-off machines feature a lightweight and strong magnesium crankcase and magnesium cutting wheel guard, not only for operator safety but to keep the weight of the machine down too.
And perhaps one of the most important features is the water connector to help with dust suppression.  Concrete and construction dust created whilst cutting can cause health issues, so the water connection allows a hosepipe to be connected. Alternatively, if you're away from a water source, STIHL's pressurised water container can also be attached. The water flow suppresses the dust greatly and reduces risk to the operator and others who may be nearby. Not all dust can be suppressed at all times, so when using a cut-off machine, it is still essential to wear a dust mask if dust is generated. If fumes or smoke are anticipated, you should also wear respiratory protection. 
For longer cuts, the petrol cut-off machines can be mounted to the FW 20 cart which is much more comfortable to guide across longer horizontal cuts on the ground. You also get the added benefit of less vibration experienced by the operator too.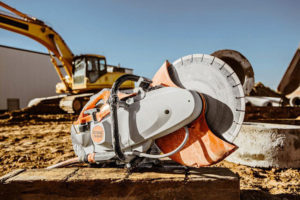 For larger jobs, the STIHL TS 700 and TS 800 are our more powerful petrol cut-off machines, but we also have models which have leading-edge technology in them too. The TS 440 is the world's first cut-off machine with QuickStopTM cutting wheel brake technology which is capable of stopping the rotation of the cutting wheel in a fraction of a second if kickback occurs. This added brake technology also gives another valuable benefit – on this machine, the guard can be rotated, making it an efficient tool for cutting underground pipes, down to the bottom of walls or for areas that are hard to access.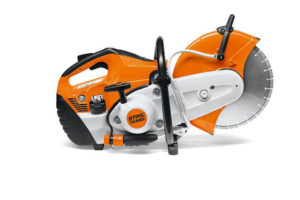 Our MS 500i chainsaw with innovative electronically-controlled fuel injection may have got all the attention when it was launched in 2019, but we've been quietly making tools with fuel injection for years. The TS 480i and STIHL TS 500i cut-off machines have injection engines that are not only more powerful and fuel-efficient but have significantly less vibration at the handles than their 12" and 14" 2-MIX engine equivalents, so they can be used for longer periods during the day. Limiting exposure to vibration is a serious consideration in the construction business and these saws offer a good alternative to the products with traditional engines.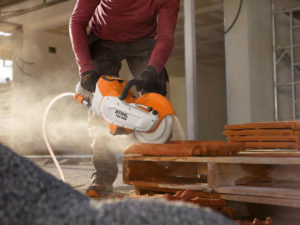 Another area of innovation for STIHL was the world's first cordless cut off machine, the TSA 230, which we brought to market a few years ago. With a 9" cutting wheel, the STIHL TSA 230 is really well suited to cutting patio slabs, tiles, roof tiles and more. Plus it is ideal for indoor cutting tasks, as there are no petrol exhaust emissions. Paired with a couple of AP 300 batteries, the TSA 230 has become a favourite in the construction industry as it can easily be picked up for quick tasks with no need to think about refuelling. It's light and easy to handle too.
A slightly less well-known tool in the industry is our GS 461 concrete cutter. This machine may look more like a chainsaw, but it comes with a concrete cutting chain for brick, concrete or stone. It's a fantastic tool for cutting out windows where a traditional cut-off machine may be tricky to get into the corners.
Whatever the construction cutting job, STIHL has a machine to get the job done. Visit your local STIHL Approved Dealer to find out more.