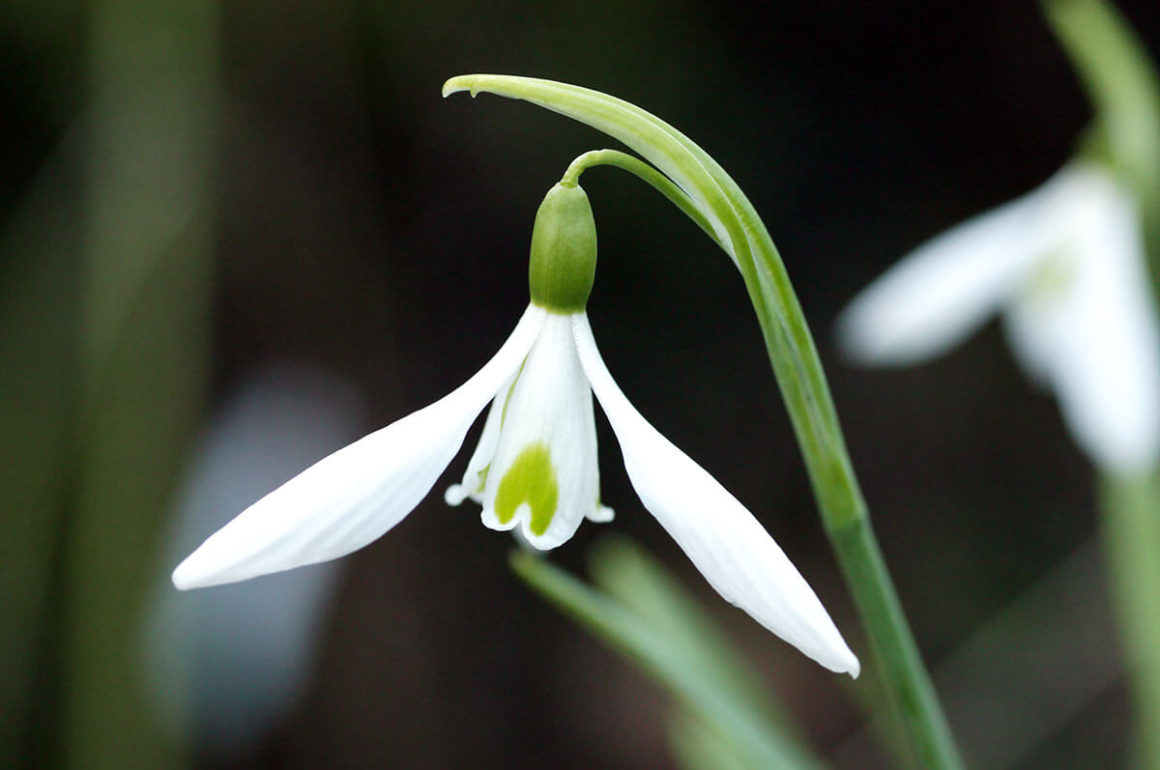 Follow our expert guide to the flowers, vegetables and trees that you should be planting in February!
Flower of the month – snowdrop
Have you ever arrived at the garden centre checkout and gasped in shock at how much your shopping has come to? If so, then spare a thought for snowdrop flower enthusiasts (often known as galanthophiles) who fork out an arm and a leg in a bid to snap-up the rarest bulbs. 
The record for the most expensive snowdrop was smashed in 2015 when a buyer reportedly bid £1,390 on eBay for a single bulb of Galanthus plicatus 'Golden Fleece'. The eye-watering price tag saw a previous record – when a seed company paid £725 for a bulb of Galanthus 'Elizabeth Harrison' in 2012 – pale into insignificance.
While life's rarities will always command premium price tags, be they works of art, classic cars or novelty flower bulbs, the good news is that you don't have to re-mortgage the house to enjoy the springtime cheer of snowdrops. In fact, you can pick up a pot of snowdrops in leaf for less than a fiver, as long as you're content with growing a tried-and-tested variety. Traditionally, the dainty blooms were regarded as the ultimate harbingers of spring: a sign that winter was losing its icy grip and a thaw would soon be on the way. These days, with climate change, we're more used to mild winters, with snowy spells only starting to bite in February (unless you live in the far north) but don't worry, because although snowdrops may appear delicate, they're actually as tough as they come.
Perhaps the best known is the common snowdrop flower, Galanthus nivalis, which looks fabulous planted in drifts in semi-shaded or woodland areas, where it delights in late winter with its fragrant white flowers, noted for attractive inner green tips. Another favourite is Galanthus 'S. Arnott', adored for its big, nodding white flowers which can emit a delicious honey scent, while Galanthus 'Atkinsii' is an attractive clump-former with its ice-white, elongated petals that display distinctive green heart-shaped marks at their tips. For a real showstopper, plant Galanthus nivalis f. pleniflorus 'Flore Pleno' – the name may be a mouthful, but its double white flowers with green-tipped inner petals are guaranteed to please.
Gardeners are advised to plant snowdrops 'in the green' – a term that can sound baffling. It simply means that snowdrops, sold growing in pots or bundles, are best planted while they are still in leaf, immediately after flowering. It's the recommended way of establishing these winter delights, and can be carried out in late winter or early spring. Snowdrop bulbs are available at garden centres in the autumn, but they are prone to drying out and can be tricky to establish, so planting 'in the green' is the preferred option. 
For best results, choose an area of partial or dappled shade and plant in naturalistic drifts to create a river of dainty blooms. Sites beneath trees and deciduous shrubs, where the soil is moist but drainage is good, will work wonders. Incorporating well-rotted garden compost or leafmould prior to planting can help, as it's vital that soil is not allowed to dry out in summer. Tip the clump of snowdrops out of their pot, with the soil intact, and plant at the same depth as they were growing. Keep these winter gems watered while they establish and they'll reward you with a springtime spectacle in future years.
Vegetable of the month – peas
Whether you buy tinned or frozen peas, neither come close to the intense flavour and freshness of home-grown peas. Start planning a crop now and you're in for a truly mouth-watering treat. You won't be able to resist feasting on peas fresh from the pods while harvesting!
Traditional advice dictates that gardeners wait until March before sowing early peas (when the soil may need to be warmed using cloches to bring it up to 10C for sowing), but there is a clever trick – or a gardening hack, to use the latest term – that'll get your crop under way now, eliminating the danger of sowing into freezing, waterlogged soil and preventing the problem of mice digging-up and feeding on newly sown seeds.
Before we reveal this tip, order your pea seeds. Pea 'Kelvedon Wonder' is a fantastic early variety with an RHS Award of Garden Merit (AGM) that reliably yields brilliant crops of super-sweet peas from May onwards, with good resistance to the problems of pea wilt and powdery mildew. Or choose Pea 'Early Onward' which has an enviable reputation for flavour and packed pods, with the first crops ready to harvest from 12 weeks after sowing. 
The secret to an extra-early crop is to sow peas now into a length of guttering – nothing fancy, just a stretch of standard house guttering, which can easily be cut with a hacksaw to a manageable size. Tape up the gutter ends and part-fill with seed compost, sowing pea seeds 4-5cm apart. Top-up with more compost to cover the seeds then pat it down and water. Place guttering in a greenhouse, conservatory or on a window sill while seeds germinate. 
Now here's the clever part. Next month, when seedlings are 5-10cm tall, use a hoe to draw back a row of soil (or a spare piece of guttering to make a run of the exact size) and simply slide out your pre-germinated row of pea plants into the space. Firm down, water and leave to settle in. As peas grow you'll need to use twiggy sticks or netting to provide support.
Sow a gutter length of peas every fortnight and you'll have a wonderful succession of early crops to enjoy from late spring onwards.
Tree of the month – West Himalayan birch
There are few spectacles as hauntingly beautiful in late winter as the ghostly white trunks and branches of west Himalayan birch (Betula utilis var. jacquemontii). Its elegant chalk-white peeling bark is unbeatable for creating a dramatic focal point in the garden at a time when much of the landscape remains deep in slumber. However, this tree isn't a one-trick pony: its yellow-brown catkins herald the arrival of spring in style, while leaves turn a dazzling yellow in autumn. To create a breath-taking display, grow as a specimen tree in lawns, or establish small groups in woodland areas, planting into moist but well-drained soil. Trees can reach a height of more than 12 metres at maturity, so allow plenty of space
We're interested in what plants you will be planting in the garden in February so make sure to let us know in the comments below!