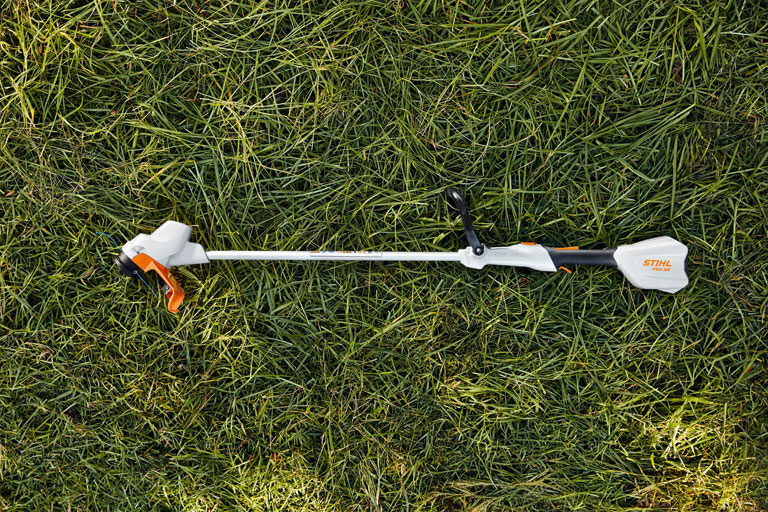 For the areas of grass that a mower can't reach, a grass trimmer is the best tool for a gardener. And the best trimmers have to be light, easy to handle and tough enough to deal with overgrown borders, around walls, fences and obstacles. To meet the demanding requirements of the modern gardener, STIHL have designed the new FSA 56 COMPACT Cordless Grass Trimmer.
Weighing less than 3kg, the FSA 56 is designed to make grass cutting as simple as possible, meaning more time for you to enjoy the results! It's capable of tackling longer grass, thanks to the battery's powerful 36 volt, Lithium-Ion technology and its COMPACT but efficient electric motor. The length of the FSA 56 can be easily adjusted to suit any user's height. This grass trimmer also comes complete with an adjustable loop handle and a mowing line which can be extended with a quick tap of the head on the ground and when the line needs changing, this can be done easily without tools.
The FSA 56 is extremely quiet, so there is no need to wear ear defenders. In addition, this small but mighty machine offers up to 20 minutes run time when using the lighter, AK 10 battery, which is equal to up to 500 metres of lawn edges on a single charge!
A result of STIHL's 90 years of expertise, this grass trimmer, alongside the other garden tools in the STIHL COMPACT Cordless System, including a hedge trimmer, blower and chainsaw make it quick and simple to shape and maintain a garden to be proud of.
Check out the FSA 56 in action here: