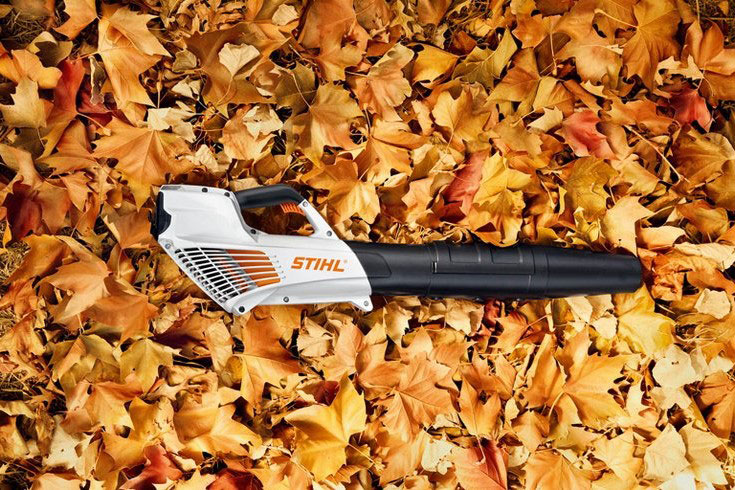 Keeping a garden clear of fallen leaves in autumn is a challenge that faces every gardener, no matter what size garden you might have. We all know that using a rake or brush to clear, can be time consuming and arduous. But you'll be pleased to hear, STIHL have got the perfect tool for the job!
The STIHL BGA 56 blower is part of the new STIHL COMPACT Cordless System; designed to offer every gardener affordable and effective tools, all based around an advanced, interchangeable Lithium-Ion battery.  The battery fits any device in the COMPACT Cordless System and, in the BGA 56, a single charge offers 20 minutes of continuous use, which is sufficient to clear up to 600m² of leaves!
This powerful blower is lightweight enough to be operated in one hand, without putting excessive pressure on the wrist. The BGA 56 is also surprisingly quiet, meaning it can be operated without ear protectors, whilst still powerful enough to clear debris with ease.  With an adjustable blower nozzle to suit your height, every gardener can clear in comfort, without sacrificing performance.
A result of STIHL's 90 years of expertise, this blower, alongside the other members of the STIHL COMPACT Cordless System, which includes a Hedge Trimmer, Grass Trimmer and Chainsaw make it quick and simple to shape and maintain a garden to be proud of.
See the BGA 56 in action here!