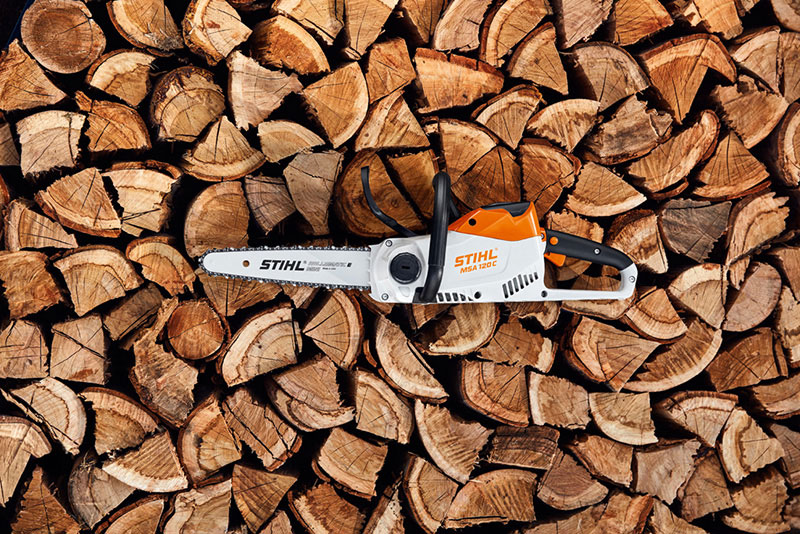 With ninety years of experience, STIHL have become synonymous with chainsaws. From producing the first petrol-powered chainsaw, to the first chainsaw capable of being operated by a single person, STIHL have prided themselves on producing the best on the market. The new Compact Cordless MSA 120 C- BQ Chainsaw is the perfect way for any gardener to take advantage of this expertise, in a domestic product.
Weighing in at just 3.7kg, the MSA 120 is designed to be handled with confidence, even by someone who has never owned a chainsaw before. Complete with an easy chain tensioning system that doesn't require any tools, as well as a simple system for topping up chain oil, the MSA 120 maximises ease of use without sacrificing STIHL's legendary cutting performance.
The MSA 120 is a capable companion in the hands of any user. A single charge holds up to 35 minutes of run time, or up to 100 cuts*! The perfect partner for chopping firewood, shrubs and plants with ease.
A result of STIHL's 90 years of expertise, this Chainsaw, alongside the other members of the STIHL Compact Cordless System, which includes a Hedge Trimmer, Grass Trimmer and Blower make it quick and simple to shape and maintain a garden to be proud of.
Check out the MSA 120 in action here:
* Battery run time cutting square timber (10 x 10 cm)