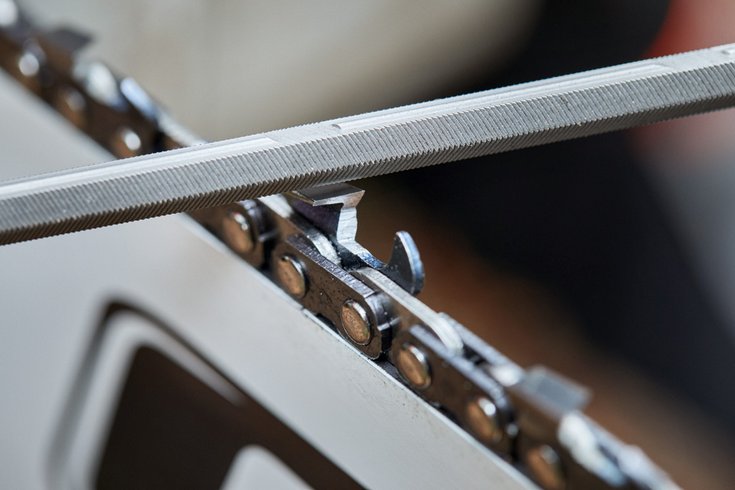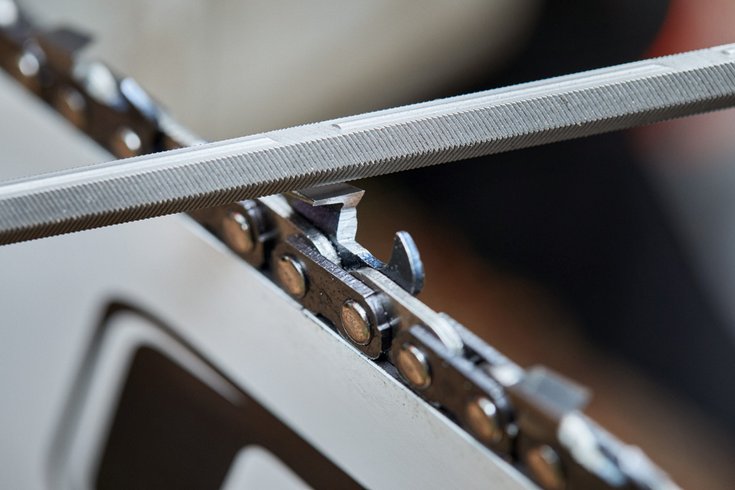 It's not often developments in chainsaw chain technology cause a stir, but STIHL Rapid Hexa is fully deserving of the attention it's gained around the world. Consisting of a patented 'V' shaped cutting tooth and hexagonal file, Hexa offers professional forestry chainsaw users a 10% cutting performance boost and a much enhanced sharpening experience unlike anything else on the market. So how has this been achieved?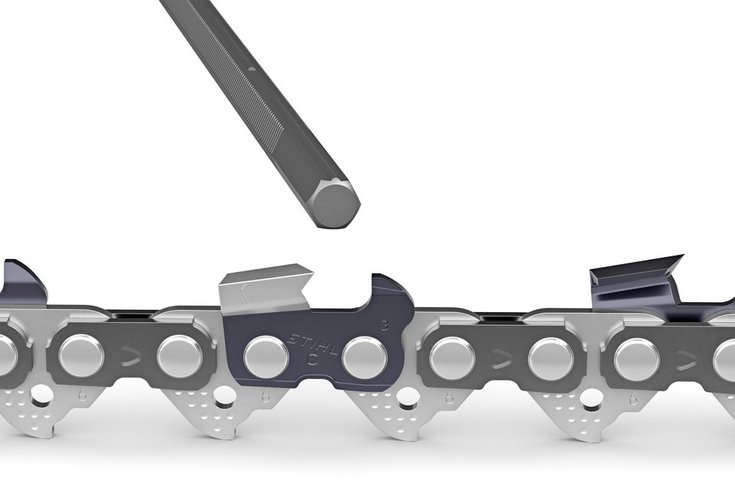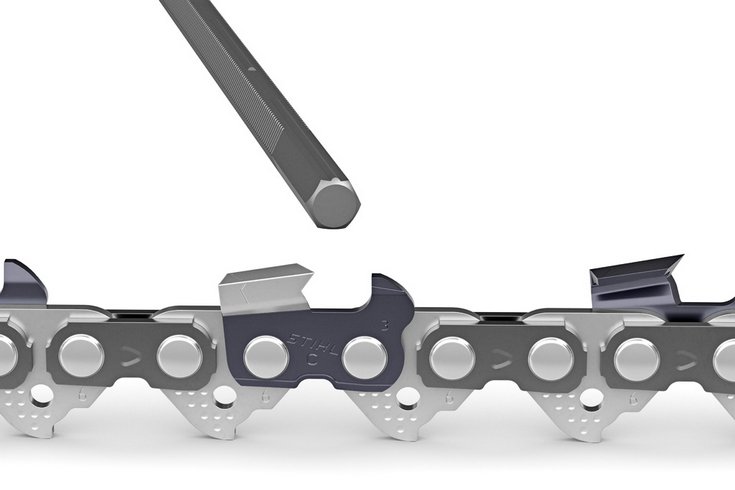 Firstly, the top plate kerf of each cutting tooth is narrower than the equivalent RS chain, leading to an improvement in cutting speed and efficiency. (Shrewd readers may see a similarity to the RS Pro chain available in .325 pitch – this too features a narrower kerf and cutting speed improvements). A second optimisation is the 25° sharpening angle. Testing has found that a slightly reduced angle performs better in diagonal felling cuts, which is ideal for arborists and tree surgeons alike.
Finally, the most striking update to the chain is the 60°, V shaped side plate angle. The hexagonal file sits perfectly in the tooth's profile, leading to simplified and faster sharpening. With Rapid Hexa it's easy to achieve a high-quality cutting edge, and due to the less acute angle of the leading cutting corner the tooth is less prone to wear and therefore stays sharper for longer.
STIHL Rapid Hexa chains need to be used with a Hexa file. The lower 1/6th of the file is smooth, meaning that it's impossible to accidentally graze the file on the drive links. A top ridge makes it clear which orientation the file needs to be held, and because the Hexa system is so simple to use, a file guide is not necessary. Please note that many of our sharpening aids are suited to chains with a 30° top plate, so take care when choosing a file holder. Our wooden or FH3 file handles are perfect for use with a Hexa file. Watch the video below for a summary on Hexa and the sharpening process.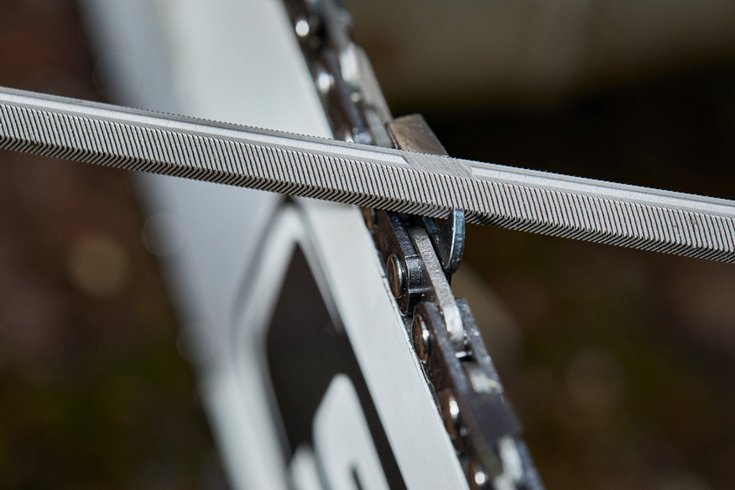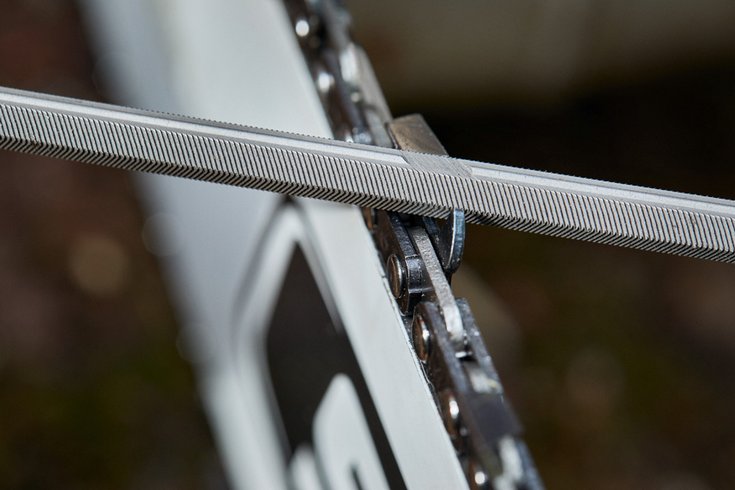 These features all combine to deliver a chainsaw chain that cuts faster, takes less time to sharpen, stays sharper for longer and boosts productivity.
On to the practicalities: Hexa is available in 1.6mm 3/8 pitch and can be bought in pre-made loops between 16 and 36". Longer loops can be provided by any STIHL Approved dealer that has a reel of RAPID Hexa chain on stock. Compatible models include professional STIHL chainsaws ranging from an MS 362 C-M up to MS 661 C-M, and every professional petrol model in-between. STIHL RAPID Hexa is a full chisel chain with no humped drive links, so if you own a home-owner chainsaw such as an MS 170 or MS 231 we recommend sticking with a semi-chisel chain and a 2-in-1 EasyFile for best results. If you're not sure what pitch or drive link gauge specification your chainsaw is, follow the instructions from our previous blogs, or ask your local STIHL dealer for advice.
There are a few options for getting up and running with a Rapid Hexa chain. Chain loops and files can be bought individually, or the Hexa Upgrade Kits contain 2 chain loops, a file and a file holder (and a cost saving too!). Make sure you have a flat file and depth gauge tool handy, as these are not included in the Hexa upgrade kit.
A Hexa Sharpening Kit is also available, containing everything required including the Hexa file. Just scan the QR code on the back of the chain packaging to access a video showing you how to sharpen your Hexa chain. Let us know in the comments below if you have any other questions.