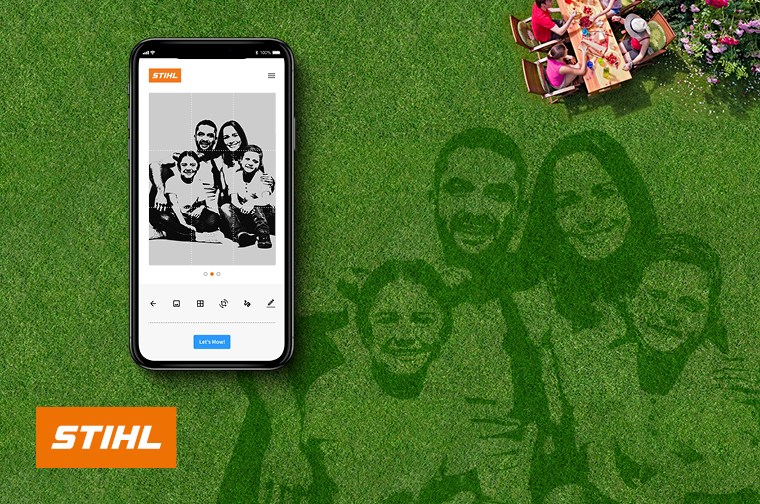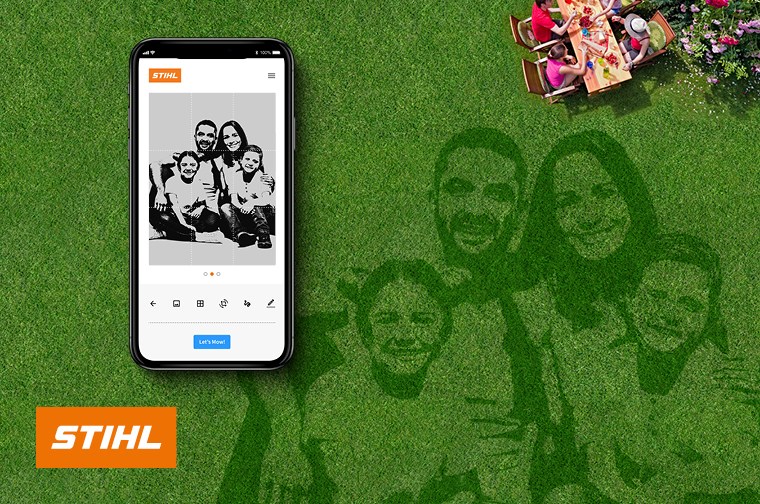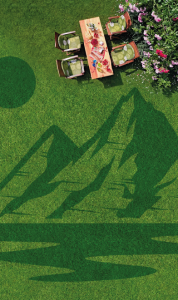 Spring is upon us, and throughout Great Britain iMOW® robotic mowers are waking from their winter hibernation ready for another busy season of lawn care. A STIHL iMOW® works automatically to mulch the grass and improve the quality of your lawn, but admittedly they can sometimes come across a little… robotic. To remedy this, STIHL are launching a revolutionary app that will help turn your lawn from boring and smart into a world-class piece of art.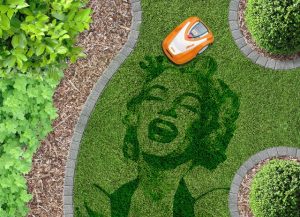 The new STIHL Design app allows custom designs to be trimmed into the lawn by your iMOW®, transforming your lawn into a blank canvas full of creative possibility. From smiley faces and stick men to inspirational quotes and mountainous landscapes, the iMOW® can cope with a huge range of possible designs. You can even upload a photograph from your smartphone, such as pictures of family members or the dessert you had on holiday 5 years ago, and the app will convert it to an iMOW® friendly design. Currently the STIHL Design app is only compatible with C model versions of the iMOW® with built-in phone connectivity though.
If you're unsure what style of artwork would suit your garden, the app's virtual online assistant, Michelangemow, can automatically generate a design based on your garden's characteristics and size.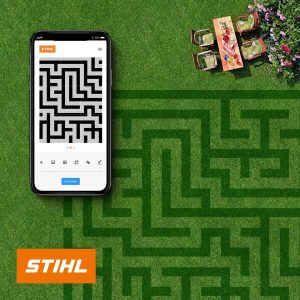 The STIHL Design app comes pre-equipped with a number of child-friendly designs too, such as hop scotch, a backgammon board and even a maze for hours of entertainment.
So how does it work? The app requires the circumference and proportions of the lawn at hand – this information is synched automatically when the iMOW® connection is made. The design function does work best on larger lawns where a higher level of detail can be achieved. Once confirmed, the design is mapped in the iMOW® digital odometer module, and bought to life by the iMOW® during the next available mowing session. Each design is visible in the lawn for an average of 3 days, depending on external factors such as growth speed and rain fall.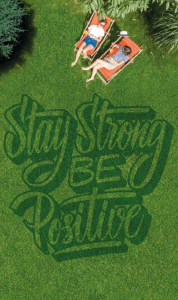 Our favourite feature of the STIHL Design app are the motivational pre-set packs (MPPs). With an MPP activated, the iMOW® will draw a different motivational quote into the lawn every 3 days, with phrases such as 'Live, laugh, love', 'Make your mum proud today' or 'Live every moment like your last'. Initial findings by our Research and Development team in Tirol, Austria found that 4 weeks of opening the curtains and reading a rousing quote improved morale by up to 20%.
Click here for more information about the STIHL Design App for your iMOW®.