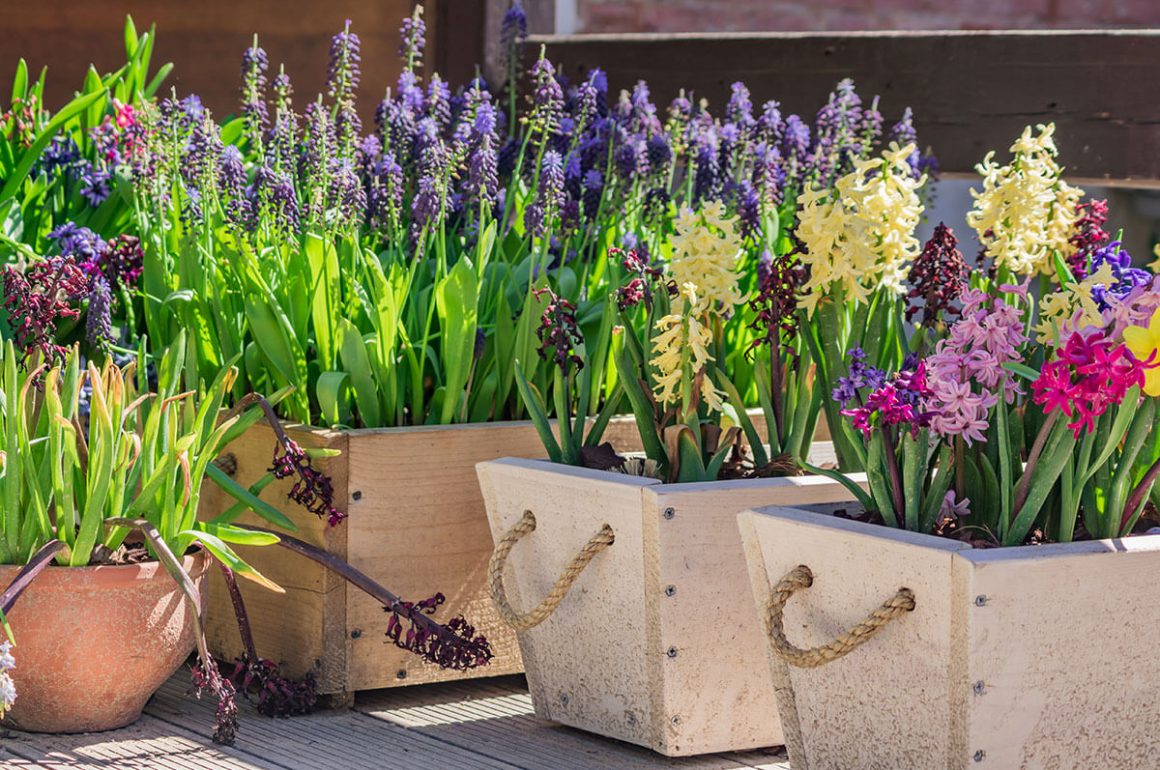 No matter what size your garden, there is always room for plant pots filled with blooming bulbs. Unlike planting in the border, you can easily move your garden containers around to display them at their best and use your creativity to design special combinations of colour. And once each plant has finished flowering you can tuck the plant pot away or fill it with something else.
There are plenty of bulbs that grow easily in pots, from spring favourites such as crocus, daffodils and tulips to more dramatic irises, hyacinths and allums. To help you get the most out of your bulbs, here are ten tips for successful garden container planting.
1. Size Matters
Generally speaking, the larger the bulb, the larger the plant that will grow from it. So, match up your pots accordingly. For example, if you only have a few small flower pots then fill them with dainty snowdrops or crocus.
2. Colour Combinations
There are a few ways of creating colourful flower combinations with garden containers. Either stick to one bulb variety per pot and artfully group them together for your display, or put several varieties in one pot (see layering below). For a top garden designer's tip, groups of odd numbers tend to look better than even numbers. Try three different sized pots together for maximum design points.
3. Layering Bulbs
For successional flowers try creating a layered pot of bulbs (sometimes called a 'bulb lasagne'). The largest bulbs with the latest flowering time go the deepest, working up in layers to the smallest, earliest flowering bulbs. You could even create a top deck of garden border plants, such as pansies, for the bulbs to poke through as they grow.
4. Drainage
When choosing flower pots make sure they have adequate drainage holes. It's common practice to place a few bits of broken crocks at the bottom of the pot so your compost doesn't get clogged up around the holes.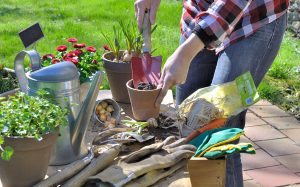 5. Good Compost
Bulbs like to be fed with a decent compost, so get the best peat-free compost you can afford. The introduction of grit will help with drainage and a layer of mulch will help prevent it from drying out too quickly.
6. How Low Do You Go?
As a general rule, bulbs need to be planted at a depth below the soil of two to three times the bulb's height. There are exceptions to this rule so be sure to check the packet before planting. And although it is seems obvious, it's worth a reminder: the pointy end that the plant grows from needs to be facing upwards.
7. Regularly Water Bulbs
Like anything grown in pots, the compost will dry out much quicker than soil in the garden, so be extra vigilant with watering, particularly during dry spells.
8. Feed Well
Once up and flowering, your plants will benefit from regular feeding for extra healthy blooms. A liquid feed such as tomato feed or seaweed works well.
9. Save Bulbs for Repeat Blooms
If you want to keep your bulbs for next year then don't be too hasty in cutting them back when they've finished flowering. Snip the dead heads off to prevent seed production and allow the foliage to die back naturally as this will fill the bulb with strength for next year.
10. Lifting and Storing
If you want to reuse your plant pots when flowering is over then you'll need to lift your bulbs and store them. Allow the leaves to yellow and the compost to dry out a little then gently fork out the bulbs. Discard any that look damaged or diseased and gently rub away the soil from the good ones before laying them out to dry on a rack. Store bulbs in a frost-free, dark environment, wrapping them gently in paper or placing in paper bags. You can then get creative all over again the following year.
Will you be planting any bulbs this autumn? Let us know what you are planting in the comments below.