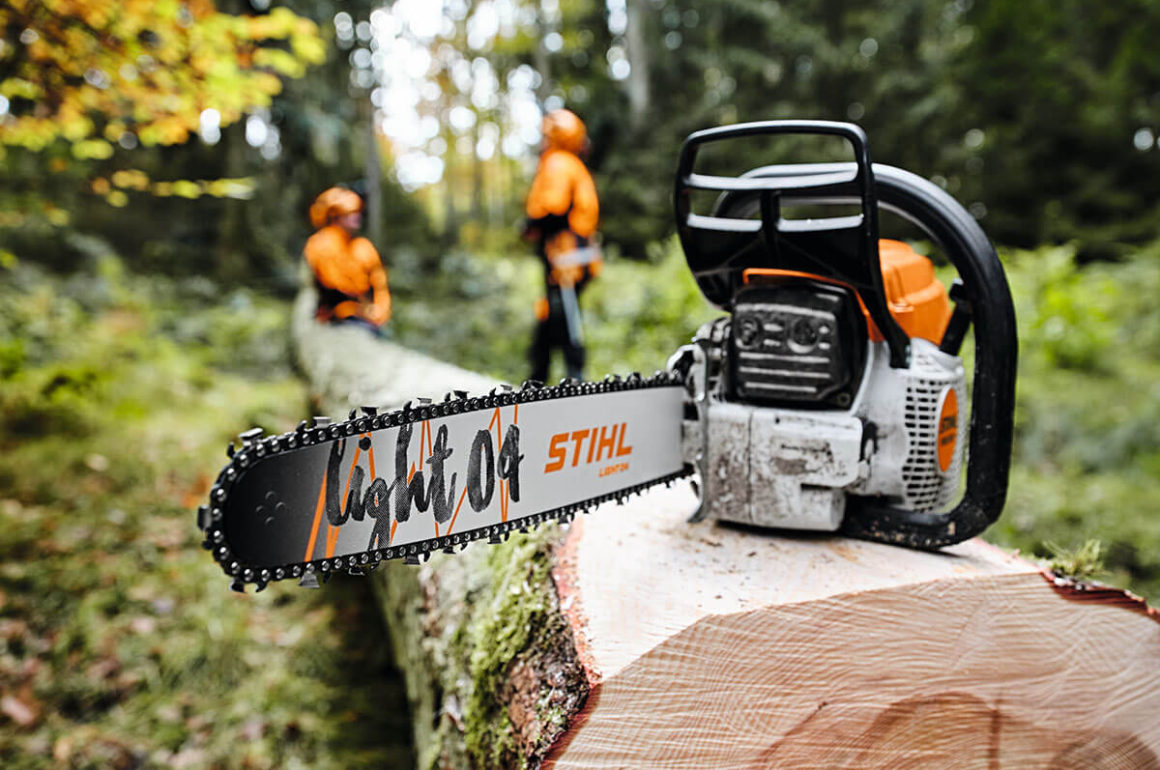 If you have a STIHL chainsaw you'll notice that STIHL chainsaw guide bars have quite unique names; Rollomatic, Duromatic and more! But what do these names actually mean? And what's the difference between a Rollomatic E and a Rollomatic ES, for example? In this blog, we're going to take a deep dive into STIHL's extensive range of chainsaw guide bars so you have a better understanding of what makes your guide bar unique and why it's suitable for your STIHL chainsaw or pruner.
Before we begin, let's look into what the guide bar actually does for the tool. Constructed from high quality, highly resistant chrome molybdenum steel, the chainsaw guide bar's role is to guide the saw chain precisely over what you are cutting with minimal friction loss. Alongside the sprocket and the saw chain, the guide bar translates the engine power of the chainsaw into cutting performance. STIHL's range of guide bars cover the whole spectrum of cutting jobs; whether that's harvesting heavy logs, processing firewood, carving or just pruning smaller branches.  
STIHL Rollomatic E, Rollomatic E Mini & Rollomatic ES guide bars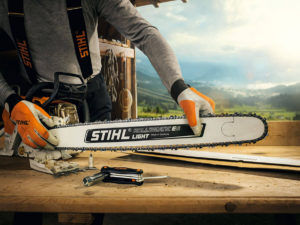 One of the most widely used chainsaw guide bars in STIHL's range is the Rollomatic E range. These guide bars have a low weight and are highly stable, making them a great "standard" for STIHL chainsaws.
STIHL Rollomatic E Guide Bar
The first version is the Rollomatic E. This guide bar appears on a wide variety of chainsaws for a range of uses, including domestic chainsaws such as the STIHL MS 180, agricultural chainsaws such as the MS 291 and professional forestry chainsaws such as the MS 362. This guide bar can be fitted with a 3/8", 3/8" P or .325" chainsaw chain and is available in 12" – 25" versions.
STIHL Rollomatic E Mini Guide Bar
Next is the Rollomatic E Mini guide bar. This chainsaw guide bar is narrower and lighter than the regular Rollomatic E and is found on STIHL's smaller chainsaws designed for domestic use, such as the STIHL MS 170, MSA 120 and MSE 141. It's also found on some of our top-handle chainsaws, such as the MS 194 T and MSA 161 T, as it offers a precise cut with a smaller chain which some arborists require for certain pruning jobs. This STIHL guide bar can be fitted with 3/8" Picco Micro Mini 3 or ¼" Picco Micro 3 saw chains and is available in 10" – 14" versions.
STIHL Rollomatic ES Guide Bar
And finally there is the Rollomatic ES guide bar, designed for the highest professional demands on our larger forestry chainsaws, such as the STIHL MS 462, MS 500i and MS 661 chainsaws. This rigid chainsaw guide bar has angled oil holes on the nose for optimum lubrication which is needed when working in forest environments. This STIHL guide bar can be fitted with 3/8" and .404" saw chains and is available in 20" – 36" versions.
STIHL Rollomatic E Light, Rollomatic E Mini Light & Rollomatic ES Light guide bars
Weight is always a key area when it comes to chainsaws, especially if you are going to be using the tool throughout the working day. STIHL's range of lightweight chainsaw guide bars build on the already successful Rollomatic E guide bars just with a lower weight.
The STIHL Rollomatic E Light has a reduction of up to 30% versus the standard Rollomatic E guide bar thanks to the hollow areas being reinforced by a glass fibre polyamide. Next is the Rollomatic E Mini Light, which offers a weight reduction of up to 25% versus the standard Rollomatic E Mini, making it easier to work with pole pruners or when cutting thinner wood. And the Rollomatic ES Light is made from a special wear-resistant steel which has been hollowed out and made rigid thanks to its outer body. It offers a 30% weight reduction versus the standard Rollomatic ES guide bar.
STIHL Light 04 & Light P04 Guide Bars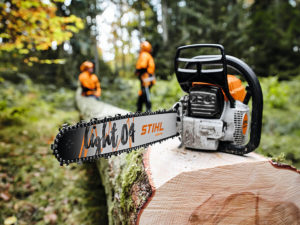 Over the last few years you may have noticed some STIHL guide bars have a new graffiti design on the guide bar nose. These Light chainsaw guide bars are part of the new wave of STIHL guide bars and there are currently two available.
The Light 04 guide bar appears exclusively on the STIHL MS 261, MS 271 and MSA 300. It weighs 200g less compared to existing guide bars and has improved balance, meaning users will experience less fatigue when sawing. It's available in 14" – 20" versions and uses a .325" saw chain.
The Light P04 is a design upgrade of the Rollomatic E Light guide bar and is available exclusively on the STIHL MSA 220 T & TC-O cordless top-handle chainsaws.
STIHL Duromatic E guide bar
When you're using a professional chainsaw like the STIHL MS 881, you're also going to need a bigger guide bar. The Duromatic E guide bar is exceptionally hard-wearing and protected by a carbide alloy plating for the toughest forestry jobs. It's exclusive to the MS 881 petrol chainsaw and available in either 41" or 48"; perfect for the biggest timber.
STIHL Carving E guide bars
If you're a wood carver, you need the right chainsaw guide bar for your chainsaw in order to make sure you catch all the intricate details of the sculpture you're carving. Our Carving E guide bar offers low kickback and is lightweight but durable. It also has marks embossed on the guide bar to show the exact depth of the bar nose in the timber, which is especially useful when carving! It's available in a 12" version for the ¼" or ¼" P chainsaw chain and ideal for all professional or amateur wood carvers out there.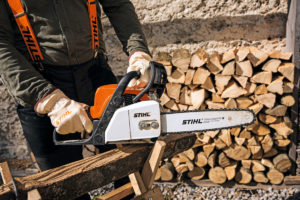 Our STIHL chainsaw guide bars are all made in dedicated STIHL manufacturing plants in Germany, USA and Brazil and new designs go through rigorous testing processes before they are launched. They are also designed to work in perfect harmony with STIHL chainsaws and saw chains. There is more information about choosing the right STIHL saw chain here, but let us know if you have any other questions in the comments below.