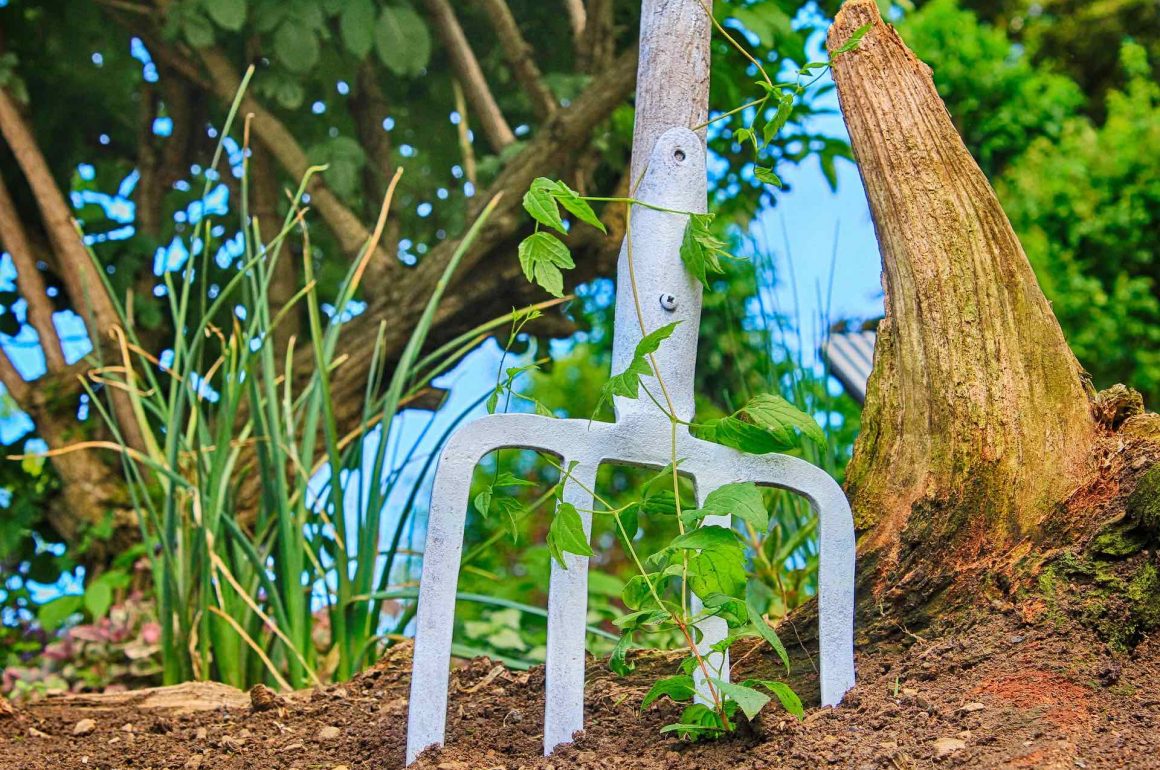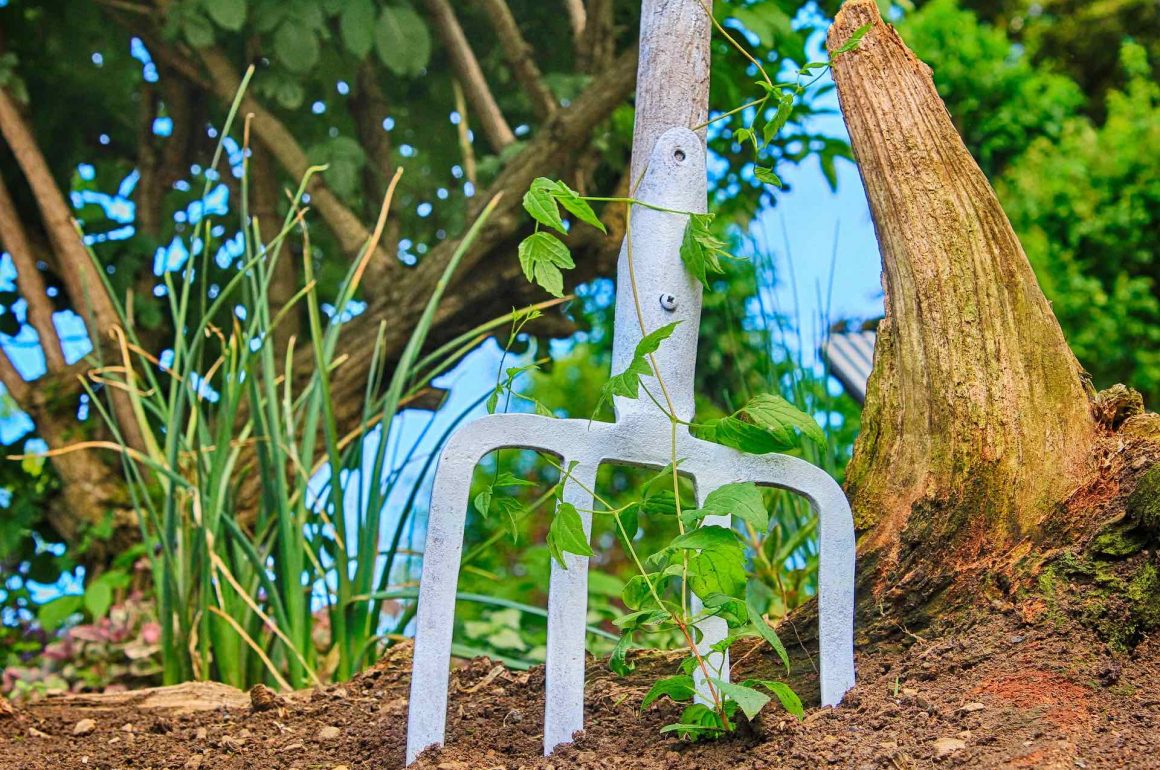 Garden writer Marc Rosenberg, who has been gardening for 30 years and has contributed to the STIHL blog since 2018, shares what he's sowing and growing in December with a diary from his small suburban garden. Winter digging helps to burn off excesses of the festive season, while keeping lawns clear of worm casts and planting flavoursome garlic top the agenda of gardening jobs to do in December…
1. Dreaming of a Green Christmas?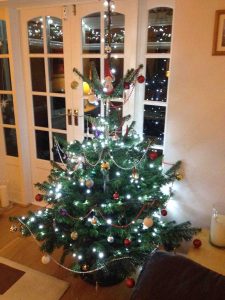 Gardening folk are, by their very nature, a green bunch. We grow plants that clean the air we breathe, nurture flowers that provide nectar and pollen for bees, and tend lawns that enhance biodiversity while soaking up excess rainwater. Home-grown fruit and vegetables cut food miles to footsteps, providing an abundance of vitamin-rich, pesticide-free produce if cultivated organically. Despite all this good work, our eco-credentials often go out the window at Christmas, when the season of excess generates a mountain of waste.
In this age of climate emergency, it's reassuring to know that so much 'rubbish' can be put to good use in the garden. I shred Christmas wrapping paper and gradually fork it into the compost heap, where it'll form part of next season's soil improver. Bubble wrap that protected gifts in transit makes an excellent insulation material to wrap around garden containers of patio plants, providing an extra layer of protection to shield roots from perishing in bitter weather.
Festive tins of chocolates – once empty – are given a new lease of life for storing packets of seeds to keep them fresh. A garden shredder is invaluable for transforming Christmas trees into woodchip mulch after the festive season and banishes the chore of vacuuming pine needles from the car, because Christmas trees won't need to be driven to the tip for recycling. The RSPB highlights that leftover crumbs of Christmas cake and crumbs of mince pie pastry can make a winter treat for wild birds, and I also add vegetable peelings from the festive feast to the compost heap (but not scraps of meat, which can attract vermin).
2. Plant for Butterflies in 2022
I tend to give New Year's resolutions a miss but next year I'm promising to grow butterfly friendly plants. Butterflies are regarded as an indicator of the health of the environment and the results of this year's Big Butterfly Count are a cause for concern. Butterfly populations have fallen to their lowest level since the survey began 12 years ago. The iconic peacock butterfly declined by 63% compared to 2020; gatekeeper butterflies fell by 30% and red admirals witnessed a 10% fall.
As gardeners, we can enhance our garden plots' appeal to these magical insects. Planting buddleja is an obvious choice but the butterfly bush can be a fast-growing brute, so I'm adding sedum (Hylotelephium spectabile), Erysimum 'Bowles Mauve' and Verbena bonariensis to my planting wish list for next season. All are magnets for butterflies and provide a feast of nectar. If those choices aren't to your taste, consider hebe, echinacea, aster or helenium.
3. Dig for a Winter Workout!
There's a great way to burn off calories piled on over the festive season and it doesn't involve taking out an expensive gym membership. Winter digging allows frost to naturally break up soil, while birds will feast on unearthed pests. It helps air and water to penetrate deep down into the ground, too. A spell of mild weather, when the ground isn't frozen or waterlogged, is the ideal time to dig.
If I'm working on ground that has been neglected I find that a spade is best for turning over the soil, while a garden fork is more suitable for tackling regularly dug areas. This winter workout also helps to unearth weed roots that were overlooked during the autumn clear-up. Standing on a plank of wood while digging distributes weight evenly over the area so that soil doesn't become compacted.
4. Plant Garlic by Christmas Day
According to tradition, garlic will be at its finest if it's in the ground ahead of Christmas Day. That's because garlic needs a period of cold to get going, so it's time to get cracking! Garlic bulbs should be bought from garden centres or online suppliers (don't use garlic from supermarkets – it may be unsuitable for the UK's climate). There are two types of garlic: hardneck, which bears a smaller number of large cloves, and softneck – renowned for storing for longer but yields densely packed, smaller cloves.
Choose a sunny, sheltered, well-drained spot where other members of the allium family such as onions and shallots haven't been grown recently. Carefully break up the bulbs into individual cloves and plant so the tip is 2.5cm below the soil surface, spacing each clove 15cm apart (make sure the pointed end is facing upwards). Alternatively, grow in large plant pots of free-draining compost. Garlic will need to be kept watered if conditions are dry in spring.
5. Sweep Worm Casts from Lawns
Worms are the gardeners' friend, feeding on dead plant material and helping to improve soil structure as they go about their business. Worm casts (small piles of muddy soil ejected from their digestive systems) left on lawns in winter are less welcome, because these unsightly mounds risk creating muddy patches that won't recover if trodden into grass.
If casts are dry and crumbly they can easily be swept up using a besom (witches') broom or wire garden rake. As my north-facing garden is shady in winter, the grass remains damp, so I rely on stepping stones that I've set into the turf on regularly walked routes, to minimise the risk of treading worm casts into the lawn
6. Frozen Outside Taps
Outside taps are at risk of freezing and bursting during icy weather, resulting in a hefty plumbers' repair bill. I'm on a metered water supply so I'm taking no chances – that's why my hosepipe has been packed away and the tap has been encased in a polystyrene jacket to keep it snug. These winter warmers, available online, only cost a few quid and can be fitted in seconds. They're invaluable in the event of a big freeze.
Plants' water requirements are at their lowest in mid-winter, so December is a great time to drain water butts so that sludge and debris that has accumulated in the base can be cleaned out. Once reconnected to downpipes, butts will fill with rain over winter so they're brimming in time for spring.
What other gardening jobs are you tackling in December? What is your favourite garlic variety to grow? Let us know in the comments.